Image provided by the Beechwood group, a company renowned for their custom lot home designs.
The block size for an average Australian property is 474 square meters, one of the largest averages in the world. However, block sizes have been falling for years in the major cities like Melbourne and Sydney where space is becoming an increasingly precious resource. As a result, narrow blocks have started to rise in popularity.
A narrow block is a block which sacrifices width for privacy, usually as the result of a subdivision. Landowners are currently taking advantage of their space by dividing a typical 20m block in half to create two separate homes, each with a street front. Homes found on narrow blocks are therefore usually the same length as an average home, but with half the width. The most common width size of a narrow block is 10m, though 9m, 8m and even 7m blocks are becoming more common. The official parameters for something to be considered a narrow block are 8.5m to 12.5m.
Narrow homes can be somewhat more difficult to build on due to the limited area for maneuvering and the specialized dimensions. However, the majority of architecture firms and home building contractors have become familiar with building on restricted space over the past few years and will have their own strategies to cope with the challenges of building on a narrow block.
Single storey houses on narrow blocks are often converted into 2 storey homes as a way of increasing the floorspace. Terraced townhouses and duplexes are other popular styles that may be suggested by a contractor when presented with a narrow block. There are a vast number of builders familiar with working on narrow blocks – particularly in high density urban areas – so finding the right one for your project shouldn't be a problem.
There are also a few general design strategies that work well for narrow blocks. Double stories, high ceilings and open plan designs are all very common uses of the space as they make the interior of the home feel significantly larger. Where possible, space-smart landscaping such as vertical gardens is a way to increase the aesthetic appeal of the home's exterior without sacrificing any potential floor space.
Natural light is a very important part of narrow house designs and you will find many narrow homes with floor to ceiling windows as well as skylights, highlight windows and glass doors. This is a tried and true method to increase the flood of natural light inside the home. Painting the home in lighter colours helps this light to bounce across walls and amplifies the brightening effect. The presence of glass and industrial materials means that contemporary and modernist styles are well suited to tiny home design schemes, giving the impression of an efficient and streamlined home.
Tiny houses are some of the best sources of inspiration for designing a narrow home, as they manage to create a comfortable living space with the least amount of floor area possible. While narrow homes are usually larger than tiny homes, there is much to learn from the sleek intelligence of a tiny home's space smart design that can be applied to narrow block home designs as well.
Narrow block house designs: 4 house plans design ideas for narrow block homes
4. 8m
This Claremont home was custom built on an 8m wide narrow lot by Novus Homes. What it lacks in width, the clever design compensates for with space.
Long narrow houses are deceptively large, and this 8m wide home manages to contain 3 spacious bedrooms, 2 bathrooms, 2 powder rooms, and open kitchen, a living room area, a study and even an outdoor courtyard. It also has an entirely separate granny flat space perfect for independent living.
This extraordinary home was made possible through careful planning and the application of interior design principles. The bright colour scheme keeps the interior feeling bright and airy, and cleverly chosen furniture emphasizes the horizontal lines of the space, tricking the eye into perceiving even more length.
A false ceiling with cozy lighting helps to soften the interior light wash and create a gentle atmosphere without feeling crowded. Read more about this incredible property here.
3. 7m
7m is likely the narrowest width you will ever come across in a home. Less than 7m will usually not have the length to make the floorspace larger than the classifying threshold of a tiny home. However, that does not mean that 7m homes have to be cramped or tiny – in fact, far from it.
The Wilton double storey narrow house measures 7.02m in width and manages to pack in all of the features that you could possibly want in a home.
Stroud homes are trusted Asutralian builders who have an extensive range of designs for narrow houses. The Wilton is particularly notable as it is the narrowest design on offer, yet it still manages to contain four bedrooms, two bathrooms and a huge range of customizable exterior facades, all with front garages.
2. 9m
9m wide homes are much more common than those with a width of 7-8m. This is because 9m is still a fairly comfortable width and the narrowness of the house may even be unnoticeable. Due to the higher demand for 9m wide homes, Allworth Homes have a range of narrow house designs suited to a 9m wide block.
Some, like the Sonata pictured above, are single story homes which appear to be a completely normal width from the outside. This model is also highly customizable with a number of adjustable features like the floor plan dimensions (also available from 8-12m width) and the amount of bedrooms, bathrooms, car spaces and even stairs.
1. 10m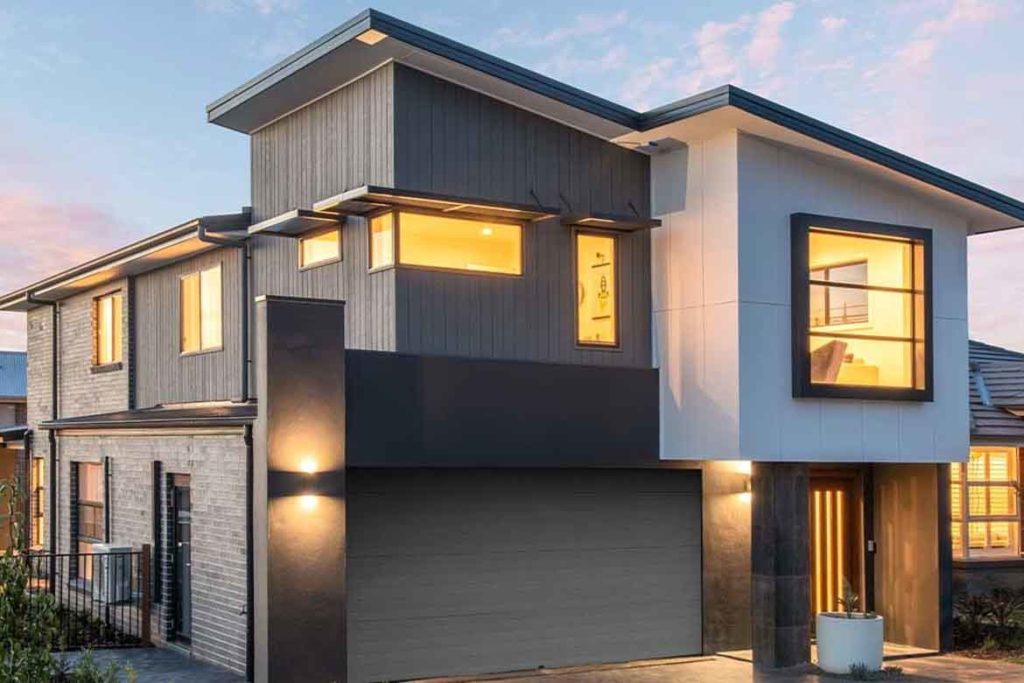 The most common width for a narrow home is 10m. This allows for ample space inside and the home interior will not feel crowded, though it is smaller than the national average. In fact, these homes can be incredibly spacious.
The Coolum 226, a Montgomery Homes design pictured above, actually manages to fit 5 spacious bedrooms onto a 10m narrow lot. With 2.5 bathrooms and a 2 car garage on top, this home is certainly one of the most spacious narrow homes on the market.