A single storey house is a building with only a ground storey. Single level houses can have basements, although most Australian houses do not.
The majority of Australian homeowners prefer single storey homes. There are a number of reasons for this; single storey homes are more affordable, easier for builders to construct, simpler to design, much more efficient to heat, and an open plan gives the impression of more interior space.
Stylistically, there are a variety of classic Australian single-storey home designs. The Australian farmhouse, the Australian ranch house, Queenslander homes and modernist houses are all an integral part of the Australian single-story design landscape.
If you are considering building a one storey house, there are many different layout options to choose from. To help inform your process, we have gathered some of the best single storey home designs and house plans in Australia. For an overview on prices and the hidden costs you should prepare for, see here.
Single storey house designs and floor plans: The 15 best single storey house design ideas for Australian display homes
15. Single storey semi detached
Semi-detached houses are houses which share one wall with a neighbouring house. A fully detached house shares no walls with other buildings and a house which shares more than one wall is a terrace house. Semi detached houses are popular in cities and suburbs because they allow for more privacy without compromising on space or additional income.
14. Single storey simple
The typical single storey residential house has a simple façade and a layout that is easy to navigate. Attached garages are very common for simple one storey homes, as are pathways and a front garden. Not all single storey homes have simple facades; see here for a list of unique home exteriors.
13. Single storey 3 bedroom
3 bedroom houses are the average size for Australian homes. Three bedrooms is the standard for small families and especially popular in the suburbs. The average size of a three bedroom home is 175 metres squared. Single storey homes are the perfect layout choice for three bedrooms as they can keep individual family members close by.
12. Single storey house elevation
The traditional Queenslander home design is one storey with a slight elevation. It is typically a detached house made from timber with a corrugated iron roof and classic Australian veranda. They are typically put on stumps or stilts for extra flood safety.
11. American single storey house
A slightly more extravagant take on the American ranch style home, these single story house designs channel all of the charm of a traditional two storey American home. Read more about this design and how to purchase the floor plans here at Cool House Concepts.
10. Single storey terrace house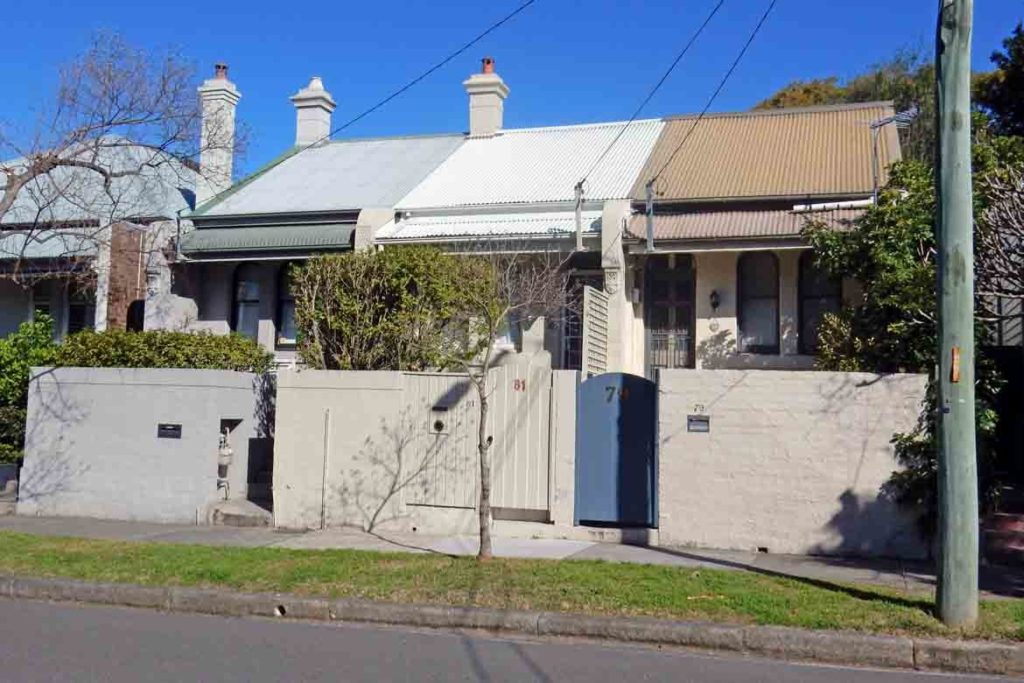 As mentioned earlier, a terrace house is a type of town house with walls that attach to other dwellings on either side. Terrace houses usually have two storeys to make maximum use of limited space, but single storey terrace houses exist. Single storey terrace houses tend to be long and narrow to make up for the lack of width.
09. Single storey house facades
Single storey house exteriors are important to compensate for the lack of height. Most single storey homes will have design features at different levels to create layered visual intrigue. Things like awnings, porches, and unusual window sizes all contribute to this effect.
08. Modern single storey house
Contemporary single storey home designs are seeing a return to minimalism with inclinations towards cubist and brutalist designs. Stark, symmetrical lines create an impression of strength which is accented by raw materials like natural stone, concrete and steel. Read more about this design on Residential Attitudes.
07. Single story duplex designs
A duplex is considered the modern iteration of semi-detached homes. Duplexes share one wall and a roof with a neighbouring dwelling. However, a duplex is two completely separate dwellings each with their own private entrance, garden and (often) garage. For more information on duplex designs and specifications, see here.
06. 4 bedroom single storey house
4 bedroom houses are fairly popular in Australia, accounting for slightly less than one in every three houses. This has changed significantly since the early 90s when 3 bedroom homes accounted for more than 50% of all inhabited Australian dwellings. One storey 4-bedroom houses can cost between $230,000 and the low millions to build. Read more about 4 bedroom houses, floor plans and their construction here.
05. Large single story
Single storey does not necessarily mean small. Large single storey homes are very popular especially among rural areas or suburban properties with large land blocks. Having just a single storey allows for seclusion behind trees and fences that helps to create your own private oasis.
04. Single story open floor plans
The majority of single storey homes have an open plan design. This allows homeowners to make use of the connected space by keeping it bright and non-crowded.
03. Single storey corner house
Corner block home design is a vastly different arena to regular homes. A corner block house is a house built on the conjunction of two streets, meaning that at least two sides of the homes are facing the street. As such, the facades of corner houses are very important.
02. Small single story
Small single storey homes have a plucky charm that is popular for holiday properties and Airbnb houses. With the rise in tiny home popularity comes an appreciation for the elegant simplicity of a small, single storey space. Read more from Perth's own single storey home designers, Dale Alcock.
01. Single storey with loft
Rather than adding a second storey to a single storey home, some people choose to add a loft. A loft is an elevated area in a room directly under the roof. It is internal and allows for the benefits of a second storey without having to drastically change a home's structure. Lofts are popular for bedrooms because they create a private nook from the rest of the house. They are favoured by teenagers, young couples and those trying to incorporate space smart design into their small homes.