A stone's throw from Le Bon Marché and La Grande Épicerie in the sixth arrondissement is a chic, Parisian apartment in a classic nineteenth-century Haussmann building. From its facade of Lutetian limestone to its interconnecting rooms, this home reflects the essence of Parisian living.
Except as you wander through the beautifully proportioned and lovingly appointed interiors, you'll discover that there's nowhere to sleep, and being located on the ground floor, well, it's a little exposed to passers-by. You would not be alone in wondering what was going on here, especially when renowned French pastry chefs Cedric Grolet and Yann Couvreur are at work in the kitchen.
"When we first opened the doors, it was interesting how people react," says V-ZUG's Fabrice Briot. "Because they say, 'What are you doing, exactly? How are you selling appliances? Are you selling a kitchen? What is this about?'"
What V-ZUG's new Paris studio is about is providing an introduction to the brand which is as subtle and seamless as this Swiss company's much coveted product collection. Of course, V-ZUG is selling its range of premium CombiSteam ovens, dishwashers and fabric care solutions, but its global spaces are also a gateway to the broader V-ZUG experience which comes with many customer benefits that extend well beyond the point of sale: the popular V-ZUG Gourmet Academy, an outstanding sustainability record and a passionate commitment to taking care of the customer.
Leading the roll out of the company's studios around the world, chief international officer Alberto Bertoz says there's "never a second chance to make a first impression". He and his team undertake significant research via interviews with local stakeholders including designers, developers and business partners to inform the location and concept for each new showroom. V-ZUG's refined architectural guidelines are the starting point for the design, providing a base level of consistency in presentation (including signage by Peter Zumthor, no less), but then each studio takes on a life of its own.
"The two keywords that we like to consider are evolution and adaptation," explains Bertoz. "Evolution comes from the previous experiences, both in terms of architecture and design, but also in terms of experiences and what works and what doesn't work. And so we try to learn and evolve every time. We don't want to replicate the same showroom and the same experiences everywhere, we try to try always to get better.
"And adaptation comes to the local market and the local culture, because we don't want to simply copy-paste the same showroom with the same colours and the same materials everywhere. So we try to learn from the local market, from the local architecture – it's like recreating our house in a city."
Both ideas are evident in the recently opened London and Paris showrooms, which build on the learnings from the company's relatively recent international expansion over the past decade and provide a number of different comfortable spaces for customers and business partners to learn about the brand. And where in the past V-ZUG's appliances were always set within cabinetry to demonstrate the ability of the flat surfaces and signature black-mirror glass to blend unobtrusively into any number of interior styles, an alternate display mode can now be found in the studios. Custom-designed, slender metal frames create a feature of the ovens, celebrating superior Swiss engineering and innovation, as well as focussing attention on the brand's pared-back aesthetics.
This variation has coincided with the launch of the Excellence range, which was five years in the making and involved a complete redesign of the oven and CombiSteam portfolio. Excellence introduced a new, functional design element into the digital interface of the products – the 'circle slider' – and this evolution too is present in the design of the new studios, where understated rounded elements in the interiors, such as rugs and ottomans, contrast with the lineal rigour of the overall concept.
Elements of adaptation are present in the London studio where head of brand display, Gabriel Pinyon, sourced a long dining table by British architect John Pawson to provide an approachable place for design professionals to bring their clients and sit and discuss ideas. Pinyon also specified the standard London underground tile in the laundry display areas and bathrooms, as another subliminal local reference.
This approach of leaning in to the local context is especially evident in the Parisian studio where the afore-mentioned Haussmann-style presentation provides an immediate tangibility for the French market. Pinyon also visited the city's flea markets to find vintage ceramics and books to add another local touch. French designers find a home here too, with armchairs by Erwan and Ronan Bouroullec and pendant lights by Arik Levy. Pinyon stresses that these on-the-ground collaborations are important from a sustainability perspective, but also to show that "V-ZUG is a company that cares about design".
Bertoz and Pinyon have been in Australia recently, scouting possible premises in Sydney and Brisbane, and meeting with the design community to "proceed for the future business by creating connections and learnings", as Bertoz puts it. They've also been working hard with the Australian-based V-ZUG team to develop studio ideas which reflect our unique lifestyle, mix of cultures and the different ways that we come together around food.
With typical V-ZUG restraint, they are keeping mum about what to expect, but if Paris and London are anything to go by the wait will be well worth it.
V-ZUG
vzug.com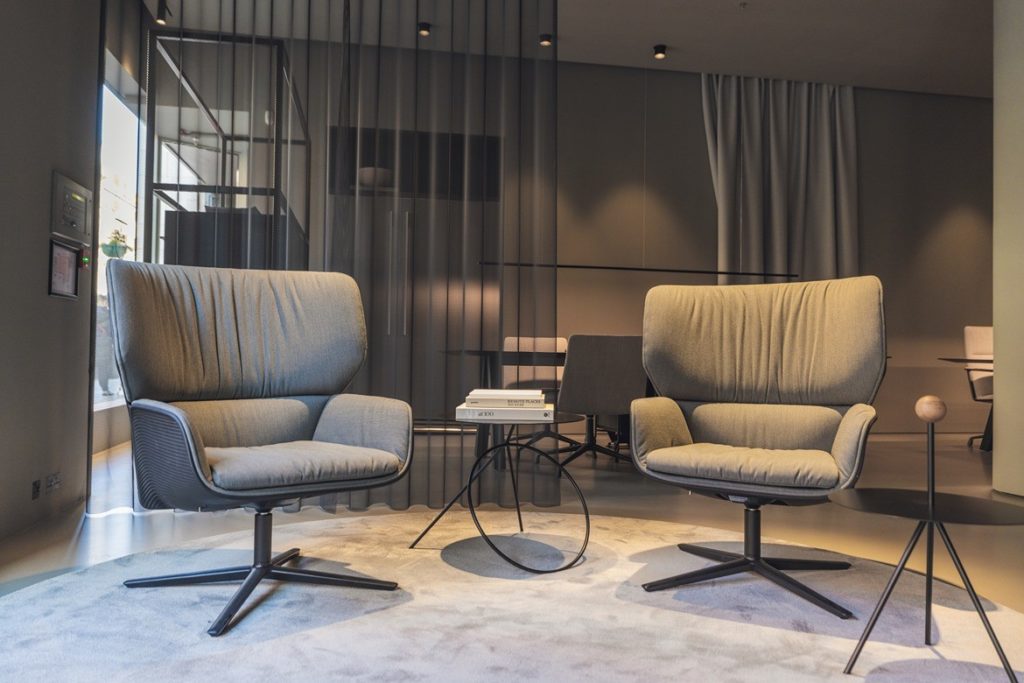 We think you might like this article about Pure Interiors' new showroom featuring V-ZUG.