It would be safe to say that many Melburnian's can conjure memories of heady summer nights atop the original rooftop bar. After 11 years, it was about time for an update and Technē Architecture + Interior Design were called in for the job.
The iconic space has been reinvigorated with a finer attention to design detailing, adding a new level of sophistication to the venue.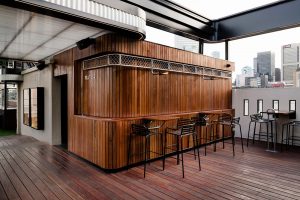 Technē director and lead on the project Steve McKeag explains that, "We've reimagined the whole design experience so the bar and cinema can stand as a first-rate attraction for many years to come.
"We wanted to create a stand-out design worthy of crowning Curtin House and its vertical laneway of creative, cultural and hospitality tenants."
The first of many to come, Rooftop Bar & Cinema opened its sky-high doors in 2006, showing off nearly 360-degree views from the heart of Melbourne. More than a decade later, it was time to refresh the venue. The architects investigated how the patrons had grown and matured in that time, therefore required a design more fitting with their needs.
"The audience has changed from being solely in-the-know locals to attracting visitors globally, without losing that important first crowd. Yet Rooftop's architectural infrastructure remained fragmentary and ad-hoc; for example, the burger bar was operating out of a storage shed and back-of-house facilities were difficult for staff," explains McKeag.
The outcome is a 'halo' roof structure, which is a unifying element that brings all the ad hoc zones and spaces together. These overlapping roofs unite the service zones while referencing the existing historic fabric of Curtin House.
.
These overlapping roofs unite the service zones while referencing the existing historic fabric of Curtin House.
.
The 'halos' are down-lit curvilinear planes that provide both operable and fixed roofing, which floats over the different hospitality zones of the rooftop bar. The curves are a reference the Art Deco era that Curtin House was built in (as well as being a nod to American drive-in cinemas).
One downside to a rooftop venue, particularly in a city with volatile weather, is the lack of shelter. The new floating 'halo' rooftop structure allows the space to be utilised in all conditions.
"Melbourne's hospitality culture has undergone a complete transformation over the same period Rooftop has been open. It was important to retain the soul of the original bar and cinema but look to the future, with a more sophisticated offering worthy of this incredible skyline location," says McKeag.
Take a look at Technē's pub of the future, Hightail.