Contemporary interventions on locations that are filled with history are always a challenge for those designing them. But the lighting project developed for the Bourse de Commerce — Pinault Collection, in Paris, by Studio Bouroullec x Flos Bespoke was doubly so.
As far as adaptive reuse projects go, the Bourse de Commerce — Pinault Collection is a most prime exemplar of architecture's history, reworked by contemporary design. The preeminent names of those involved in the project—Tadao Ando, NeM Architects Agency, Ronan and Erwan Bouroullec, and Flos—are enough to make it significant, let alone the building's rich history.
The former Parisian stock exchange building embodies four centuries of architectural innovation and technical prowess. Now in its fourth significant iteration since its foundations were first built, c.1763, it has been reimagined in the form of a contemporary art museum, housing the collection of French billionaire François Pinault. Illuminating the entrance, the monumental stairs, and the contemporary restaurant of Tadao Ando's Bourse de Commerce — Pinault Collection, the lights designed by Studio Bouroullec x Flos Bespoke are works of art in and of themselves.
"We didn't have to illuminate the exhibition spaces, but the passageways," explain Ronan and Erwan Bouroullec, the brothers behind the eponymous design studio. Their remit in the grand scheme of the Bourse de Commerce — Pinault Collection was to give light to the restaurant—a brand new, contemporary addition—the stairway and entrance hall – both areas of period architecture. Independent of each other, the three spaces are wholly unique in character; yet what they have in common is a monumental presence.
The challenge for the Bouroullec brothers and the light manufacturers at Flos Bespoke, was how the lighting elements would assimilate with such powerful spaces during the day, when natural light and visitors flood the space. "What lights up the stairs and entrance hall today has therefore been worked, designed and imagined to be switched on but, above all, switched off."
In the entrance hall, Studio Bouroullec x Flos Bespoke responded with a captivating horizontal light installation. The interlocking structure is composed of five tubular elements of glass and aluminum, positioned in parallel, and measuring six meters each. Crafted in Venice using cast glass technology, each cylinder is simple yet organic in its form.
"It is not a technical glass," the brothers Bouroullec explain, "but a material that is never the same, almost alive, inserted in aluminum extrusions. The result we wanted to achieve was precise, but at the same time fluctuating and vibrant, just like the space that welcomes it."
The two spiralling stairways that flank the entrance space are each lit by five suspended vertical lights, connected to each other in a pentagon. Meanwhile, for the spectacular third staircase, formed by dual spiral staircases that intersect, Studio Bouroullec x Flos Bespoke crafted an installation of three vertical lights arranged in a triangle.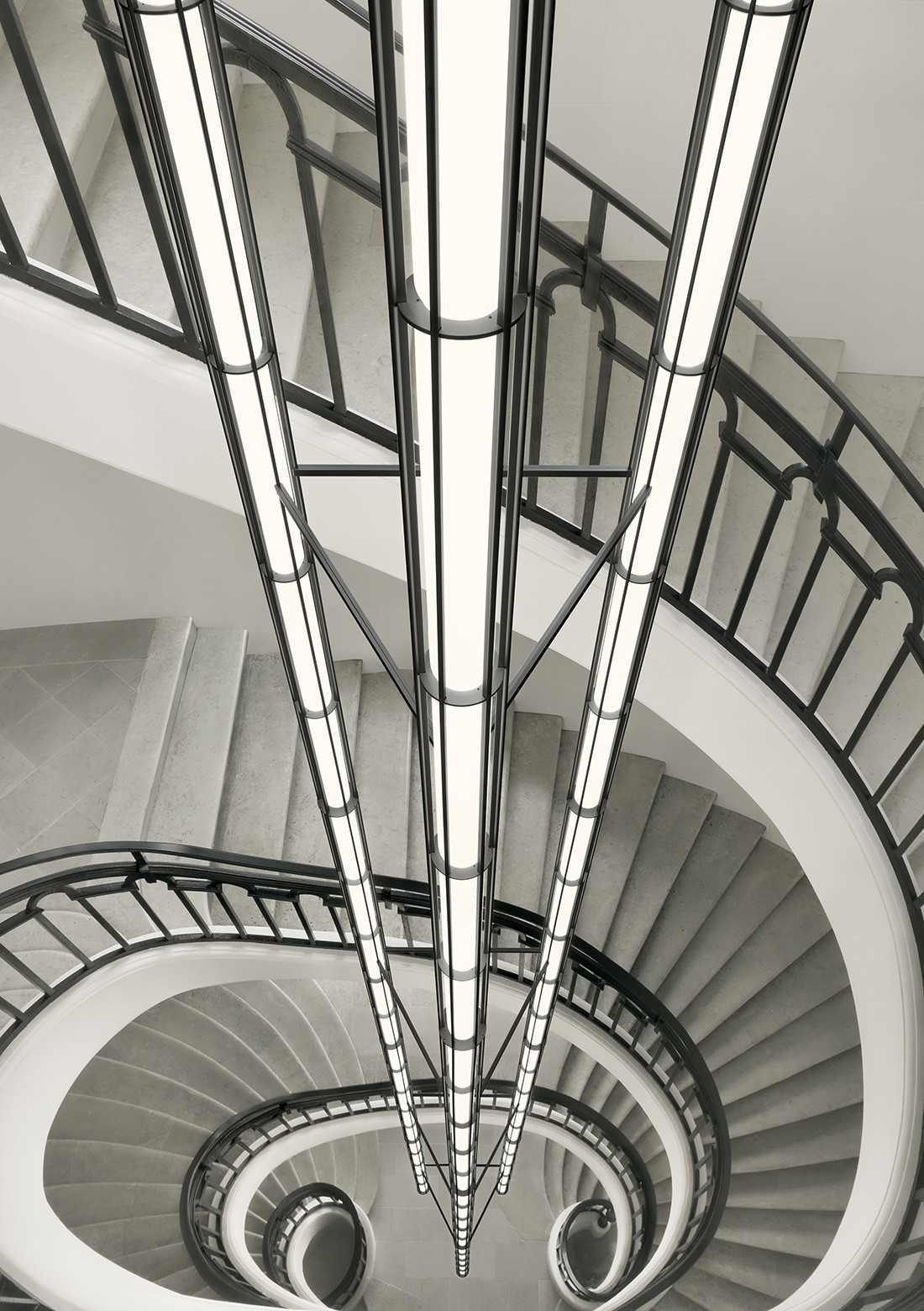 "For these enormous chandeliers, we have chosen a more precise processing for the glass than that of the horizontal light," explain the designers. "The aluminum we used is also more delicate and finer: the glass has been blown with great care in the molds, and it is protected by the metal grid for a shell effect."
As visitors traverse the spiralling stairways, they are able to take in the chandeliers from every angle, consummating in a breathtaking interstitial spatial experience. "Observed from below, the installation is delicate, almost transparent and ethereal," say the designers. "As you go up, its decisive physical presence is progressively affirmed."
The dialogue of binaries remains alive in the restaurant, a space that is entirely contemporary in its design. Here Ronan and Erwan Bouroullec used the vertical light cylinders to line the circulation path, juxtaposed with individual tables lit by simple, cordless lamps, with wrought iron bases, that work "with a small, very soft, rechargeable light source."
The collaboration between Studio Bouroullec and Flos Bespoke for Bourse de Commerce – Pinault Collection is not the first time the renowned designers and manufacturer have worked together. The Bouroullec brothers have been carrying out research on suspended lighting structures with Flos for years. "Flos Bespoke was our partner in the development of these large luminaires," state the Bouroullec brothers. "And, as in any project we develop together, thanks to their extraordinary technical skills, we were gradually able to solve the problems that this complex project presented us with and to put mutual inventiveness to good use."