Chandigarh: the name alone is enough to conjure all sorts of images for the architecture connoisseur. Designed as the new capital of the Punjab region in northern India in the 1950s, it's a famous example of a 20th century planned city. Le Corbusier is credited with the overall plan (although he inherited an original plan by Albert Mayer and Matthew Nowicki, and completed much of the work alongside Jane Drew and Maxwell Fry), leaving an administrative city that remains internationally notable and unique within India.
The city's Capitol Complex was declared a UNESCO World Heritage Site in 2016 – little wonder, then, that this is place prone to leaving quite a mark on those who grow up and live there.
In the case of RSDA's Zen Abode, the client was a family of four originally from Chandigarh. The house, however, is located in the National Media Center of Gurgaon, a suburb of Delhi, some 270km south of Chandigarh. At the centre of the brief for the architects, then, was the challenge to recreate a pocket of the provincial capital within the wider area of the national capital.
The building was already 35 years old and RSDA approached the task through a lens of revivification – it was all about refurbishing a dilapidated house in order to create a home. More specifically, as the architects put it, it was about creating a home within a home by virtue of evoking the nostalgia of the family's roots in Chandigarh.
With a minimal approach, RSDA has achieved this atmosphere primarily through colour and material choices, as well as a careful selection of furniture in the interiors. The architects took inspiration from Le Corbusier's colour series, 'Architectural Polychromy', while in terms of materials the emphasis is very much on exposed textures in interior spaces.
Related: Boat Club Apartments by SJK Architects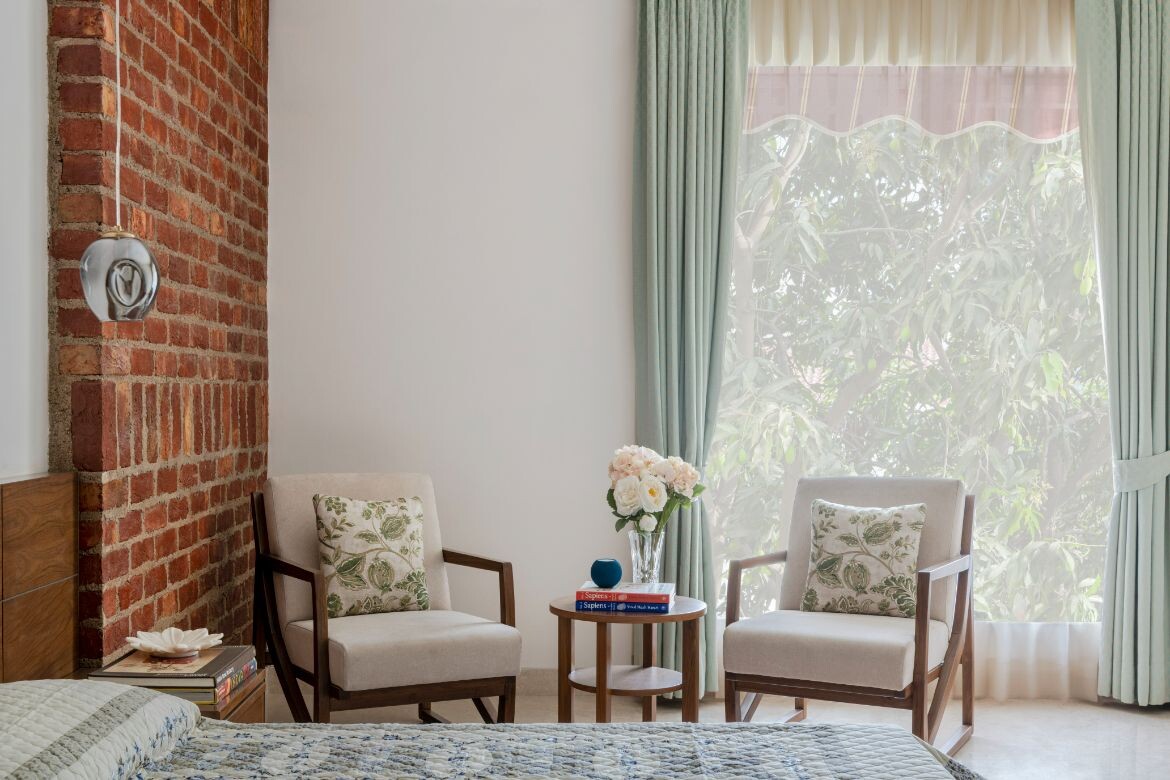 Perhaps the most striking feature of Zen Abode is the use of a bold exposed brickwork for some interior walls. It evokes a certain rawness and heaviness, offset against the timber and marble floor finishes. In this way, the home evokes Chandigarh in a less literal and heavy-handed sense than by trying to recreate some kind of Brutalist concrete sculpted form for the whole building. It's a project that works by layering colour and material in order to craft a sense of atmosphere and nostalgia for place.
The home is set in a grid, within which the architects have retrofitted the pre-existing structure with girders as well as opening up space by removing some walls. The external facade is minimal but openings into the interior are stretched in order to bring daylight inside. Retractable awnings counterbalance these by allowing for adjustable shading and shelter.
The main entrance immediately opens onto a striking open-riser metal stairway set within a double height space. Meanwhile, furniture choices are finished in rattan, yet give an industrial edge to the whole design. A library wall and outdoor terrace provide further homely touches, while walls were actually added on the first floor to create a lounge and three bedrooms.
The guiding design philosophy is about using traditional materials in a modern manner – very much in-keeping with, if not the letter of Le Corbusier's laws, then certainly the spirit of Chandigarh.
RSDA
rsda.in
Photography
Courtesy of RSDA
We think you might also like this book review of Concrete Jungle featuring tropical modernism in India.