The latest project from Architecture Discipline in New Delhi, India is the sensational store for Perona, the premium apparel company. Located in a shopping centre in Saket, New Delhi, the 110 square metre space is a showcase for the fashion label that is synonymous with fine craftsmanship and avant-garde design. To complement the brand, Architecture Discipline has created an experiential design for the interior that brings together culture and shopping in a contemporary environment that is both original and daring.
Working with the concept of an exhibition space, the interior becomes modular, flexible and re-useable much as a pop-up store. The digital and physical merge with the inclusion of a large LED screen placed between the walkway and the interior of the store to animate the entry zone. Through this activation, fashion statements are brought to life and enhanced with changing materials, lighting and finishes that together set the scene for an immersive experience inside.
The conventional idea of a retail store has been re-invented through the flexible shop displays in the centre of the floorplan that can be periodically reconfigured to present new product and an ever-changing fashion landscape for the regular customer. While moving through the store, a series of Perona's updated classics are displayed as if objects in an exhibition.
Extending the idea of the showroom as a personal journey, the changing rooms have been modeled on the idea of green rooms in a theatre. Here drama and design merge as curtains of suede fabric are enclosed by large semi-circular timber panels that provide privacy but also a sense of theatre.
A neutral palette has been employed and the materiality is strong and bold. Reusable polycarbonate and curved stainless steel panels have been used on the walls and create a foreground of black and grey that counterpoints the transparency of glass, while the suede curtains act as juxtaposition to the black and create highlights in the space. Including metal in the design helps to delineate areas and to reflect and diffuse the colour of the surrounding merchandise to great effect.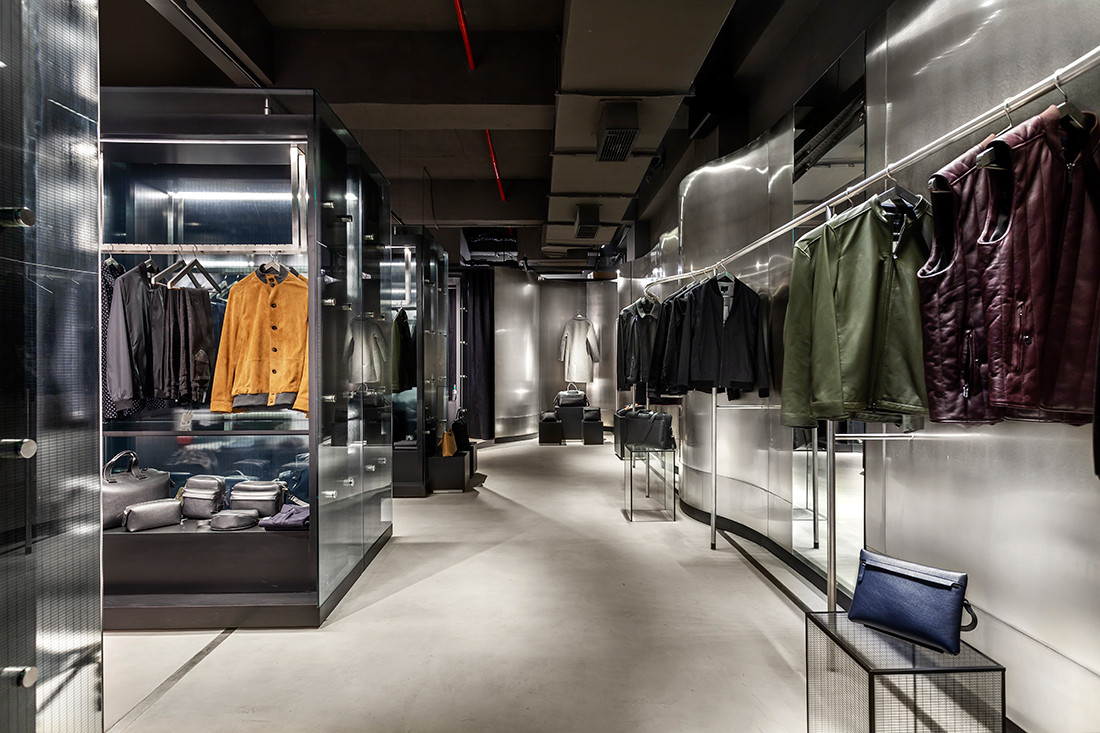 Once again Architecture Discipline has designed an outstanding project that speaks of creativity and sophistication. Principal Akshat Bhatt founded the practice in 2007 in New Delhi, India, and is forging ahead, conceptualising and developing exceptional design. Architecture Discipline has left its mark on India through the many and varied completed commissions that span the typologies of residential, retail, large-scale public and commercial projects. With Perona, the retail experience is heightened, the Perona brand illuminated and the customer can explore an exciting new world of fashion.
Akshatt Bhatt is an Ambassador for the 2021 INDE.Awards.
Photography by Jeetin Sharma