Realised as a vertical village, Microsoft's new North Sydney headquarters by GroupGSA naturally shifts from public to private through layered detailing and conceptually driven form.
Here, the entry point denotes the village square with a town hall space for gathering, internal community spaces with cafés, and an extraordinary stone wall. Working levels, however, function as the village itself, with working communities modelled into neighbourhoods that mingle and connect.
GroupGSA, in collaboration with the Microsoft Indigenous Representation Team (part of the Microsoft Diversity and Inclusion Team), has integrated Aboriginal and Torres Strait Islander concerns at an inherent level.
"We understood that First Nations engagement was requisite early in piece to provide a genuine sense of place," says Pablo Albani, GroupGSA principal of interiors.
As such, the conversation around First Nations engagement was commenced from inception with a unilateral understanding that the Microsoft Indigenous Representatives Team would guide GroupGSA as to the most appropriate of responses.
These decisions spanned a plethora of concerns from overall concept to acknowledgement of Country, with the designers constantly questioning, what else could be provided?
Each of the floors has been allocated a physical or ephemeral place of significance in Australia.
"Microsoft wanted its teams and staff to be always thinking outside the box for things that are non-standard, so we looked to the Australian environment to find landscapes and phenomenon that were special as a means to connect Microsoft values with these locations," says Jessica Margiotta, GroupGSA associate director.
As such, Level 28 references the Figure Eight Pools (Royal National Park, on the coast, just south of Sydney).
"The pools are iconic to Sydney, New South Wales, and we wanted to equate submersion into pools with submersion into Microsoft, and therefore the first encounter at the headquarters," says Margiotta.
Here the layers of timber depict movement on water as a series of concentric rings. Level 27 references Cradle Mountain (Lake St Clair National Park, Tasmania) and Aurora Australis (Tasmania) with a wall of stone and gentle tones.
On level 29, the Twelve Apostles are referenced physically with floor-to-ceiling organic-form wooden panels that present cave-like rooms with internal materials denoting the carved earth.
Effectively the ephemeral quality of the Apostles' sandstone forms, as eroding and thereby perpetually changing, is aligned to the constantly changing nature of technology.
This is further iterated by the room configurations with mobile furniture that allows the rooms to be adapted and changed as need dictates. The Remarkable Rocks (Flinders Chase National Park, South Australia), the Daintree Forest, Mount Stromlo and Wave Rock are similarly extrapolated on the remaining floors.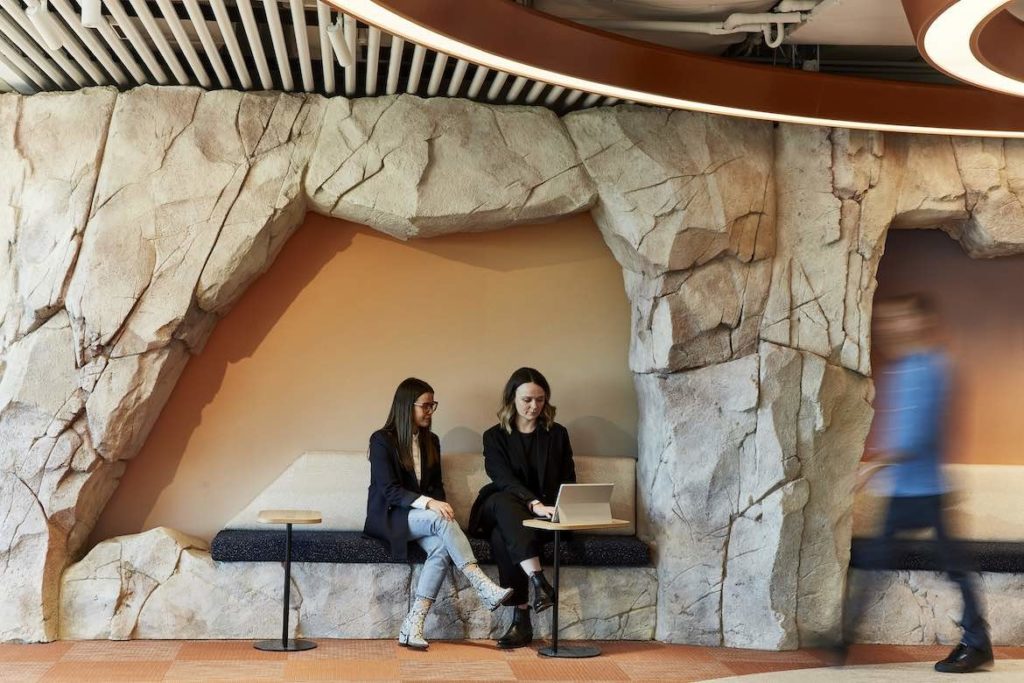 Within each of these floors Aboriginal and Torres Strait Islander culture is expanded on, both overtly and subtly. Acknowledgement of Country is a three-dimensional text work on the 28th floor that recognises the traditional owners of the land and is a permanent installation. Large-scale murals are similarly evident.
"We engaged with local artists which the Microsoft Indigenous Representatives Team identified, and worked with both the artists and team to determine what would be most appropriate in terms of elements of story-telling and where to place them," says Albani.
To further engage a sense of understanding and appreciation the murals were not painted during the fit-out, rather, they were delayed until the teams had moved in.
"It was important to build that bridge between what we have designed and what they see, as the connection to place. It was the missing piece. We deliberately waited to allow an appreciation of the art and build a connection to how it makes you feel," says Albani.
Instilling a sense of discovery and appreciation, on each floor the place or phenomena referenced is compounded with intimate 'Easter eggs' of information that will be discovered over time.
First Nations representatives from different communities were invited to write a piece of information pertaining to that landscape with texts covering topics such as bush food.
"The 'Easter eggs' are placed in hidden locations to generate a sense of discovery: something meant to be found in a year or two from now. The discovery is a bit like an egg hunt and is really about an appreciation of natural phenomena and the journey to get there," says Margiotta.
This sense of journey and discovery is well established in the project's layout. On arrival at any floor the feeling is of being on a verandah. The sensation is compounded by lighting designed to mimic shadows and sunlight and the biophilic effect of being outside.
Moreover, like a veranda the outlook offers myriad options to explore.
"We wanted people to discover those spaces on their own and we [foresee that happening] as they venture away from their own team environments to collaborate with other business units or neighbourhoods," says Albani.
Meandering tunnel effects with hanging plants within an undulating-built environment entice, but you are not aware of what is beyond.
Once a direction is chosen, more options present themselves. "Every layer has nuances, they all have caves; essentially little pockets within these built environments where they could sit with one other or alone to do focused work."
Collaborating areas of myriad options range from large spaces for teams, to sleeping pods, rooms for one or two, and phone booths. There is a discovery room called the Wolf Mother where ideation takes place, but more commonly areas of entry with white walls and mobile furniture so teams can create and own that space.
"Designing through the pandemic anticipated a huge shift towards rethinking the purpose of the workspace. There was a concerted effort to say, 'The world is changing, so let's refocus on collaboration and give greater thought to that need,' " says Albani.
What was once the exception is now a given with premium staff amenities ranging from a passive gym (no impact, yoga, pilates, wellness etcetera), to sleeping pods, café, parent room, reflection room and such. More specifically to Microsoft is the Xbox exhibitions room which brings the brand to life. There is also a live stream room with a champion gamer at play on a huge display screen.
Honed to meet Microsoft's functional needs, the spatial use is exemplar.
It is however, the exploration of journey through Aboriginal and Torres Strait Islander artworks, design, concerns and acknowledgement that makes this project really exceptional.
GroupGSA
groupgsa.com
Photography
Steve Brown Photography
This article originally appeared in Indesign Magazine #85. Order your copy today.