In an area of population expansion for Sydney, facilities such as healthcare are obviously important. Designers are having to consider the needs of a growing area and combining this expansion with the latest in wellness considerations.
"This hospital ensures the growing community of Campbelltown is well looked after into the future," says Tara Veldman, BLP managing director, principal & health lead. "The new building includes adult and children's units as well as the integration of mental health services, enabling the delivery of contemporary healthcare in a holistically designed precinct."
This holistic and integrated strategy is at the heart of the design. Located on Dharawal Country, the 12-storey project involves the refurbishment of existing buildings and addition of new facilities. These latter facilities include an emergency department, intensive care unit, women's health services and maternity suites, children's wing, state-of-the-art operating theatres and mental health unit.
A lofty indoor avenue known as Hospital Street is filled with artwork and marks a key architectural response to the planning and integration of services on the site. Featuring a collection of works by Indigenous and non-Indigenous artists, it connects the new and existing facilities and acts as the focal point bringing together all the hospital services and access.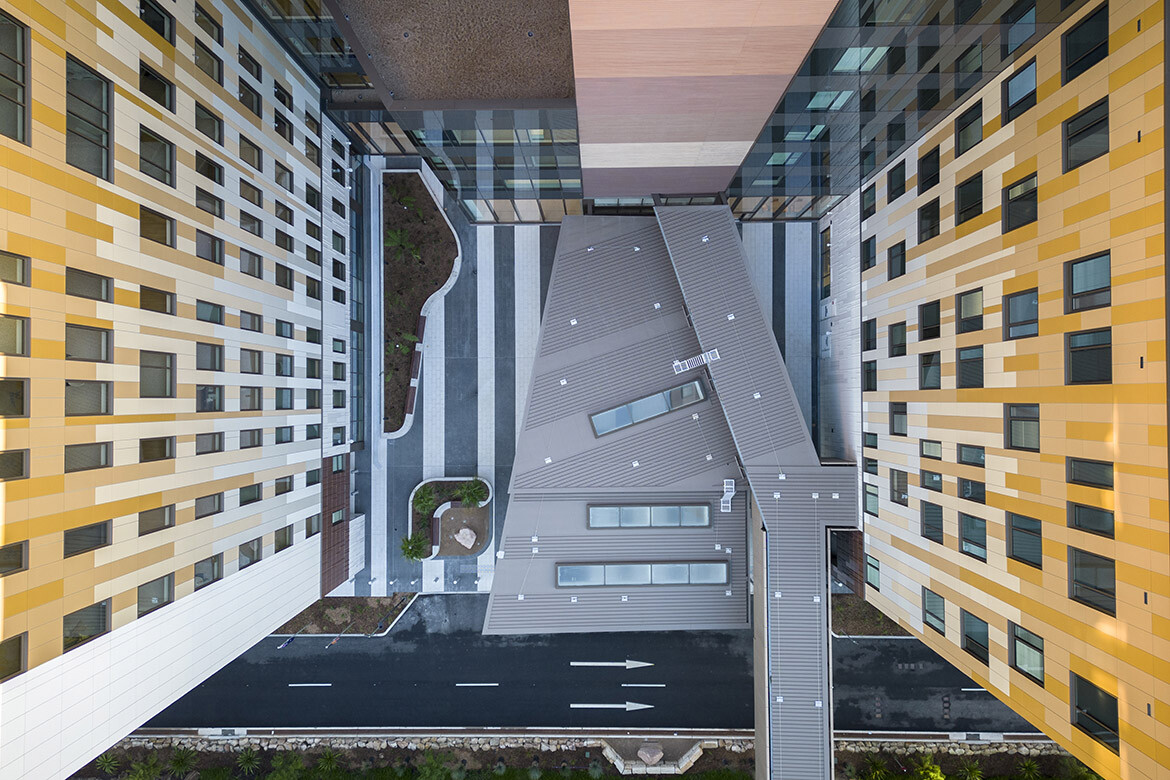 Hospital Street is filled with natural light, comfortable furnishings and serviced with food and retail outlets, as well as play and recreation zones. The area is designed to be an uplifting arrival point and meeting space, allowing users to navigate through the hospital.
A calm and welcoming atmosphere is created by using a palette of organic materials, part of a wider approach that marries sheer expansion with greater sensitivity by, for example, acknowledging the sensory effects of space on wellbeing.
"The design of Hospital Street was a game-changing moment in the project, because it unlocked the potential of the whole site, allowing us to integrate the various new wings as well as create strong new connections to light, landscape and the community," says Adam Muggleton, BLP principal & project director. "In its scale we think of it more as an airport terminal. 
Related: Indesign #87, the State of Wellbeing issue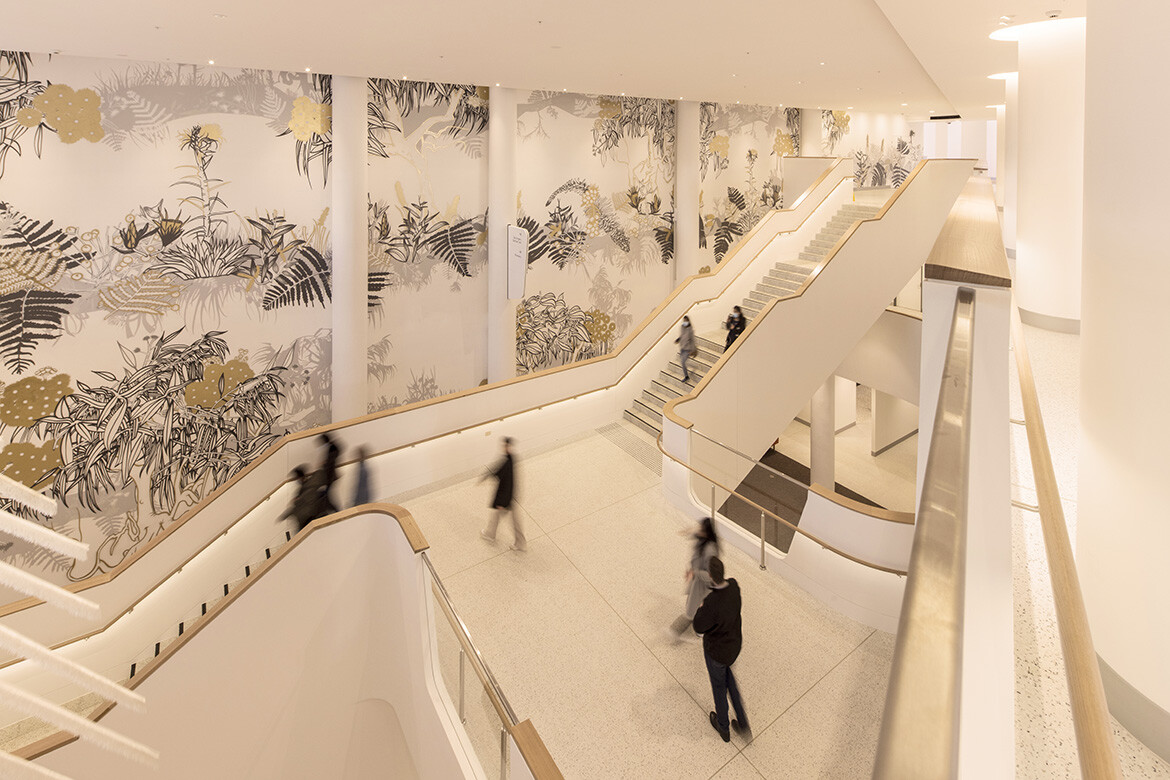 "The height helped us purposefully manage level changes between the existing and new facilities, and future-proofs the hospital because further additions can simply plug-in along this spine," adds Muggleton.
Meanwhile, the main reception area is defined by sweeping curves and timber cladding. The space here also includes sculptural work by Nicole Monks and large-scale illustrations by Erica Seccombe.
Another key part of the integrated approach is the seven-storey mental health services area. The range of new spaces capture the changing face of healthcare design. They allow for modern models of trauma-informed mental health response and include sensory rooms, de-escalation rooms, light-filled courtyards and unexpected activity rooms, such as an open-air basketball court. The focus on space and sensory experience is ever-present.
Other important aspects of the overall design include family focused childcare, community engagement and an emphasis on connecting to Country. "Campbelltown Arts Centre was instrumental in engaging the local Dharawal community of Campbelltown, Camden and Wollondilly through regular workshops over the project life, including with well-known Aboriginal elder Uncle Ivan Wellington," Muggleton says. Fit for a growing population with diverse needs, this project manages to execute expansion without losing sight of innovation and wellness.
Photography
Brett Boardman (except where captioned otherwise)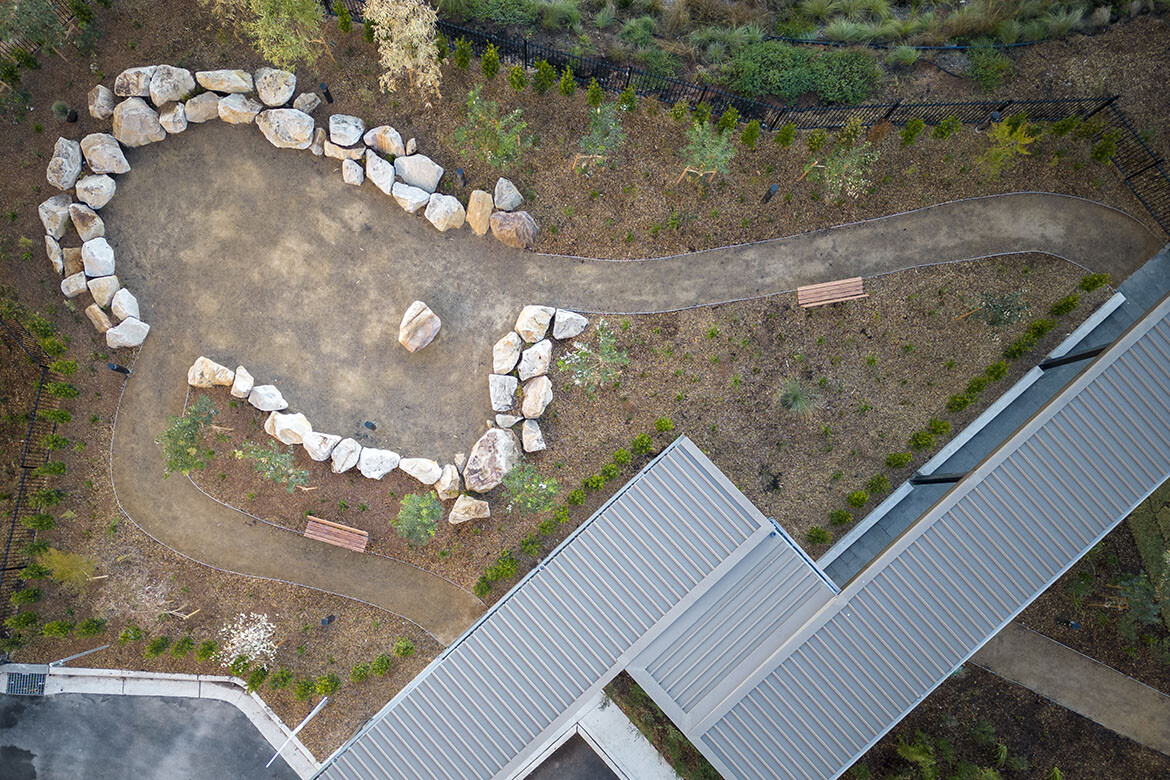 We think you might also like this comment piece by Hassell on wellbeing in healthcare design.