The Build-to-rent model of housing is gaining traction in the market and there's a reason for this. LIV Munro in Melbourne, a new Mirvac offering, has been designed by Bates Smart and is proof perfect that building for renting will meet needs and, most importantly, offer a superior lifestyle filled with amenity and facility. With outstanding views of neighbouring Queen Victoria Market, LIV Munro is a winner on literally every one of its 39 levels.
The idea of LIV Munro is simple: a build-to-rent project that actively encourages renters to stay long term, bring pets, paint walls, with no bond and an integral commitment to sustainability and net zero emissions. Those who rent are encouraged to make the apartment their home and enjoy the wonderful amenities and excellent location. There is already a destination in Sydney, LIV Indigo, and communities planned for Brisbane, as well as more destinations in Melbourne.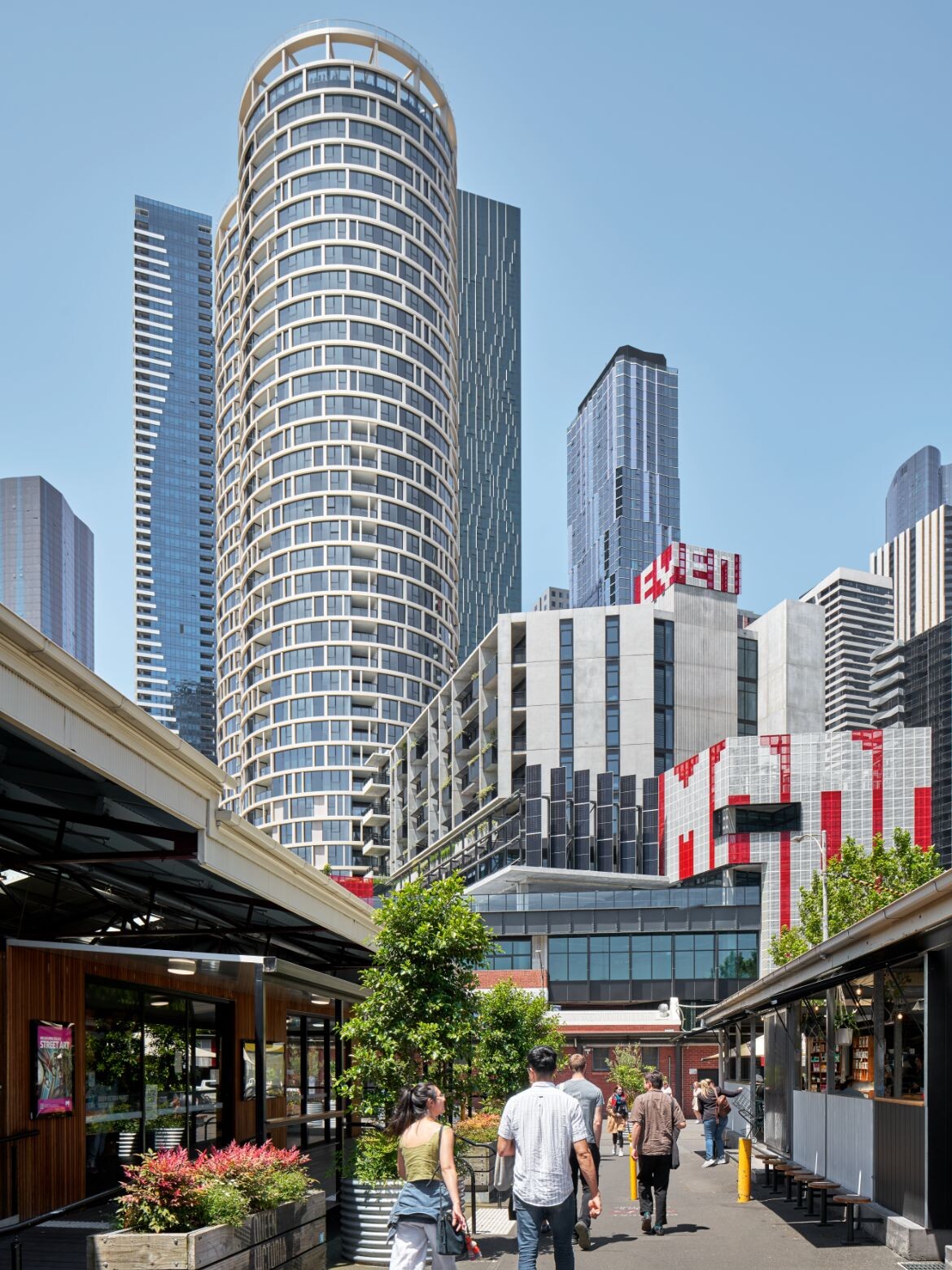 LIV Munro is one component of the larger Munro precinct adjacent to the Queen Victoria Market, designed by Bates Smart and Six Degrees Architects for Mirvac, PDG and the City of Melbourne. Sensitively designed for the site and easily accessible, LIV Munro comprises twin circular and adjoining towers and the entrance is set back off the street, understated and low-key.
The reception desk is a simple timber island bench that complements the pared back furnishings and edgy artwork. The aesthetic is one of an upmarket work place, comfortable and ready for business.
There are a total of 490 apartments and there is every possible amenity to enhance the LIV lifestyle, all purposefully designed for functionality and to encourage connection and community among the residents.
On the uppermost floor is a designated open plan co-working area with bookable meeting rooms, multiple spaces to meet with access to the outside and the largest communal rooftop garden in Melbourne. There are also dedicated private dining spaces, a lounge/bar, café, entertainment facilities, myriad event spaces, two media/cinema rooms and even a recording studio. All surrounded by a wrap-around outside walkway space with areas to rest and furniture groupings of chaise lounges, chairs, tables and benches, barbecues and extraordinary market and city views.
Related: Austin Maynard Architects focuses on community
Level five is dedicated to health and wellness, featuring a 17-metre lap pool, spa, sauna and steam rooms, indoor/outdoor gym, yoga space, and Pilates/barre/dance studio. There are again many communal spaces including adjoining garden terraces and a herb garden along with a dedicated dog park and dog washing facilities.
The interiors of the apartments are beautifully designed by Bates Smart — with Cian Davis (director) as overall project director, Damian Rough (associate) architecture lead and Darren Paul (associate director) interior lead — creating excellent spatial flow and flexible, generous floorplans. The curve of the base building provides extra generosity within the interiors, while some apartments can be co-joined with another. With ample cupboard and hanging space, separate bathrooms, open plan areas and a balcony with outstanding city views, each residence can become a singular and individually tailored home.
The corridors are unusually light and airy thanks to clever design with centrally located plantings beyond glazed windows placed midway on these thorough-ways. Bringing in the natural light ensures that the journey to your front door is almost as enjoyable as being outdoors.
Sustainability is high on the list of initiatives at LIV Munro and the development integrates significant advanced technologies and design features to help futureproof the building, reduce the impact on the environment and lower occupant energy consumption and costs. With 100 per cent renewable energy, rooftop solar panels and a high-performance facade the building targets a 5 star Green Star rating overall and an 8 star NatHER's rating for the apartments. There is also dedicated resident/visitor bike parking and maintenance facilities. LIV Munro's location is also within easy reach of public transport.
While the project was some seven years in the making, it's been well worth the wait. Bates Smart has thought of everything and the design is both complex in its thinking and beautifully simple in its realisation. With attention to every detail LIV Munro is a ground-breaking project that reflects its historic surroundings through materiality and architectural features but provides contemporary solutions for modern-day living.
"We have designed a place that is fundamentally connected to the market, drawing on the energy and vitality of the produce, the heritage architecture and the fine-grained spaces," says Cian Davis. "The development brings a new type of living to the city, which is focused on the long-term health and happiness of residents and places greater emphasis on the creation of community."
LIV Munro is first and foremost about community, providing the renting populace with an outstanding destination that will rival any multi-star hotel. It's no surprise to know that LIV Indigo in Sydney is consistently at 95-98 per cent occupancy and LIV Munro, Melbourne will undoubtedly be the same.
With the challenges that are presented to architects and designers these days, one thing is certain: Bates Smart has captured the place and time and designed an exemplar building that not only meets requirement but totally exceeds it.
Bates Smart
batessmart.com
Photography
Peter Clarke
We think you might also like this article on Elenberg Fraser's Melbourne Towers.