Smith St Bistrot has been brought to life by Sarah Townson, founder and director at Anthology Studio, along with owner Scott Pickett who sought the skill of the New York-trained hospitality designer to recreate a unique French bistrot experience in the heart of Collingwood.
Townson was already well tuned to Pickett's approach and aesthetic having worked with him on previous venues including Longsong and Matilda.
This commission was different, however, his brief calling for a space that looked as though it had always been there, with carte blanche for her to inject significance, style and soigné in every corner to ultimately fill a gap in Australia for dining.
Townson was a fitting choice, combining the studio's different skill sets in interior design, industrial design, fine art and architecture, to hand paint walls, install new levels within a heritage facade, design a restaurant and customise or restore each piece of furniture to meet the vision.
"At Smith St Bistrot, I wanted to bring to life an art deco fantasy using design to depict what a classic bistrot would feel like in film, envisioning a dramatic romance unfolding over a late night dinner," Townson says.
"We designed for an emotion, which is different to traditional Australian designers who design for an aesthetic."
Related: Room Service: The rise of in-hotel dining experiences
From the initial brief, the two spent months spent articulating the design, menu writing, recipe testing, researching and drawing on their rich experience with European service.
One of their key design responses was to instil sustainability balanced with a strong sense of timeless cult – no easy feat.
Guests enter the 1888-built space through wrought iron gates and distressed lacquered timber panelled doors, with custom gold chandeliers on either side of the entrance.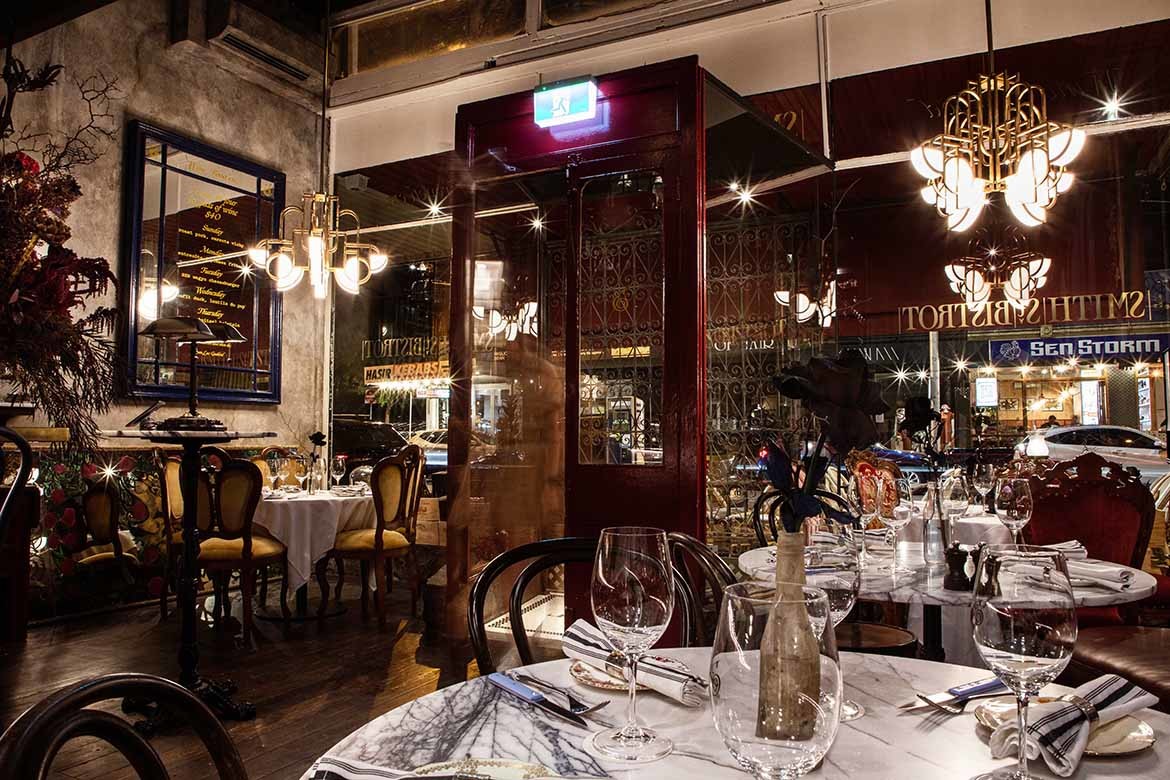 There is space for 40 guests in the main dining room, where floor-to-ceiling antique mirrors include hand painted blue frames, above burgundy leather scalloped banquettes and white-veined marble tables. The hand carved joinery and booths crafted by a local furniture maker take pride of place, accentuated by antique Parisian art.
The space is furnished with antiques sourced from French chateaux, and crystal, crockery and cutlery from Le Bristol Paris. Antique lamps were given a second life, with chargeable bases, while all chairs were restored and painted.
Views to the bar take in the original brass top, which has been kept as a tribute to the venue's former life as Saint Crispin. Above, a mezzanine accessed from a spiral staircase maximises functionality, height, and creates a gallery for Euro-style people watching. On the walls living moss – treated and dyed in greens, blues, blacks and neutrals – creeps along exposed brick walls.
"The oversized hand-detailed antique mirrors and moss walls on the ground floor of Smith St Bistrot emphasise scale and the emotions associated with the drama of a romance, and the dramatic staircase and new mezzanine level create a layered gallery effect for people watching and semi-private dining," Townson says.
Upstairs, the showstopper is the bespoke mural hand painted by Townson herself, inspired by a midnight storm in the Mont Blanc Forest and including a gnome that bears a striking resemblance to Pickett.
But there's also a custom, hand painted wallpaper seen throughout the venue across both levels.
"The hand painted wallpaper is special to us, as we engaged a wallpaper supplier to print the first layer of artwork on silk, and then we hand painted the second layer across 75 square metres," Townson says.
Of course, there are equally as impressive small touches too adding to the sense of timelessness. For example, an antique bookbinders desk in the front of the restaurant, which is the main waiters station.
"Scott Pickett and I sourced this in Bangalow, NSW, from an antique dealer and brought it back to Melbourne. It's incredible because it has a marble inlay within the timber desk, which doubles as a baguette bread cutting board. I love that we gave it a second life in the venue," Townson says.
Anthology Studio
anthologystudio.co
Photography
Alex Squadrito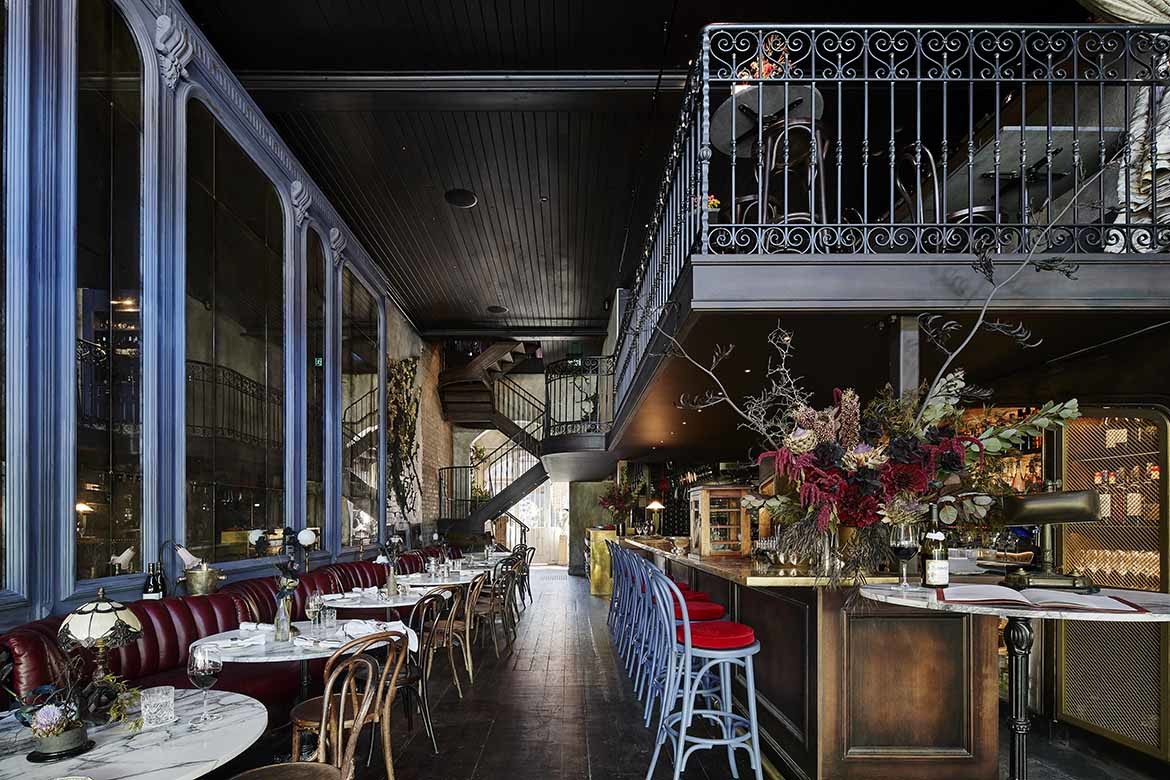 We think you might like this article about St Hubert's Winery by Cera Stribley.