Anchovy Bandit could be the setting for a classic cinematic scene with its timber panelled booths, long sweeping bar and nostalgic, low-key vibe. And appropriately so, given its location below a new cinema complex in Adelaide. Designed by Sans-Arc Studio, Anchovy Bandit is a modern take on the no-fuss, hole-in-the-wall bar and nostalgic suburban pizza joint, providing a cosy and casual place to enjoy a drink with a side of pizza.
Sans-Arc Studio's inspiration for the bar was threefold: a neighbourhood watering hole, an Italian pizza-bar vibe and a subtle art-deco aesthetic, which draws from the "new-art-deco" style of the cinema complex.
"We wanted the space to primarily look and feel like a bar, an informal setting, where every spot has its own type of comfortable," says Matiya Marovich of Sans-Arc Studio. "The cinema provides a steady stream of customers, but the venue caters for different groups and all periods of time: a couple drinking at the bar, a few friends for pizza and beer on the banquette, or a family filling a booth for a long dinner."
The sweeping bar down one side of the narrow space is designed as the main feature and culminates in the pizza preparation area tucked in the back corner.
.
"We wanted the space to primarily look and feel like a bar, an informal setting." – Matiya Marovich, Sans-Arc Studio
.
"This communicates the venue's identity as a bar with food, not a restaurant," says Matiya. Casual and flexible seating is provided in the banquette in the front window and the intimate booths that stretch the length of the bar; while the softly rounded corners are reminiscent of the art deco style.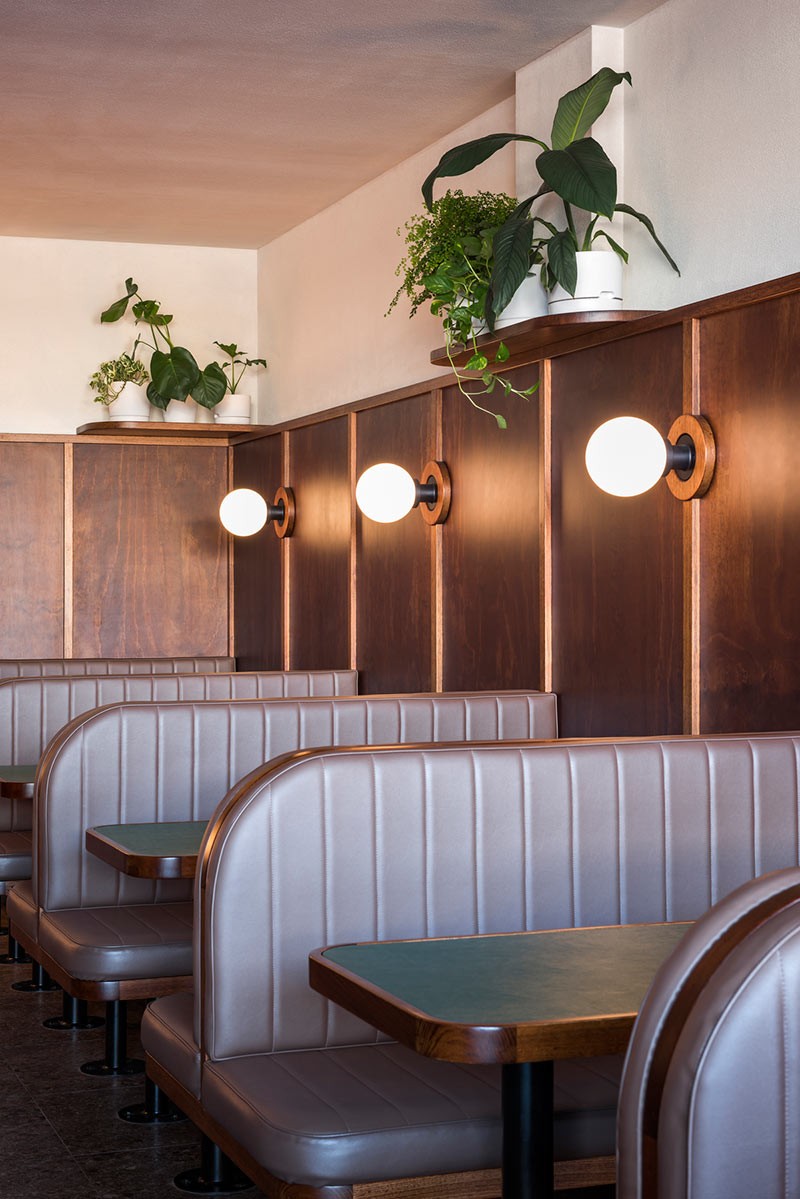 Catering for day and night customers, the space transitions from light and bright to romantic and moody. Sans-Arc Studio achieved this balance with the lighting and material palette, which Matiya describes as "a spin on old social clubs and Italian cafés."
White rendered walls provide a light backdrop to the dark, rich timber panelling that wraps the bar, booths and along the wall. White tiles on the bar top and behind the shelves provide a light and practical surface, and orb and pendant lights add a warm and welcoming glow.
Many memorable movie scenes have been set in a classic neighbourhood bar like Anchovy Bandit and with its nostalgic undertones, it's not too hard to imagine many of them being set here.
Photography by David Sievers.
Take a look back through other projects designed by Adelaide's Sans-Arc Studio. Our current issue of Indesign explores the age of hospitality design, take a look at other stories here.
–
Always see the latest in design and hospitality projects, sign up for our newsletter.