With biophilic elements an essential component of wellbeing, designs are evolving to consider light and engagement with nature at conception. It is a brave move as the biophilic box can be easily ticked with an array of plantings. What has increased is the inclusion of wintergardens.
These, light filled atriums and apertures into forests and tree tops are shaping building design on a foundational level. Whether the desire is for employee health, mental wellbeing or visual delight, the engagement with the natural growing world is profound. Moreover, it is not just the work place that is benefiting from this new direction.
1. Afterpay by The Studio* Collaborative
Compounding the impact of the prominent corner position internally, floors five to seven have been 'punched through' to create a corner atrium that infuses the whole with light. Screened with perforated white steel, the atrium presents as a sleek and highly contemporary take on an Edwardian glass house.
Here, the screening references framed glazing, while the deep green foliage and individual wintergarden gazebos are executed to perfection. Indeed, these individual pods – comprising a semicircular screen of white perforated steel, semicircular desk and simple chair over a pale blue carpet – are refined and simplified as an uncluttered haven. They are also infused with a soft dappled light and perfectly at home amongst the large and abundant potted plantings. Read more.
2. Marriott Hotel, Docklands by DKO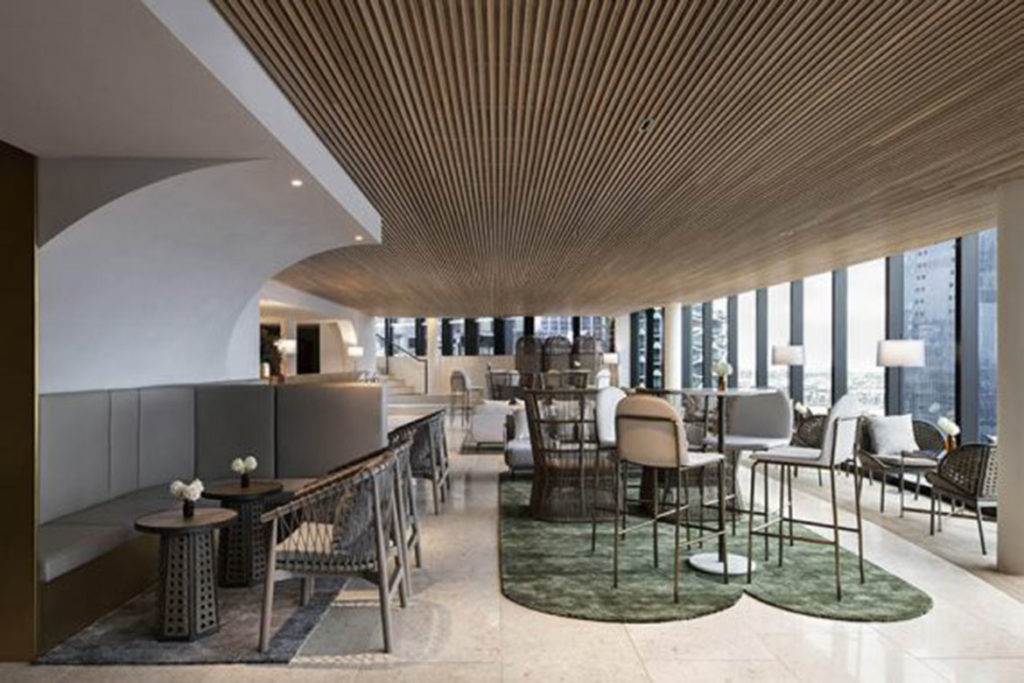 Creating an urban resort just minutes from Melbourne's CBD, DKO's  thoughtful design and beautiful detailing, incorporates the best of both worlds, that is, a hotel for travellers and apartments for permanent residents. 
The hallways on each floor are long, as they traverse the width of the curved building, however, strategically positioned wintergardens placed mid-point at the sides of the corridors provide visual respite along with natural light. More here.
3. One Sydney Harbour by Renzo Piano Building Workshop and State of Craft
There has been an emphasis placed on light and transparency by both Renzo Piano and State of Craft, with operable facades and winter gardens also integrated into the design.
Goldberg and his team designed the pool, gym and wellness space, which contrast one another. The greenstone-laden pool juxtaposes the gym, which is clad in timber. More here.
4. Blue – Lavender Bay by PTW and Aqualand
The design modulates the previous commercial tower's uniform, pre-cast façade to reduce bulk. Now Blue at Lavender Bay's facade features protruding, curved glass wintergardens and wavy balconies for a more lyrical expression with horizontal slim steel structures, stainless steel balustrades and fritted glass screens complementing the new lighter look. More here.
5. UTS Central by fjmt
The jewel of UTS Central is the library and reading room, three double- and triple-height volumes directly connected over three levels by a double-helix spiral staircase. These light-filled spaces, with their custom-designed furnishings in American Ash and green terraces, are oases of reflective calm while remaining fully connected visually to the outside by the cavity glass façade and skylights. They continue the aesthetic of flowing, curvilinear walls – even the stacks meander in a reminder that "books do furnish a room".
Facing north, the sun was a potential problem – although it also offered the opportunity for a wintergarden. TILT's mix of fixed and automated metal louvres with leaf patterning provides the solution. It brings with it a decorative element, visually enhancing the louvres whether seen from inside or outside and supporting the overall organic aesthetic of the building.
6. Sydney Tech Central Place by Fender Katsalidis and SOM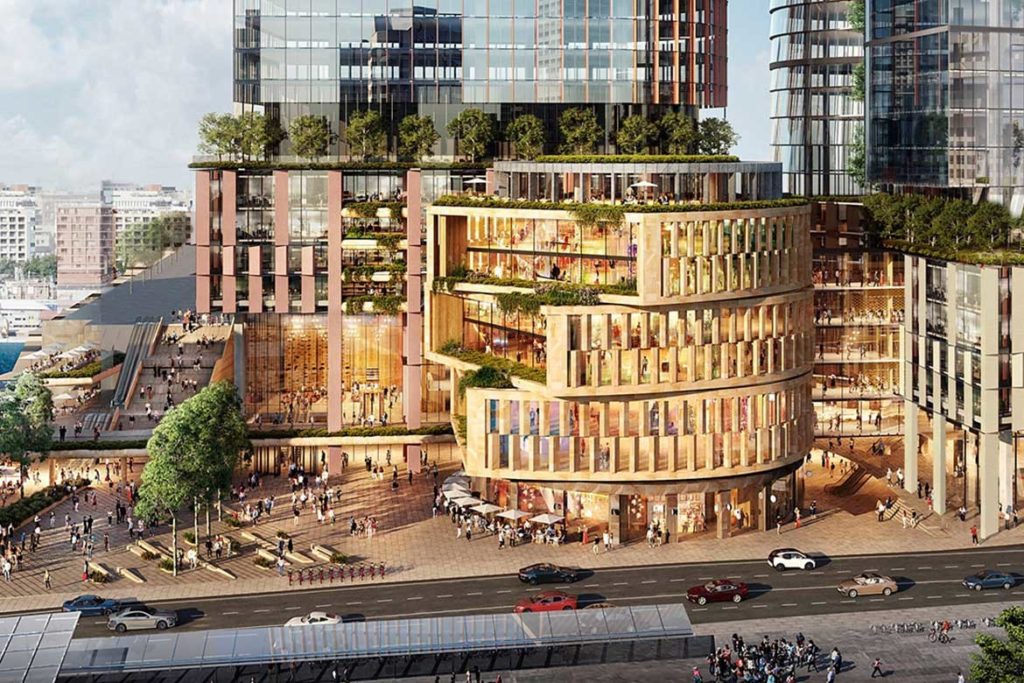 Looking into the future, wintergardens are a driving force for community and culture as heralded by Fender Katsalidis and SOM's Central Place Sydney design. Underpinned by almost $50 million in state funding, Sydney Tech Central – a.k.a Silicon Valley, Down Under – is set to be the most significant CBD development NSW has seen in over a decade.
The workspaces have been designed to be highly flexible, both vertically and horizontally, with diversity in volume to allow technology and innovation businesses the opportunity to evolve and continuously shape their culture. Meanwhile, circulation flow through the precinct is formed organically via the spaces between the built form, allowing each floor to have its own unique neighbourhood connected by 'third space' experiences such as wintergardens, mixed-mode environments, light-filled atria and external terrace. More here.