Markian's design language is unique in its bold, textural and imaginative expression, and cohesive in its consistent use of visual and tactile elements that make for an exceptionally coherent yet bespoke furniture offering. Pick any of the deeply inspired, carefully designed and locally manufactured pieces and you will be seduced by the alluring duality, charismatic subtlety and confident articulation that underlies the Vieira collection.
Named after Florence Knoll, Dieter Rams and Ferdinand Ludwig – who, Roz de Waal explains, are some of the Markian team's design heroes – Florence, Dieter and Ferdinand are distinct and autonomous, with Markian's unmistakable thread underpinning each individual articulation. From the omni-present theme of interconnectedness and its signature manifestation in the shape of a scallop motif, to the masterfully balanced proportion or beauty and functionality, Markian's range celebrates the idiosyncrasies of each highly-resolved piece with extraordinary integrity.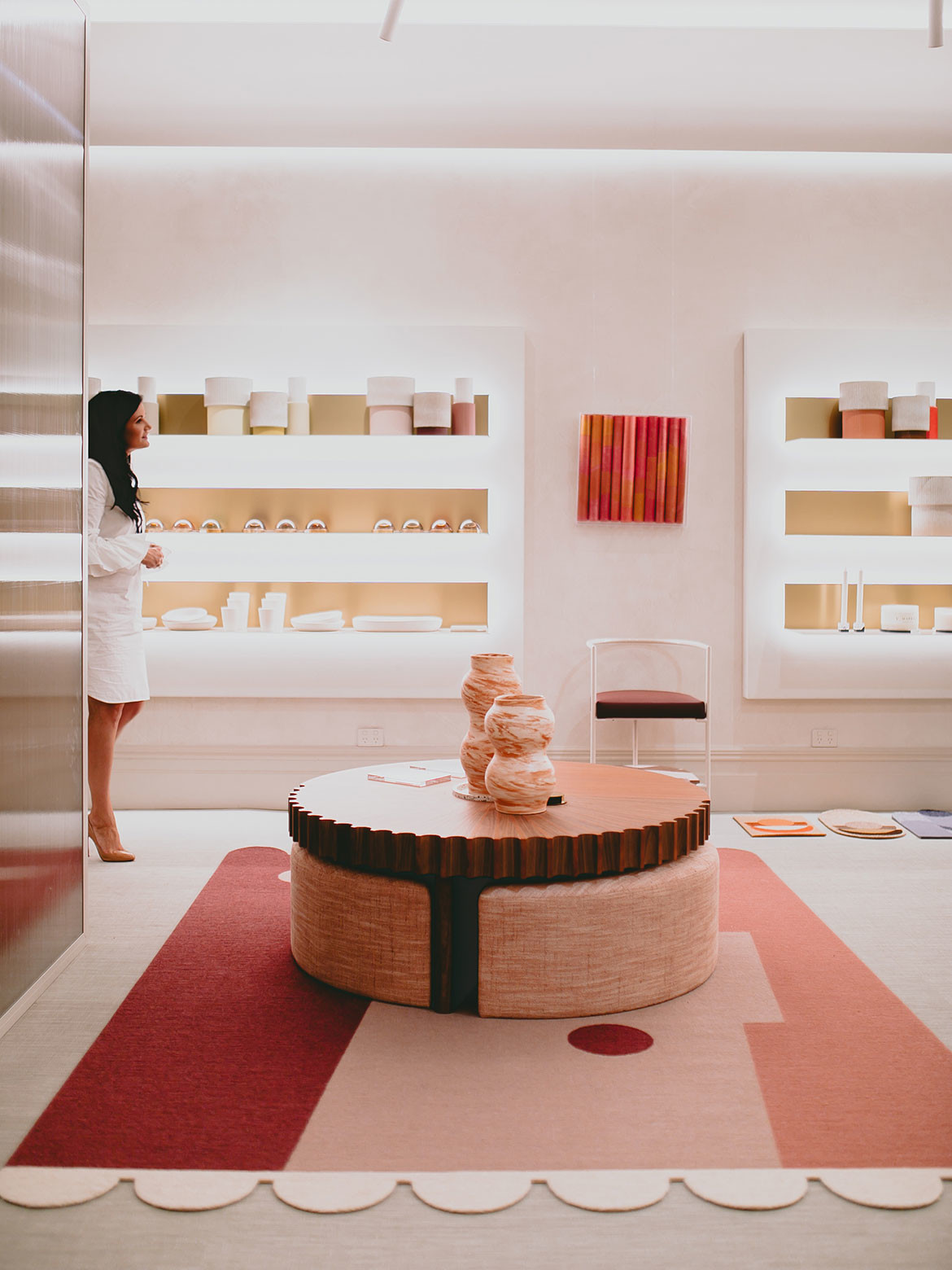 Distinct, layered and quietly self-assured
Named after a designer who revolutionised the world of post-war office interiors, Florence sofa embraces the careful attention to detail and appreciation of proportions Florence Knoll was renowned for. Designed with a waiting room or a hotel lobby in mind – but comfortable enough to double-up as a sleep option for guests – Florence's generous silhouette is inviting and subtly confident in its refined symmetry.
The round geometry of the piece is paired with the opulence of the soft upholstery and the classic elegance of wood, used to make the railing, base and legs. Vieira's ubiquitous theme reveals itself through the sofa's measured, curved silhouette, the intricacy of its details, as well as the distinguishing palette of rich colours the seat, its covering and the bolster are available in. Inspired by flowers native to both South Africa and Australia, colourways ranging from Azul and Naranja to Verde and Tosca were all named after their Spanish counterparts. Available in light and dark tone options, the nine bespoke shades escape the traditional notion of blue, orange or green, instead encapsulating complex hues that are much more unique, elusive and emotive.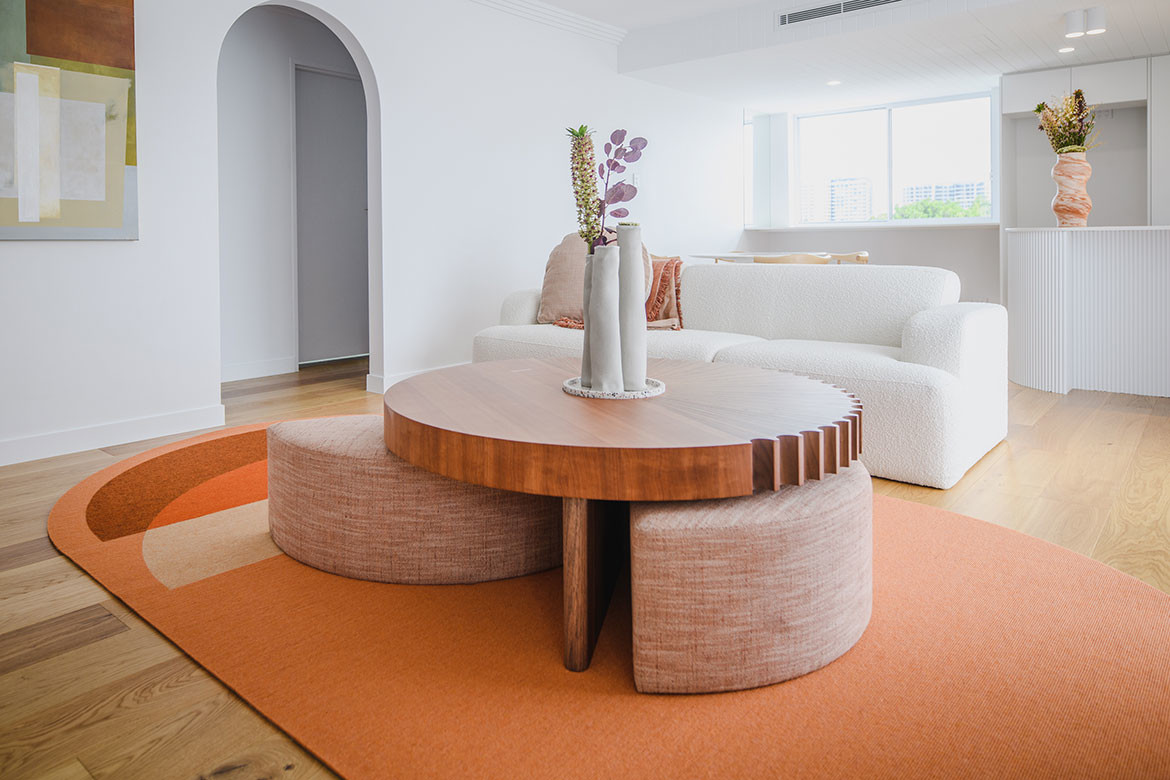 The alluring depth of Florence is further punctuated with an eye-catching detailing on top of Florence's railing, made with Markian's custom solid surface, Marblo. "Marblo by Markian represents our belief in endless design possibilities through alternative, sustainable materials," Roz explains. "A notable feat in challenging familiar materials, this solid surface is a result of our innovative production process and daring spirit."
The versatile surface comes in the same colourways as the other materials, and is available in a selection of four different styles that range from a plain Set and a traditional terrazzo Speckle, to more striking and distinct patterns that include Spot and Scatter.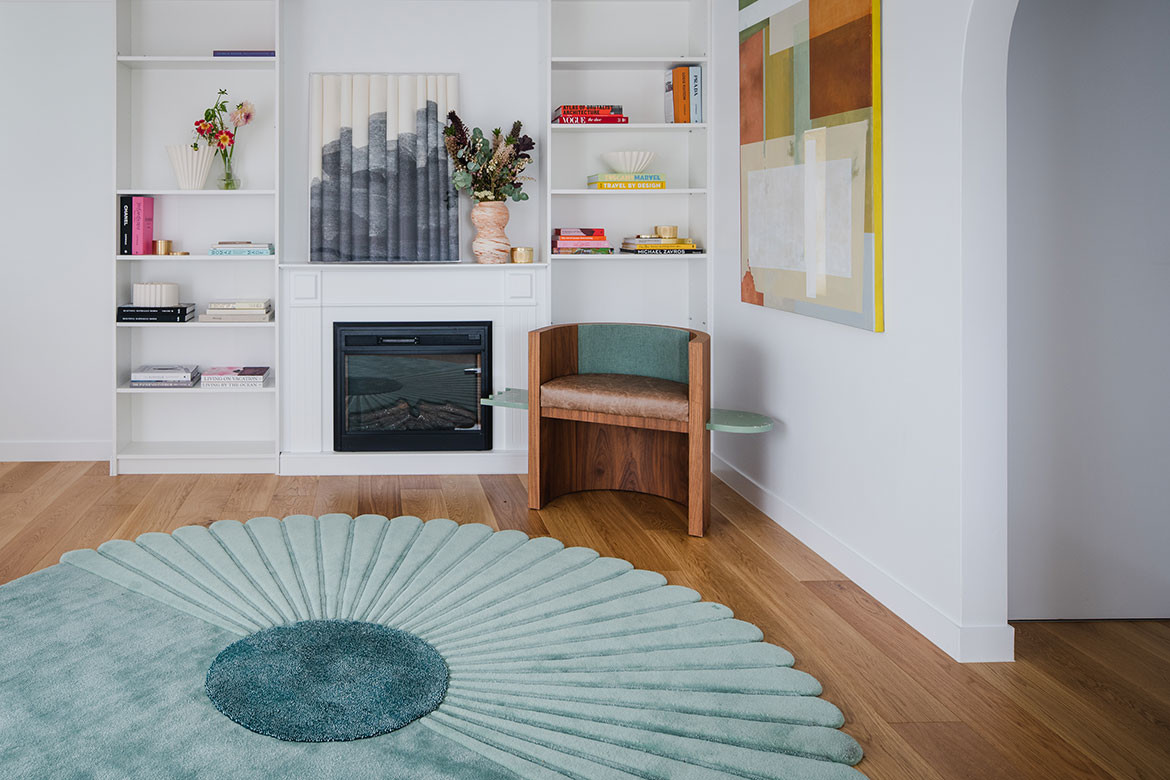 Engaging, multifaceted and charmingly extravagant
A subtle, yet significant touch that elevates the Florence sofa, Marblo takes an even more prominent place in the outgoing design of the Ferdinand seat. Named after a German architect and pioneer in the field of Baubotanik – the architectural realm of living plant construction – Ferdinand's timber veneer shell establishes a gentle connection to Ludwig's area of expertise, while its brilliant silhouette reverberates the notion of innovative design.
Created with occasional and commercial spaces in mind, but versatile enough to work perfectly in any setting, Ferdinand is confident, dapper and charmingly extravagant. The rounded shell of the seat evokes Vieira's signature motif of a scallop, while enveloping a luxurious leather seat and fabric backrest. This sculptural shape is augmented with an imaginative and unexpected addition of Marblo by Markian blade. "It slides seamlessly into the back of the chair, instantly providing a side table on either side of the seat for a drink, a phone or a handbag," Roz explains. The delightful application of the bespoke solid surface also doubles as a laptop stand or a grazing platter.
Engaging, interactive and surprising, this highly functional chair can be customised with the selection of Vieira's alluring colourways, designed to play off the rich and structural shades of the timber veneer.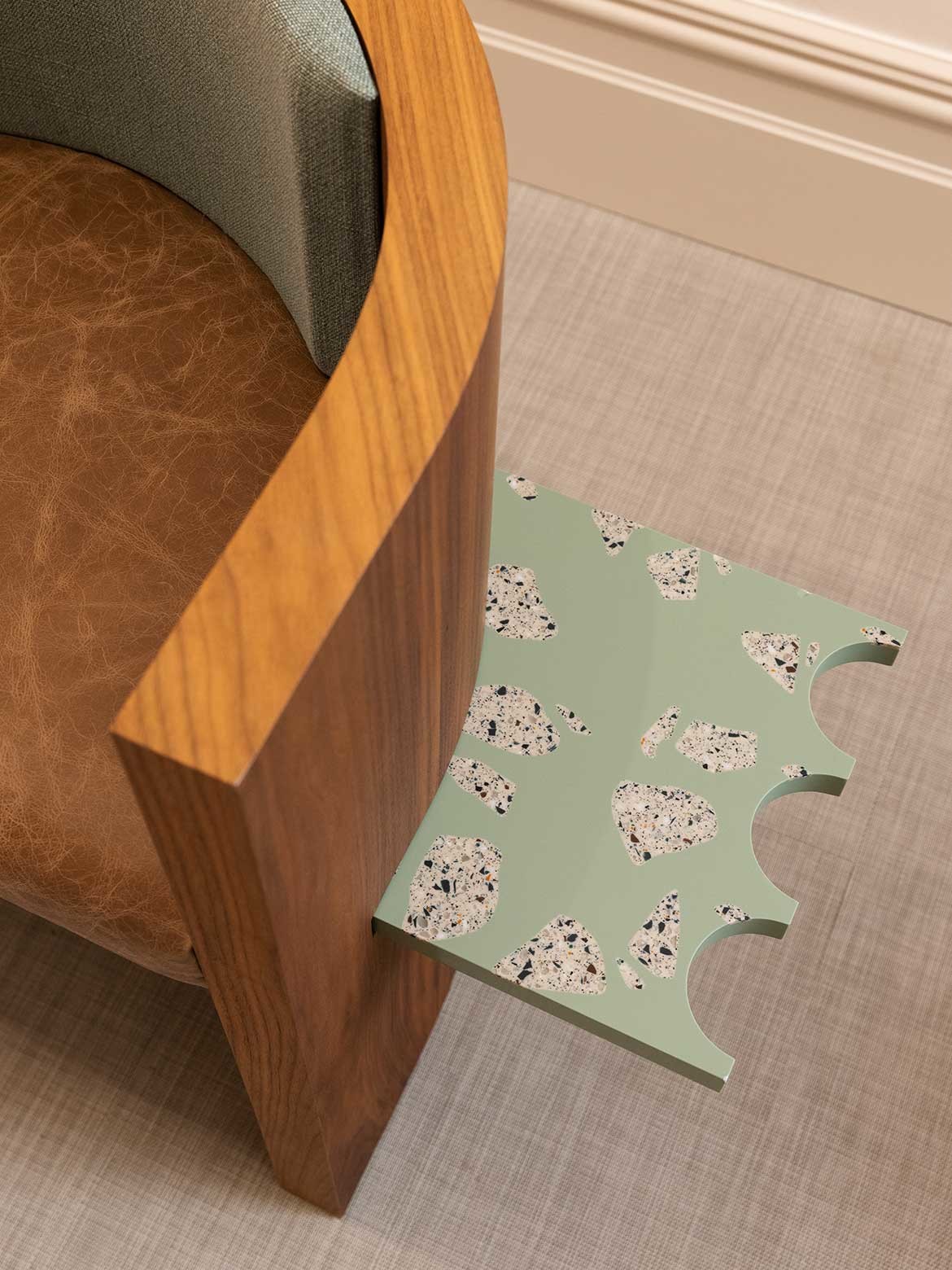 Delightfully unexpected, textural and practical
A similar fusion of versatility, dexterity and delight is reflected through the design of the Dieter low table. With its name derived from Dieter Rams, a renowned industrial designer who – influenced by the Bauhaus movement – made achieving beauty and utility in design an art. This very notion undoubtedly underpin Dieter table's multi-faceted premise.
The delicate and symmetrical nature of the Vieira theme is reflected in Dieter's round form, with the texture of the scallop carved into the table top. The duality of contrasting timber veneer tones accentuates the rhythmical manifestation of the sculptural motif, with the top further accentuated by the incorporation of a distinct Marblo by Markian circle in its very centre.
However, accomplished in its stunning visual expression, this inventive and multi-purpose piece is much more than meets the eye. "The Dieter low table seamlessly houses extra seating with three Warwick upholstered seats nestled quietly under the shell. You can sit on the seat, or recline on the floor using the seat as a backrest," Roz explains. "The Marblo by Markian circle on the top can also be used as a removable tray."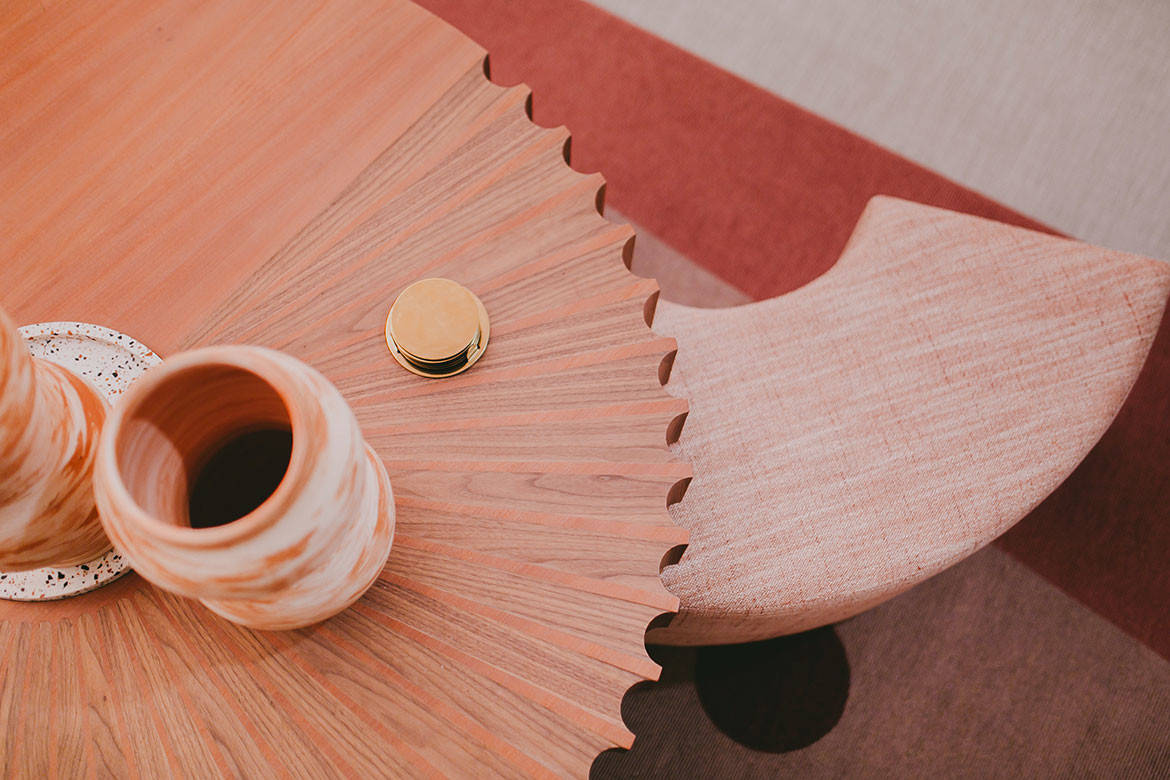 Locally-made, sustainable and swift
This clever, and captivating design language that so vividly defines Florence, Ferdinand and Dieter is underscored by Markian's firm stance on quality of materials, sustainability and preferred production methods. "We don't compromise on production methods or the cost of raw materials when it comes to producing a quality product," Roz says. "But we also don't believe it should cost the earth."
Aspirational and attainable all at once, all Markian pieces are designed and manufactured in Australia, and the team behind the bespoke designs is committed to following sustainable product standards in the process. "As signatories of the UN Global Compact and with pending Environmental Certification, Markian strives to uphold sustainable and ethical practices in every part of their business," Roz explains.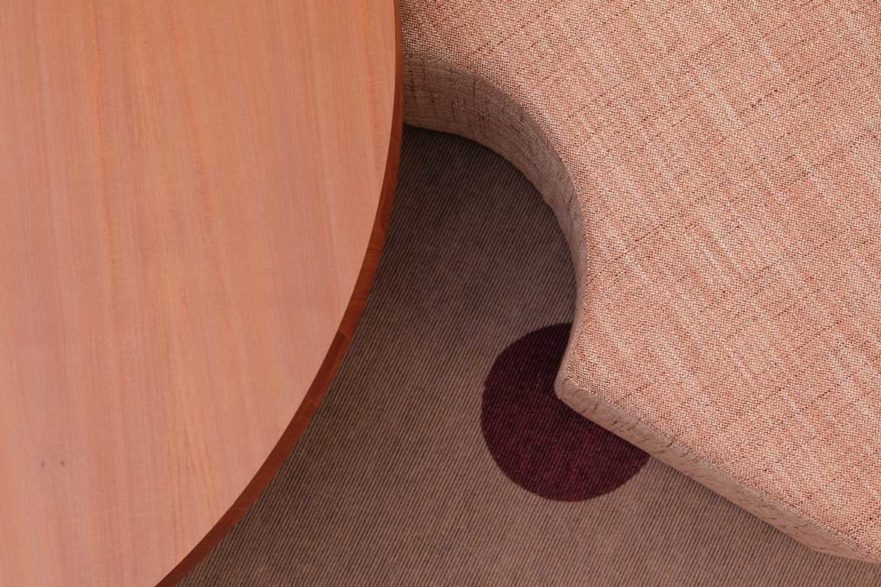 As an extension of this focus on sustainability, Markian's commitment to manufacturing each piece to order drastically reduces unnecessary waste – and all Marblo by Markian materials can be repaired and refinished back to their original condition. "Marblo can can also be removed, re-cut and either re-installed as a new design or seamlessly reworked into new products, further reducing demand for virgin materials and reducing waste," Roz adds. This process is made more accessible by the fact that Markian designs are Australian-made, with local manufacturing capabilities also translating into shorter lead times.
With a strong identity underpinning Markian's imaginative and functional creative expression, and the sustainable character of their manufacturing and business practices, Florence, Ferdinand and Dieter are remarkable signifiers of design that's decidedly considerate, unquestionably modern, delightfully contrarian – and unequivocally Markian.
Markian