As a major international exhibition, Cersaie sees some heavy hitters coming together across the design world. In previous years, architects such as Glenn Murcutt and Renzo Piano have engaged in discussions there while important brands across interior design and product manufacturing are always in attendance.
If international events can sometimes feel distant and perhaps Eurocentric from all the way Down Under, one of the key takeaways for designers should in fact be a preliminary reminder: the trends are as applicable here as anywhere. As a predominantly immigrant country with people from all over the world, modern Australia should be open and ready to embrace design inspired from all kinds of sources.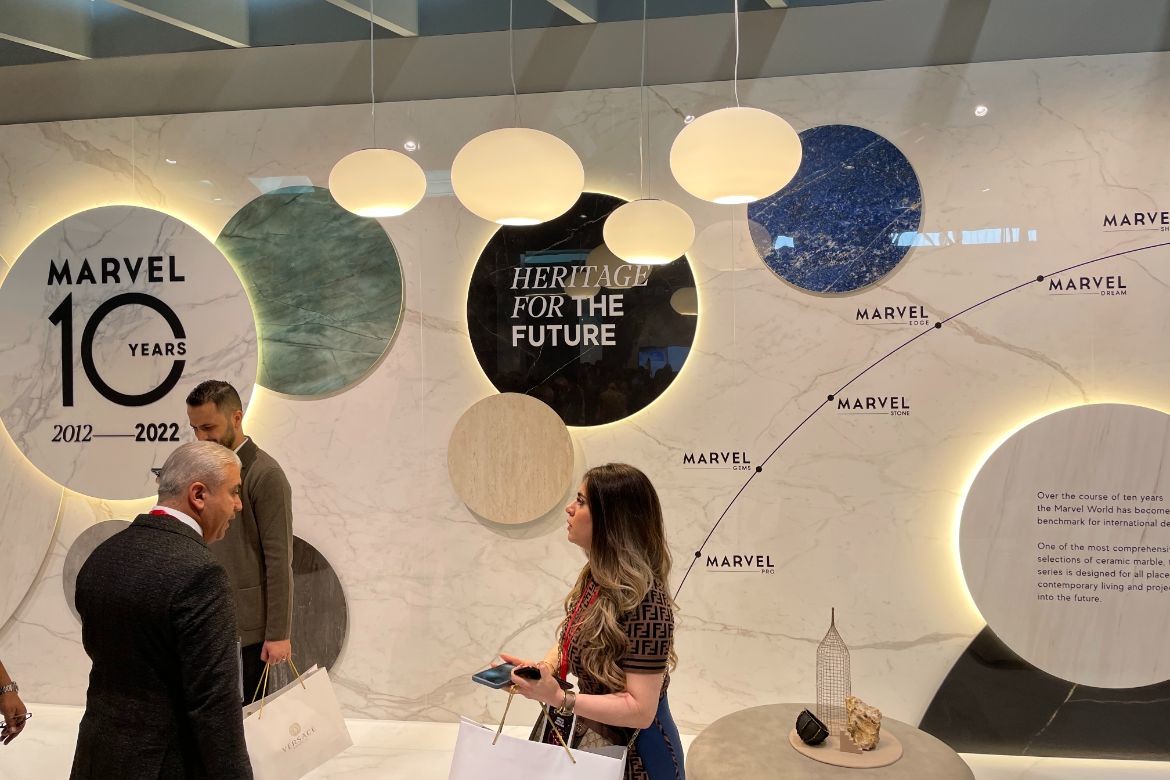 So, what is happening at the cutting edge? Well, colour for a start – lots of it! The zenith of austere modernist minimalism is not upon us but rather a plethora of pastel colours seem to be catching all sorts of attention.
It's a prime example of international fluidity. Pastel colours of course feel at home in the Mediterranean but surely the (mostly) blue skies of Sydney also make for a suitable fit. Elsewhere, floral and large format tile patterns were prominent across the fair. The innovation and development is taking place in relation to those tile sizes, with smaller ones fading away.
Related: The best of Orgatec 2022
This brings us to a notable tendency emerging across the design world. Natural stone looks are growing in significance and repute. Sydney's Kaolin Tiles was in attendance to observe, learn and compare. It's a company that is already bringing some of those trends to the Australian market.
Innovation is taking place at a rapid rate in this space. Natural stone looks are providing closer and better quality reproductions and improved connectivity through vein-matching finishes, for example. The small details matter here and one point to look out for is the technology that completes the stone texture look in profile by wrapping the vein patterns around the side, a traditional marker of quality in natural stone.
Cersaie and other gatherings can help to change perceptions, as is the case with Kaolin. By tapping into a millennia-old tradition of Chinese ceramics, tile manufacturers are producing a product with its own intrinsic value and rich history. Furthermore, natural stone-look porcelain tiles are likely to be a more sustainable option; after all, the marble doesn't exactly grow back.
Versatility, however, is what really makes these tiles stand out. They can be designed with different sizes and patterns, fitting nicely with the Cersaie trends described above. Gloss or matte finishes are possible as well as extensive variation in texture.
Cersaie will be back in September 2023, a chance for more designers to travel to Europe and hear about what's happening in design. The only certainties are that more trends will emerge and that it's all on the table for architects and interior designers in Australia.
Cersaie
cersaie.it
Kaolin
kaolin.com.au
Photography
Courtesy of Kaolin
We think you might also like this story on Kaolin Tiles.