Here in Australia, we've seen a series of disastrous bushfires, unexpected hail storms and heavy rainfall and floods all in the first two months of the new decade and there's no sign of it slowing down. Long story short, there is a 99.9% chance that the future will be dark – if the work of humanity will continue at the rate it is now.
Yet there's still hope – our design leaders; our industry's movers and shakers and the emerging generations are ready to disrupt the status quo by reversing the harm done from the last few decades and bringing in a new understanding of the term, sustainability. The built environment is the biggest emitter of carbon, putting us in a dire need of change and in prime position to lead the way. Therefore, 2020 is all about climate activism, reshaping the world's built form and reversing our climate – putting architects and designers at the forefront in this new wave of sustainability practices and beliefs.
Innovative and boundary-pushing Danish architect Bjarke Ingels once said, "If we can change the climate of planet earth by accident, then imagine what we can achieve if we're actually trying to do it. I have infinite faith in the human capacity to do something about it."
And that's exactly what we're doing – taking our planet back.
The Age of Responsibility
'Sustainability' is a mainstay word of today – addressing our century's new normal. Divisive and inherently politicised, sustainability means different things to different people. For architects, creatives and designers, it is a way of life – something embedded in the soul that drives any practice; its values; its products; and projects. These industry voices have an inimitable responsibility to introduce built forms that support human stability and growth for the past, present and (hopefully) undying future.
In an era where we have reached catastrophic environmental lows, there has never been a more pressing time for the industry to save us than now. The practice of "doing less" is way past its expiry date and our new responsibility is to "do more" through, reshaping, restoring and rebuilding the land that we've lost.
This means that the demand for sustainable structures, ethical practices, waste-eliminating products and sustainable consumerism is urgent in order to reduce our carbon emissions, inspire our lifestyle and define our direction forward.
A brand that acknowledges this need for impactful change is Caroma. Dedicated to creating a greener future, Caroma lives and breathes sustainability within the bathroom space. With a heritage spanning across nearly 8 decades, sustainability has been ingrained into their DNA from the beginning – acknowledging the responsibility and power that their products have. Drawing from the influences of our current context and landscapes, Caroma translates their shift into a contemporary elegance that speaks to sustainability in the 21st century.
Marking an incredible milestone to the Caroma name, the latest addition of the Elvire Collection delivers a new message of Australian sustainability into the home through timeless aesthetics and considered design.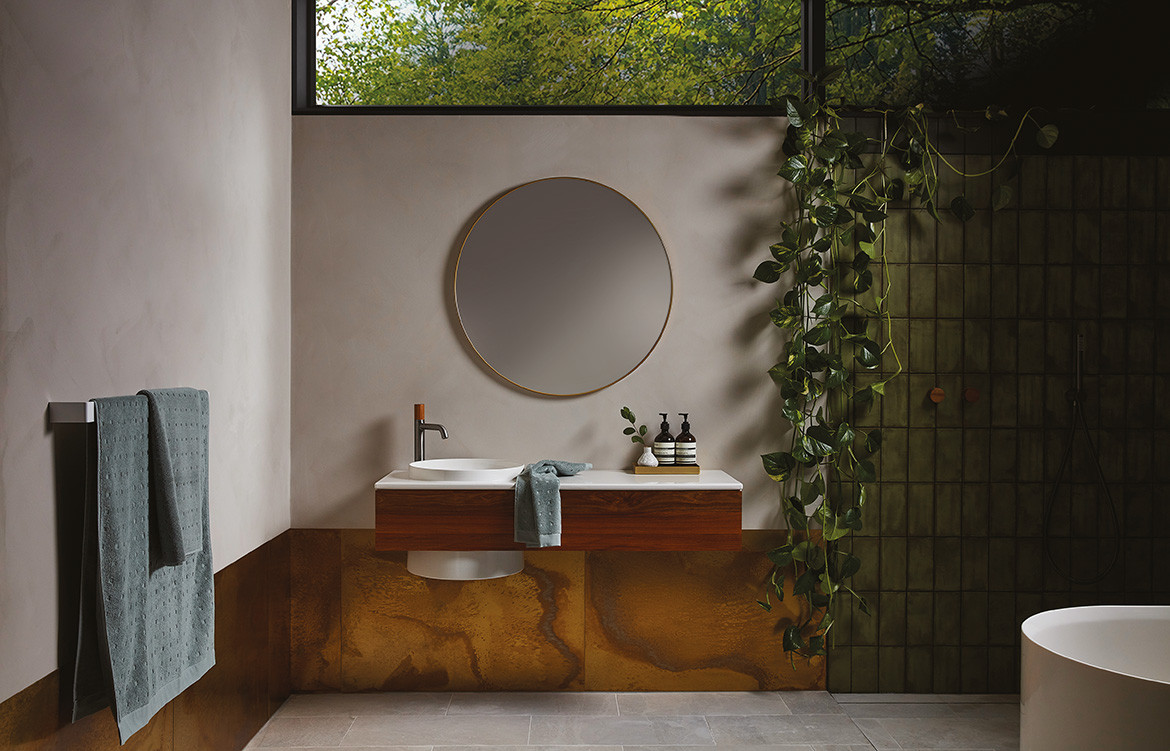 The Next Chapter
Since 1941, Caroma has always paved the way in delivering smart, sustainable and innovative bathroom solutions. Over 75 years of research and practice within the industry, Caroma continues to drive functional, efficient and sustainable ingenuity for the Australian bathroom.
In 1980, Caroma developed the world's first Dual Flush toilet designed to improve water efficiency, saving approximately 32,000 litres of water per household, through state-of-the-art full flush/half flush technology. In 2007, Caroma introduced its first WELS 5 Star Toilet Suite featuring a cistern with a dual-flush push button and integrated hand basin. Over a decade later, Caroma's Cleanflush® technology won the Good Design Award – consistently demonstrating their passion for protecting and conserving water to benefit all Australians.
In 2019, Caroma took a step into uncharted territory with Elvire – the introduction of a new, tactile and natural material that they can proudly put amongst the past products designed with a vision of protecting our resources for the country's next generation.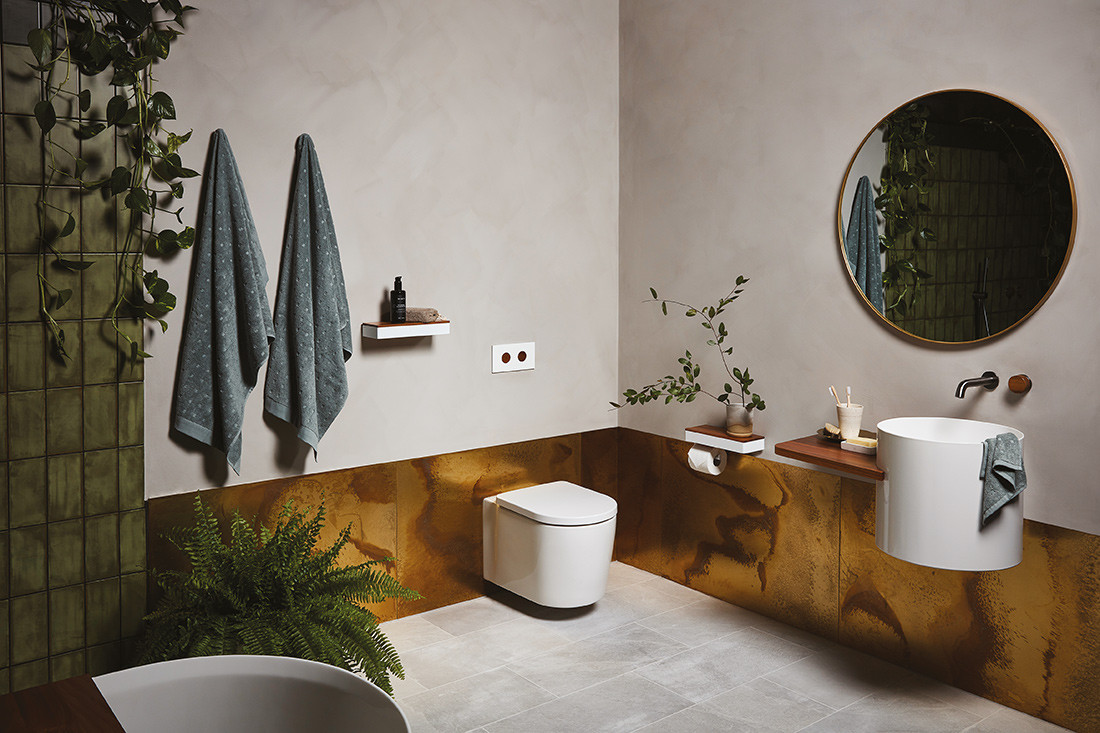 Looking beyond the millennial generation, the concept of 'new sustainability' speaks to a wider segment of consumers – one that the industry and market is becoming more familiar with. Caroma has captured this new, revitalised essence of sustainability with Elvire that represents youth, emotion and refreshed production processes through a full suite of bathroomware products from tapware; to hardware; and all the way through the bathroom accessories made from Australian-sourced materials.
Designer, Luke Di Michiel creates a story of heritage, wellness, connection and a new type of sustainability that rediscovers the beauty of Australian nature and human-centric design. Pushing past notes of functionalism, the bathroom is transformed into a personalised sanctuary – one that is designed for people. Made to support any lifestyle, Elvire is an extension of the way Australians live; their living spaces; and stands as a collection that honours the simplicities of beautiful and ethical design.
Luke notes, "It's not just about designing a product that looks good and putting it out there for the sake of it – we have to step back and think, 'how can this actually help society and the present and future of the design industry?"
Caroma recognises changing consumer behaviours and in the last few years, the industry has seen that customers are more inclined to buy products that align with their own sustainable morals and values. How does Luke respond? Through combining his design expertise with passionate creatives within the industry that hold unique and similar philosophies ready to define the next wave of Caroma products.
Today, Elvire surpasses these consumer expectations with an emphasis in their environmental and consumer responsibility – focusing on local manufacturing, locally sourced materials, design longevity and a new, revitalised collection that's close to home.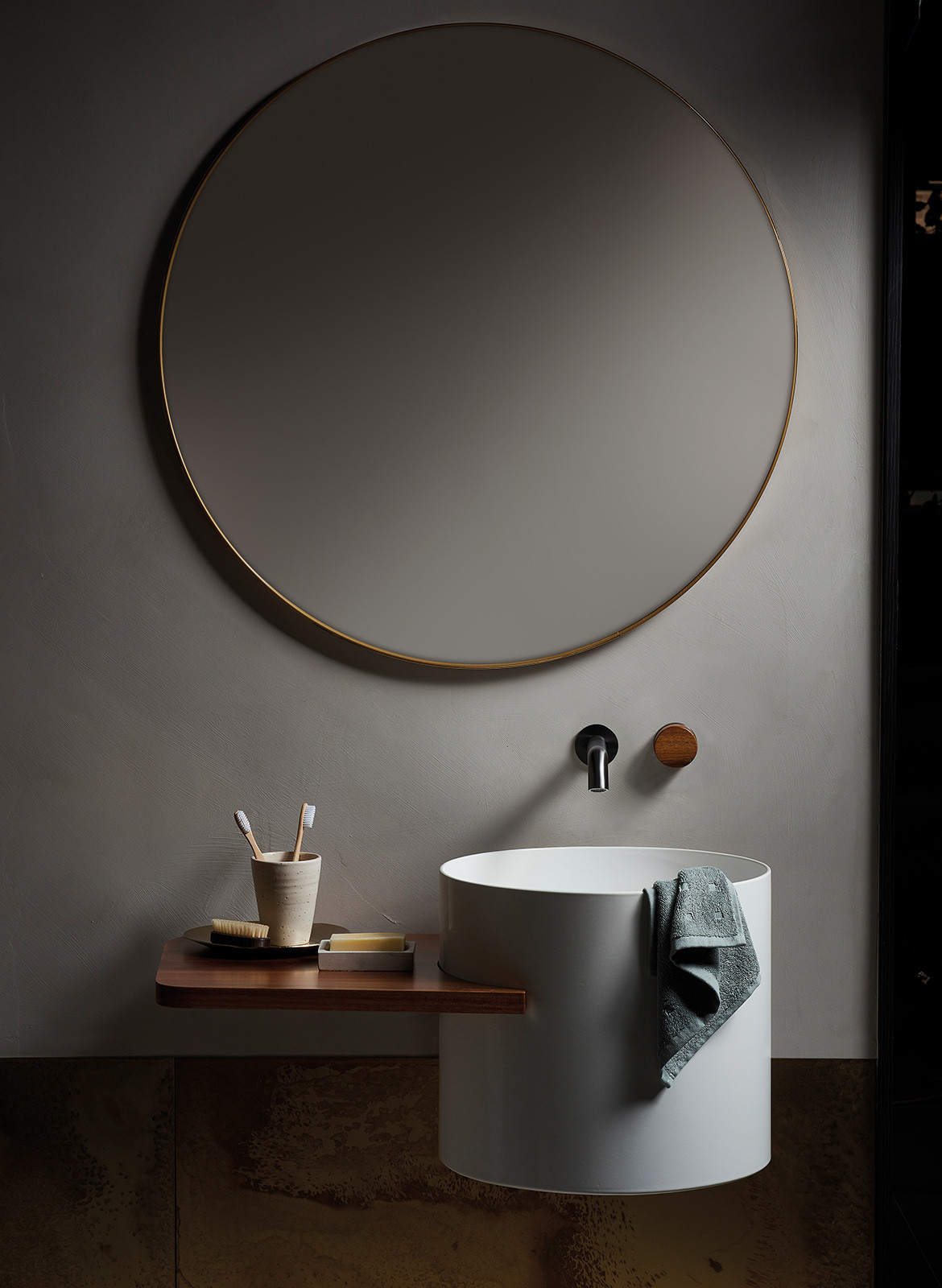 Celebrating Locality
In Australia, our design history demonstrates the influence and integration of overseas trends in our nation's creative narrative. However, in the last few decades, the Australian design market has seen trailblazing feats in local innovation, craftsmanship and artistry step into the scene.
Design thinkers and creators, such as Caroma are changing the pace of Australian design; what it means; and redefining the sustainability message of today for the next generation. In partnership with Australian designers such as Port Stephens Joinery and Evostyle, Elvire was able to grow and develop into a collection that is right on-trend at the moment.
Elvire highlights the beauty of intricate details that are only achievable by the unique material of Tasmanian Oak and Tasmanian Blackwood. For Caroma, this renewable materiality dominates the collection and defines a design narrative that is operating a bit differently than the rest of the world. It's celebrating the evolution of a new, cohesive and beautifully resolved design language that speaks to incoming generations who are just getting to know Caroma and generations that have been around for years.
Luke states, "We visited all options from laminate to cheaper American timber options – but there's nothing quite like Australian timber and having that identity to the range. It gives it a special charm that is undeniably Caroma."
The opportunity to bring in a new, quintessentially Australian element into the sustainability conversation was a significant step for Luke and Caroma. By integrating ethically sourced material from Tasmanian forests, the leading brand showcases their ability to present a beautiful piece of natural material that has been carefully treated with good intention and a lifetime warranty on it. Design longevity is ingrained into all Caroma products with quality elements that strips away any built-in obsolescence.
"Stepping away from form and function, the timber creates a bigger, stronger focal point and it was beautiful to have this natural material defining our new direction," Luke expresses. "It's ultimately the star of the show."
The raw, natural texture and aesthetic of the Tasmanian Timber speak to a new kind of sophisticated elegance, tailored to any individual and any lifestyle. The unique grain created an organic journey of locality, individuality and sustainability that showcased the best of what Australia has to offer. It pays homage to the heritage of the Australian land, with its innate tactility and unique grain that connects its user to the ground it's come from.
Married with the boldness of enamelled steel and gunmetal finishes, Elvire is pivotal – demonstrating the best of progressive local design.
A Collection To Remember
Looking forward to the new decade, there is still a long way to go. Beneath the surface of Elvire lies a complexity that is inimitably Caroma. Through its simplicity in form, tones and material integrity, the design and ethical decisions in this new collection have opened a new dialogue for the bathroom pioneers. Though Caroma has had significant feats and contributions since its inception, this is just the beginning. A firm believer in good, honest and sustainable design, Caroma demonstrates the human capacity to reshape, rebuild and restore the past, present and future spaces of tomorrow.