The pandemic has redefined the workplace and architects and designers are rising to the occasion. Hybrid working is being accommodated, staff wellbeing is under the microscope like never before and the notion of reconnection is strong. This is especially evident in Westpac's new workplace, which consolidates three existing office locations in the one centralised hub to better strengthen its workforce.
Designed by Group GSA, the new Parramatta office spans 18,000 square metres across eight floors and functions as a gathering place, facilitating connection via a series of inclusive spaces. As Group GSA principal and lead designer Pablo Albani explains, "the dynamic floorplate features a kaleidoscope of working environments to embrace work hybridity and collaboration. And the design itself places emphasis on functional and adaptive working environments to also promote engagement and idea creation."  
The highly functional agile interior is indeed characterised by a range of different spatial settings, beginning at the central staircase. Five-metre-long tables embossed with topographical maps of the Parramatta River are positioned on each floor at the stair arrival to encourage open team work. Moving away from the void, 'team neighbourhoods', flexible Co-Lab spaces and 'huddle spaces' for breakaway meetings offer zones for more focused working. Reflective spaces, such as the retreat space, are reserved to the outer reaches of the building and boast elevated panoramic views.
It's a workplace that fosters collaboration rather than emphasising desk ownership. As a result, meeting spaces are fitted with high-level amenity and technology to ensure seamless connection, whether employees are in the office or working remotely. Furniture is likewise integral to the scheme and Group GSA ensured all specified workstations provide employees with the sound ergonomic support they need.
Related: Newmont's Perth office by Rezen
Further highlighting the gathering place concept, a colour palette punctuated by midnight blues and deep oranges prevails. "There's a strong connection to place through colour, with the theme of the workplace a nod to gathering by a campfire, so these pops of vibrant colour reflect that," says Albani.
They complement the red ochre Australian marble concierge desk and custom overlay carpet, which features a meandering motif that also pays homage to the Parramatta River. Elsewhere, blonde timbers and sensual textural finishes in charcoals, sage greens and rich auburns add visual and tactile layers that only serve to enrich the overall design.
Group GSA has achieved the perfect balance within this workplace, where comfort and connection are prioritised as much as efficiency and productivity. It's a space that has warmly welcomed employees back to the office and, through its agile configuration, has empowered these employees to choose how they want to work.
Group GSA
groupgsa.com
Photography
Toby Peet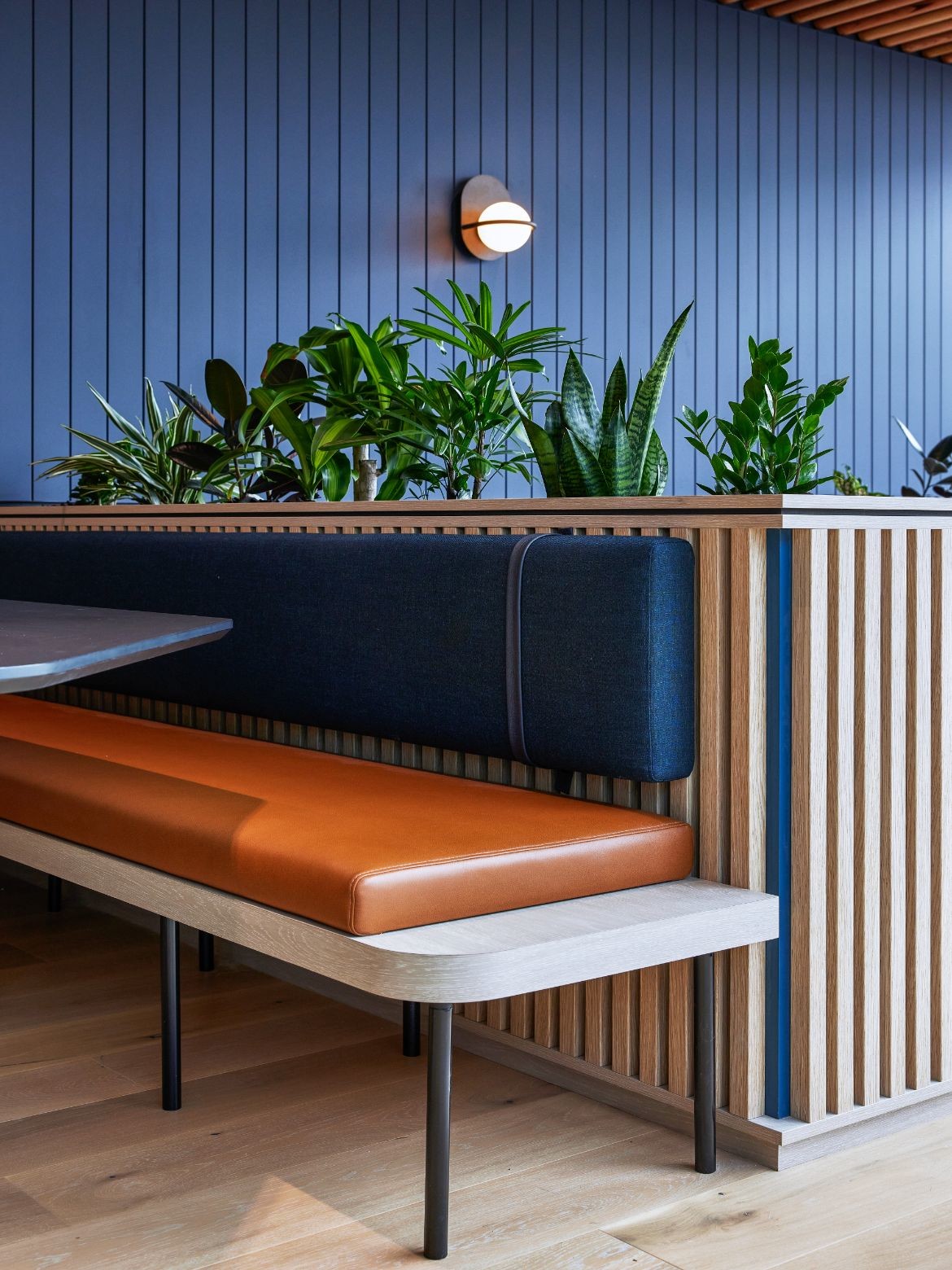 We think you might also like this story on Bean Buro in Hong Kong.