Wall tile is a specific type of tiling with a lightweight design and soft body that can be installed on the wall without causing damage. Wall tiles are usually made from ceramic, porcelain, stone or glass. They can come in many different forms and textures, though there is a standard size. Wall tiles are much lighter than floor tiles, to reduce the burden on the walls. They are also softer as they do not need to withstand the high foot traffic that floor tiles must contend with.
Wall tiles have been an interior design practice for thousands of years. The earliest recorded instance of decorative tiles was around 4,000 BC in Egypt. This is likely related to the invention of glaze in Mesopotamia in the 9th century BC. However, wall tiles did not become a common feature of interior design until the late 1800s. Wall tiling saw a huge boom in popularity during the 1920s-1930s, as Art Deco style rose to the forefront of the interior design scene and inspired bright, artistically tiled bathrooms.
The popularity of wall tiles waned somewhat during the 20th century but is now gaining traction as a decorative movement once again. Wall tiles have recently seen a huge resurgence in modern homes, featuring in everything from the laundry to the kitchen. The versatility of wall tile styles and ranges allows for complete creative freedom when redesigning an interior, something which many designers are taking advantage of. Wall tiles can also be made to mimic the appearance of other materials at much cheaper prices; for example, stone, marble or timber walls are all very achievable with a modest budget and a passion for wall tiles.
Wall tiles also have a number of practical advantages. They are very low maintenance and can resist stains with ease – protecting your wall at the same time. The breadth of choice ensures that there will always be a brand to match your interior decorating style. They are suitable for indoor and outdoor use (though you will want to purchase more robust and heavier tiles if they are to withstand the weather).
Wall tiles are also extremely cost effective, especially in comparison to the cost of other common feature wall materials such as timber or natural stone. The average price of wall tiles ranges from $20-$30 per square meter for standard tile (usually in white ceramic) and around $80-$90 per square meter for more upmarket tile such as handmade Spanish ceramic. You can find high quality wall tiles from just about every homeware store, including Bunnings and Beaumont.
Wall tile ideas near me: the best design uses for decorative wall tiles
15. Laundry
Wall tiling in the laundry room can help to make an often overlooked area beautiful. Wall tile will also protect your walls from backslash, a huge benefit for dealing with wet clothes. Patterned wall tiles or one single feature wall near the sink/washing machine are a great way to subtly enhance your laundry aesthetic.
14. Outdoors
A tiled outdoor wall can create a beautiful textured look for your façade. Porcelain is the best tile for outdoor use because it is dense and strong. If you are planning on using tile outdoors, the best type of tile to choose is distinct and bold such as patterned tile or stone finish.
13. Bathroom
The bathroom is of course one of the most common places to find wall tiling. Wall tiling will protect the room from water damage and creates a hygienic atmosphere. Wall tiling in the bathroom looks best when it is subtle. This is because the floor will usually be tile as well and a bold pattern or style could be overwhelming.
12. Kitchen
Subway tile in the kitchen has become a recent staple of the modern home. It provides the extra layer of texture that is often missing from contemporary kitchens and creates a unique industrial feel. Whether subtle or patterned, this small touch will go a long way towards making your kitchen design feel complete.
11. Grey
Grey wall tile in a bathroom creates a sophisticated and minimalistic environment. Grey tile looks best in large blocks (over 15") like the ones pictured above.
10. Vinyl
Vinyl is a stick on tiling option predominately used for flooring. However, vinyl tile can also look beautiful when installed on walls. Removing vinyl is much easier than tile and you do not have to worry about grouting.
9. White
A timeless classic, white tile brightens every room it is installed within.
8. Mirror
Mirror wall tiles are a gorgeous and artistic addition to any home. They also make the room appear larger.
7. Green
Green is an immensely underrated bathroom colour, from lime to dark. Green has a sophisticated vintage look that is sure to impress.
6. Brick
Brick wall tile gives the wonderful opportunity to have an exposed brick feature wall at a fraction of the price. There are also many different options for brick colours, including grey, white, subdued and traditional.
5. 3D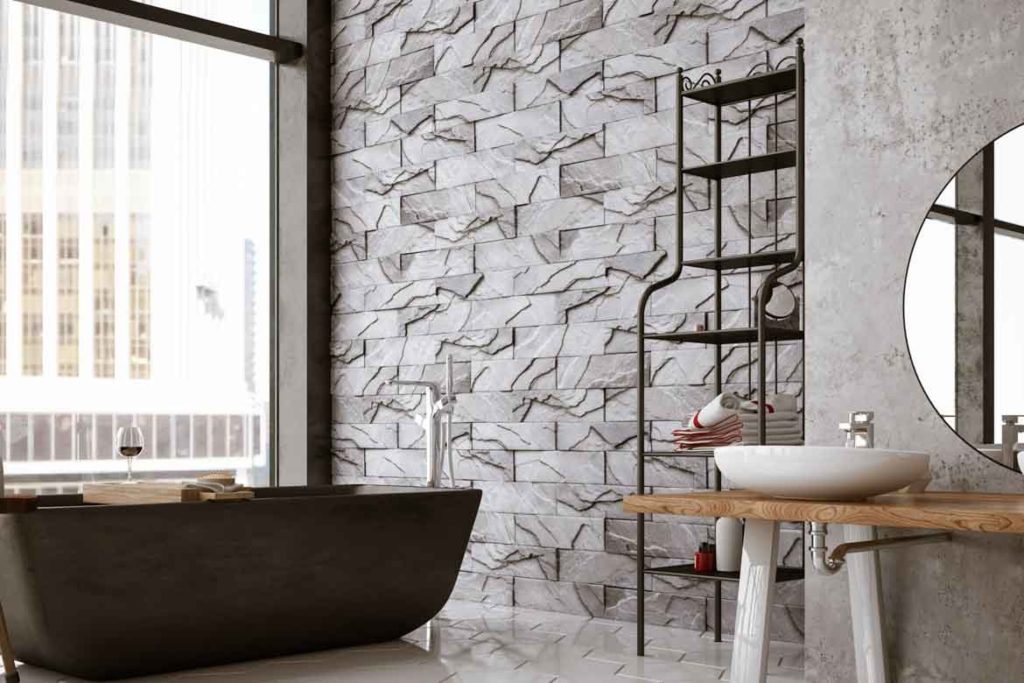 Textured tile adds an extra visual layer to a room. It is more expensive than a smooth finish tile, but the draw of a 3D tile wall is undeniable.
4. Sandstone
Sandstone wall tile is commonly used on the exterior of homes. Wherever you choose to apply it, Sandstone has a beautiful simplicity that looks best when its natural variations and different sizes are put on display.
3. Stone
Natural look stone wall tile has a fairytale quality that cannot be matched. Whether in the living room, bathroom, or outdoors, a stone tile wall imbues its surroundings with a rustic romanticism sure to enchant.
2. Marble
A high quality marble tile feature wall has the potential to be breathtaking. Authentic marble is fairly expensive, but the high end spectrum of marble tile is virtually indistinguishable from the original.
1. Mosaic
Mosaic is without a doubt one of the most gorgeous applications of wall tiling. There is a simple beauty to asymmetrical tiles that gives a sense of movement and individuality.