Hanging chairs have recently exploded into popularity on the interior design scene. Their versatility and whimsy – as comfortable as a regular chair, only with the added fun of suspension – appeals to the inner child and helps to make an environment feel more relaxed. Hanging chairs will generally rock slightly, especially if placed outdoors, often lulling their user into a calm and peaceful state. Best of all: hanging chairs are affordable and popular enough to be available in many major stores such as Bunnings, Kmart, Aldi and Ikea.
There are many different types of swinging chairs and this diversity means that the right hanging chair can be found for any home and in any style. Some of the most popular types of hanging chairs include; pod hanging chairs, hammock chairs, hanging egg chairs, and cocoon chairs. Each of these has multiple subcategories and they are all available in many different colours. To find the right hanging chair for your home, take a look at the list below and see which style best fits your interior aesthetic. Above all, you should be considering comfort – which chair will work best for your afternoon-nap needs? Because with chairs as cozy as these, naps are utterly inevitable.
Hanging Chairs: Top 5 Styles
5. Cocoon Chair
Named for its resemblance to a butterfly's hanging cocoon, a cocoon chair provides a safe, warm and cozy space which will be comfortable for long periods of time. It is more enclosed than most hanging chairs, making it perfect for sleeping and in outdoor settings. The hanging cocoon chair in the photograph above is a state of the art cocoon chair available for purchase worldwide from Dedon. Its dimensions are: 200cm wide x 268cm tall, and the opening is 130cm wide x 80 cm tall.
The innovative weave design of this chair allows for its occupants to see out while preventing others from seeing in. This chair is one of the best options available and there are many benefits to investing in this purchase – including a warranty of up to 5 years – but it is one of the most costly chairs on the market. However, if you have the budget, this chair is certain to drastically increase the aesthetic and comfort of your home.
4. Hammock Chair
A hammock chair is another cozy option for lovers of relaxation. Most hammock chairs are easily portable and can be taken on vacation, bringing a slice of familiarity to beautiful new travel spots. Hammock chairs differ from other styles of hanging chairs mostly in their composition; hammock chairs are usually made primarily of fabric rather than woven wood or aluminum. They are also one of the most affordable types of hanging chairs.
There are a few different options for hammock chairs; one of the most common hammock chairs is the teardrop, named for its shape, which hangs from one point of tension and widens towards the bottom. High quality teardrop hammocks such as the one pictured below are available online at grandado for around $250 AUD (110cm W x 100cm H) or you can purchase the earlier pictured teardrop hammock from Temple and Webster's extensive range. (183cm H x 183 cm W x 186cm D).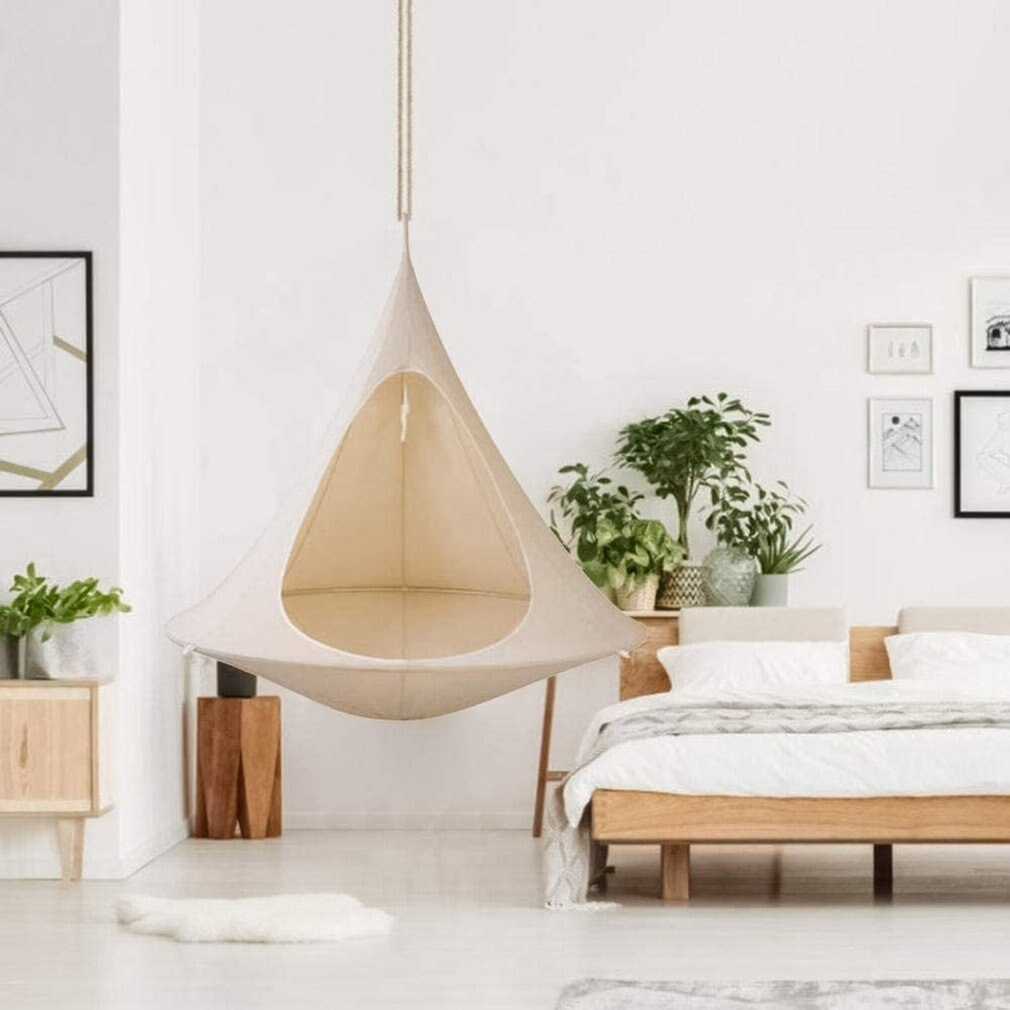 Another option for a hammock chair is the more traditional macramé style hammock, perfect for adding a bit of boho flare indoors or just relaxing outside.
The chair pictured above can be purchased here from Myer for just $45.95 (88cm W x 150cm H) and the one below is available from Temple and Webster.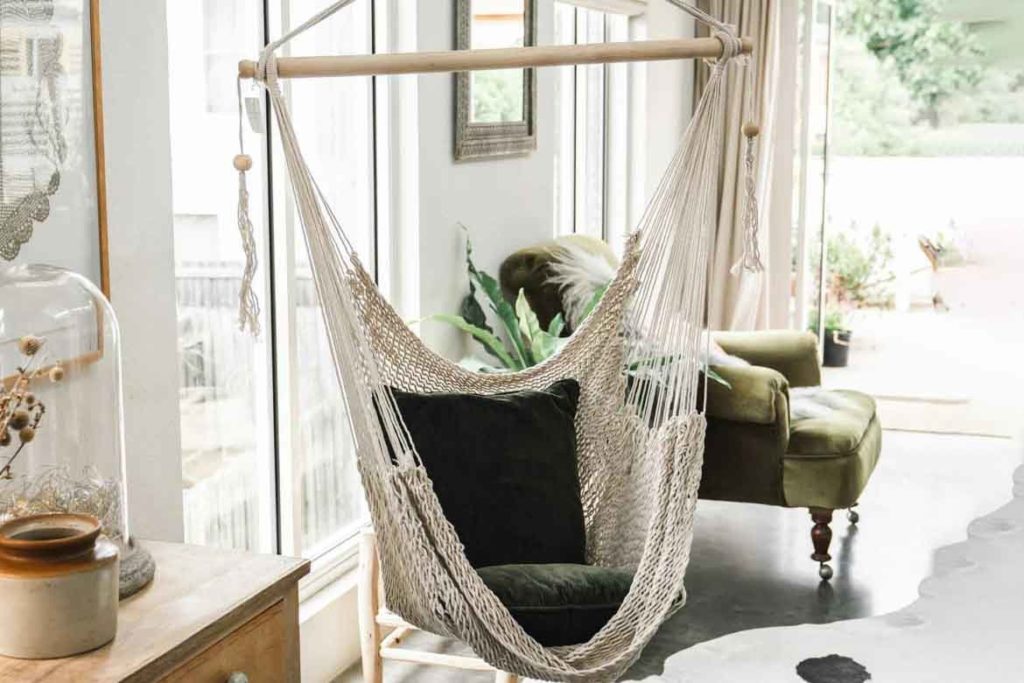 A disadvantage to hammock chairs is that they do not provide as much support as other hanging chairs due to the fact that they are mostly fabric. This is probably not the ideal choice for anyone with back problems. They are also less sturdy than other styles, prone to ripping if left out in extreme weather conditions or otherwise mistreated.
However, they are an absolute joy to take on vacation and they will last for a long time if sheltered indoors; so if this suits your lifestyle and your decorative needs, a hammock chair may just be the perfect choice for you!
3. Pod Hanging Chair (without or with Stand)
A pod hanging chair is an excellent option for those who want to keep their décor feeling contemporary and sleek without sacrificing comfort. Pod hanging chairs come in multiple colours, though they are most common in black or neutral, and add a stylish modernity to their surroundings. They also feel more secure than some other options and are sturdy against weather conditions (suitable for outside use). You can purchase the wicker hanging pod below from Aldi here for just under $200 (95cm W x 95cm D x 195cm H).
Pod hanging chairs usually hang from a steel frame, giving them an advantage over natural materials as they are more weather resistant. However, there is always a possibility that very strong winds could tip this chair over – if you live in an area susceptible to extreme weather, perhaps this chair will be better suited indoors.
2. Hanging Basket Chair
A basket chair differs (only slightly) from an egg chair in its shape. Hanging basket chairs will be slightly wider at the bottom and narrower at the top, while most egg chairs are symmetrical. A hanging basket chair is the ideal choice for a larger chair as its shape can support multiple people comfortably – while some of the other chairs may get a little crowded. The chair below – 87cm W x 59cm D x 115cm H – can be purchased here from Cosy Cribs for approximately $700.
Hanging basket chairs add a rustic elegance to a room and look their best in a neutral wooden colour which allows the accessories of the room to pop. Comfy cushions are a must. See Byron Bay Hanging Chairs for this gorgeous natural rattan chair which will comfortably seat two. (130cm W x 75cm D X 130cm H).
If you are after a smaller chair than the one above, try this natural rattan basket chair from Luxo Living, available for $479 (60cm D x 75cm W x 101 cm H).
For a more cost conscious basket chair, try this hanging chair with stand from Kmart – available in both natural and white for just $119.00.
1. Hanging Egg Chair
Perhaps the most classic of all of the swing chair options, the distinctive egg shape is usually what comes to mind when picturing a hanging chair. They can hang from stands or simply be attached to a pre-existing branch or post. They are also versatile and look great in both indoor and outdoor settings. The cane hanging chair pictured above can be purchased from Paradise Living Co here for approx. $600 (117cm W x 65cm D x 119cm H).
For lovers of classic wicker, see here to purchase the chair above for $329.99.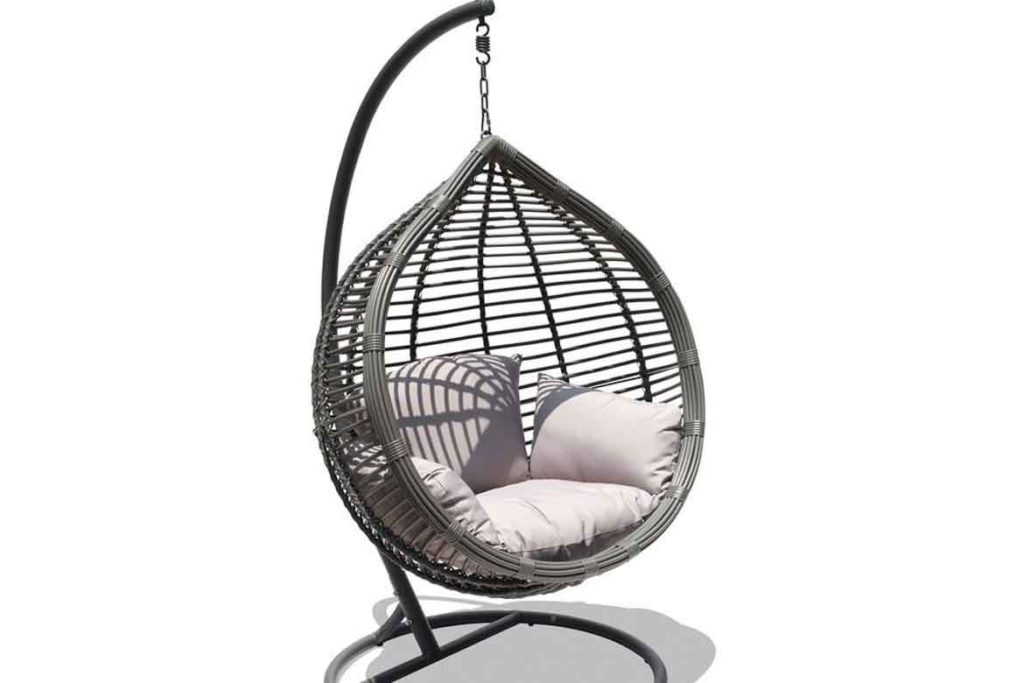 Bunnings also has a diverse range of hanging egg chairs; notably, this chair in slate grey is sure to add a contemporary twist to your outdoor area. (106cm W x 74 cm D x 123cm H).