Heritage-listed buildings can be challenging for architects, given the number of restrictions placed on any changes that are made. However, as seen with the new fit-out for M&C Saatchi Group's headquarters at 99 Macquarie Street, Sydney, the past has been beautifully combined with the present. Designed by Woods Bagot, the grand Art Deco sandstone and brick heritage pile, circa 1936, was conceived to build on the past while bringing together the company's 280-odd staff under the one roof – previously M&C Saatchi Group occupied a number of disparate offices in the CBD, Surry Hills and Redfern.
While the building came with sumptuous period detail, the spaces that M&C Saatchi Group was using over many years here, were fairly disconnected. Working with heritage consultants URBIS, each manoeuvre within the building (M& C Saatchi Group occupies three levels) had to be finely orchestrated. One of the main changes was adding a staircase between two of these levels and strengthening the journey through the atrium, with its eight-metre-high ceiling (with a total floor area of 3,000 square metres across the three levels).
Related: Inside Woods Bagot's award winning Sculptform showroom
The result of a design competition, Woods Bagot's design went well beyond the brief outline given by M&C Saatchi Group, one of Australia's most prominent advertising companies. "It was not just looking for spaces that are aligned to the way it works today and going forward, but it was also looking for spaces that had character," says Amanda Stanaway, principal with Woods Bagot, who worked closely with Jordan Schumacher, a senior associate with the practice and their team. "It didn't want all the spaces to feel the same, each one being quite different with a sense of quality," she adds.
There are a number of precious jewel-like spaces in the Woods Bagot fit-out – including a small room once used for safe keepings at the rear of one of the floors, the Chairman's room as well as the large atrium space that greet people on arrival. Part of the brief also included a degree of flexibility as demonstrated by the lounge breakout space where sculptural lounges can be moved to one side to allow for larger functions.
The midnight blue colour scheme accentuates the period detailing, including the fine steel case windows. And to add a verdant touch, new planter beds/boxes now line the marble columns and main staircase. "We endeavoured to retain as much of the original fabric as possible," says Schumacher, pointing out the exquisite terrazzo floors.
Other areas in the building, such as level five, referred to as 'back stage', is as flexible, offering a variety of working environments including a lounge area that's framed with a large white board for colleagues to brainstorm ideas. Another area is entirely white, allowing creatives not to be distracted by superfluous detail. "These areas were deliberately pared back rather than being oversaturated in detail or tone," says Schumacher, who, like her colleagues, was excited to breathe new life into one of Sydney's landmark buildings.
Unlike some tenancies that have not been fully appreciated, M&C Saatchi Group has preserved the original fabric over the many years it has occupied the building. So, fortunately for Woods Bagot, there wasn't the usual task of rectifying past errors, such as plastered-over ceilings and period features that were removed. "We were fortunate that most of the features were intact – making our task a little easier," adds Stanaway.
Woods Bagot
woodsbagot.com
Photography
Nicole England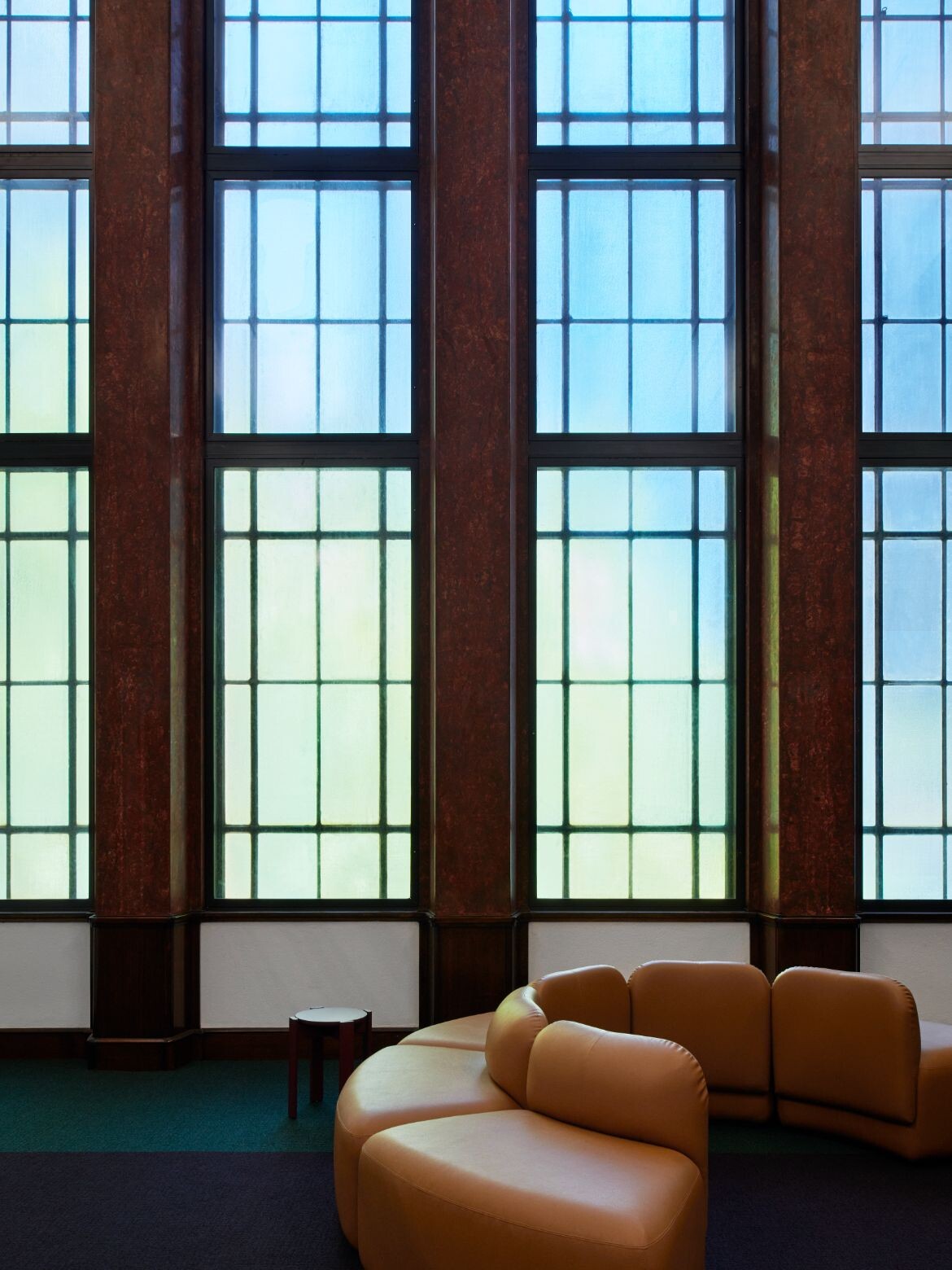 We think you might like this article about workplace flexibility, health and wellbeing in design.