Bringing foot traffic into a store is a key driver of retail design. For Subtype's new flagship Melbourne store, design studio Noise Noise Noise created a space-age industrial aesthetic that entices sneakerheads into the store to spend time, explore the space and product, and post memorable selfies on their social media.
Subtype wanted a "concrete solution to a curated gallery" to complement and accompany its online store. "The brief was to create something world class and to make it wow," says Blair Cooper, creative director of Noise Noise Noise. "The client also wanted a photo-worthy platform for the sneaker community to embrace and engage with from the first step through the glass sliding doors."
The store is located in the basement of the historic Hero building on Russell Street. The design exposes the raw bones of the space and overlays it with hard and cold materials – glass, mirrors and metal – to create a slick and shiny gallery-like space that reflects light in different ways. "We like doing unexpected things with materials and pushing the envelope on what can and can't be," says Blair.
.
"The brief was to create something world class and to make it wow." – Blair Cooper, Noise Noise Noise
.
Linear grids of shelving provide display space for Subtype's limited-release and cult sneakers. Recessed LED lighting accentuates the linear effect and product and creates a cool white space with reflective checker plate flooring heightening the space-age effect. Apparel is displayed on a large mirror-clad cylindrical rail above which neon rings and a round suspended mirror reflect and distort space.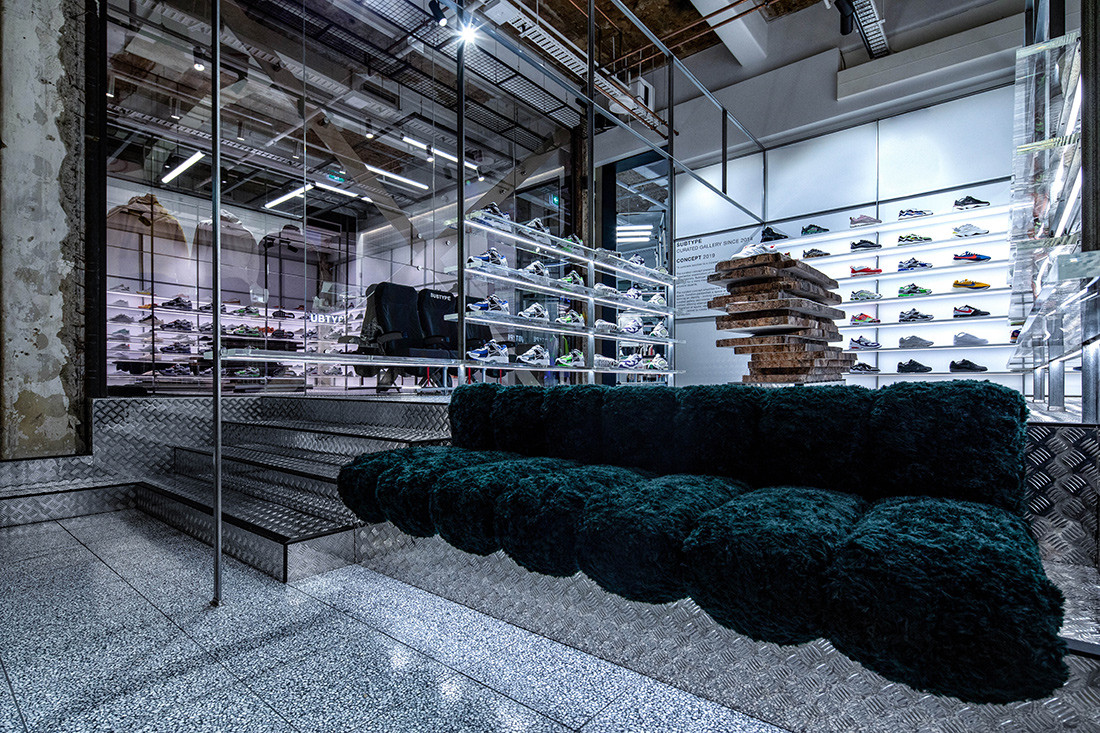 Rock bases and a tiered display plinth integrate the rawness of the basement into the joinery, and furry, "slug-like" seating has a luxe aesthetic that adds warmth and colour. Fitting rooms are clad with corrugated galvanised sheeting that provides a distinctive backdrop for sought-after selfies. "The silver reflectivity has been posted over and over on Instagram channels," Blair says.
Subtype can present new products in a hidden brand activation room, and the point-of-sale leaves a final lasting impression with a solid concrete counter clad with dipped galvanised mesh. Product, lighting and graphics throughout Subtype encourage customers to explore the environment and provide fodder for social media, enticing more foot traffic and repeat visitation.
Photography by Arnaud Domange.
Want more outstanding examples of retail? Check out the archive here. And always have your finger on the pulse, sign up for our weekly design news.