"Embracing innovation is considered crucial to delivering future prosperity." That's according to James Guthrie, Head of Academic Relations at Chartered Accountants Australia and New Zealand, who argues that universities need to adapt in order to survive digital disruption.
That motivation is behind the University of Western Australia's recent rebirth of one of Perth's most prominent Art Deco buildings, the former Nedlands Park Masonic Hall. Situated beside the university campus, this former gathering place has been transformed into an innovation exchange following a major upgrade by architect Lee Syminton.
The new IQX @ UWA aims to foster connections between the university and industry. It offers co-working spaces for small and medium enterprises; meeting and conference facilities; and programs that support the marriage of cutting-edge research and commercial applications.
Construction of the hall began in 1935 to a design by architect and mason William G. Bennett, who was also responsible for Perth's Raffles Hotel and Plaza Theatre and Arcade. It previously housed a dance hall on the ground level and the Masonic Temple upstairs. It was acquired by the university in 1997 and heritage-listed in 2003 yet remained vacant for many years until this project commenced.
.
The new IQX @ UWA aims to foster connections between the university and industry.
.
It was important to ensure that any new works respected the existing fabric and could be easily reversed, according to Syminton, which is why the new accessible entry is offset from the building in a laneway that connects IQX with the campus.
Now, as in the past, the Main Hall is a gathering place for large groups: it can host up to 150 people for conferences, workshops, hackathons, seminars, training, concerts and launches, and is equipped with a video wall, speakers and a stage. The adjacent kitchen – where suppers were prepared for dances – has been upgraded too.
Upstairs, where the business of masons once took place behind closed doors, the temple is now an open and inviting co-working space for graduate entrepreneurs. "The original airlock door and its various lights and symbols have been retained, as has the stage where the throne once sat, and the decorative light fittings with their Masonic motifs," Syminton says.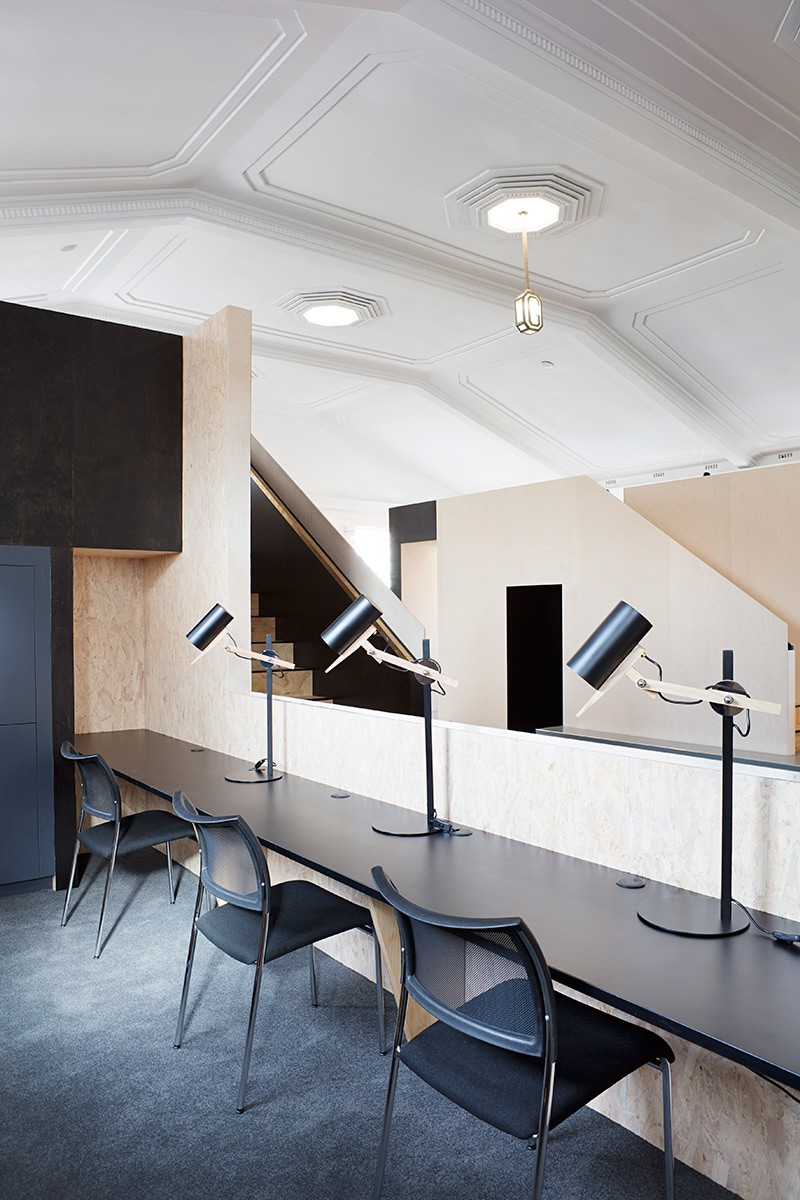 She designed a series of double-height office 'pods' – made from black and white plywood – to break up the large volume. By pulling them away from the perimeter and maintaining clearance below the barrel-shaped, pressed-metal ceiling, Syminton capitalised on the height to maximise the usable floor area.
The pods are arranged within a stepped floor plate, with their various heights creating different types of work zones. The upper levels resemble mini-towers and offer more privacy and acoustic separation, while the cosy spaces beneath the staircases are designated quiet telephone rooms.
And in the role of modern-day Lodge master, space curator Zoe Vos oversees the room and its activities from an elevated desk beside the main entry. Vos manages the online booking system for meeting rooms and hot desks; facilitates programs; and fosters new connections between occupants and university researchers and students, funders and investors, and the broader business community.
This new facility is the third instalment in the University's broad-reaching innovation 'ecosystem', which includes the BloomLab for young start-ups, and the not-for-profit Centre for Entrepreneurial Research and Innovation (CERI) just along the Stirling Highway.
.
This new facility is the third instalment in the University's broad-reaching innovation 'ecosystem'.
.
Together, these facilities intend to help the state to diversify its mining-driven economy and to prepare locals for jobs of the future. And with current tenants working on everything from crypto-currencies to a fleet monitoring and GPS system (a successful innovation that was recently acquired by an Irish-parent company), they seem set for take-off.
Photography by Bo Wong.
Take a look at other inspiring university design work here.