Words like tranquil and beautiful aren't commonly applied to a doctor's office. Generally, their descriptions would include a painfully dull atmosphere and generally crowded waiting rooms within business-spartan office interiors complemented with faded and dog-eared copies of Woman's Weekly in the corner.
They're places to be sick in, basically.
Taking a different approach to the idea of the clinic comes Dr Angelo Tsirbas who engaged three architects to ensure his new blepharoplasty clinic would become a serene and calming environment for his patients.
The architects included Iain Halliday and his interior design team at Burley Katon Halliday to design the ground floor consulting rooms, heritage architects for the former Scots Church Foyer (originally built in 1926) and medical facility specialists, Anthony Vavayis and Associates Architects to create the lower level Day Surgery.
"We wanted our patients to feel a sense of calm on arrival. Surgery is a big decision and can be quite intimidating," says Dr Tsirbas.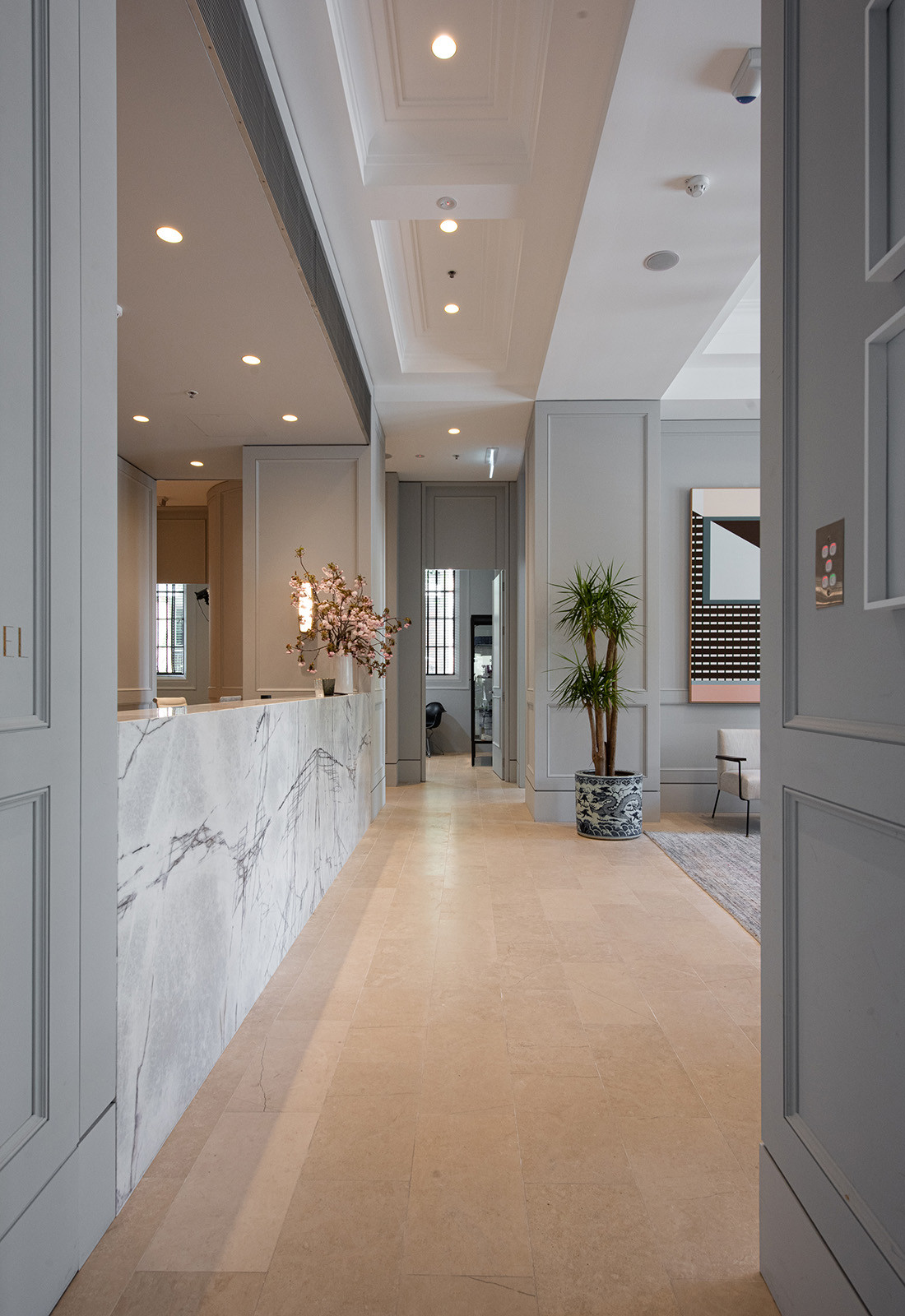 The grand space, which were formally church sanctuary and prayer rooms, is full of original period details such as stone floors and soaring coffered ceilings.
"We purchased the space in 2016 – the planning and approval process of the City of Sydney and the NSW Department of Health took another two years," Dr Tsirbas states.
"It was challenging to meet all the needs of a state-of-the-art medical facility in a heritage-listed site. But, with lots of ingenuity and clever architecture, we were able to pull it off."
"Our brief for the ground floor was to recreate a grand Parisian apartment drawing-room where patients could wait and relax on the 3m custom velvet chesterfield or peruse the extensive library," Architect Halliday explains.
Furnishings from Dedece, Cult and Anibou give the space a high end feel and a custom carpet from Cadry's dominates. A Flos Aim Three light pendant lights a panelled staircase accented with French, iron balustrades. On the walls hang artwork by Australian artists Ester Stewart and Kate Ballis.
It's not your ordinary clinic reception.
Downstairs the Day Surgery goes for a calming atmosphere with muted tones of natural timber and concrete complementing an ethereal neutral palette. Italian tiles and custom mirrors stand out and purpose-built steel frame doors separate the Recovery suites.
It will remain to be seen of Dr Tsirbas' work to apply a Wellness philosophy to the aesthetics of his clinic aides in his patient's health and recovery – but relaxing in his well-furnished, beautiful space certainly beats digging through a pile of 3 year old copies of New Idea for something to read.
Photography courtesy of Trish Nicol Agency.
We think you'd like A Clinic For The Body And Soul. Stay in the loop, join our weekly newsletter.