Yarram is a township of approximately 2000 people. Although it's a relatively small place in South Gippsland, a three-hour drive from Melbourne, it is endowed with a number of fine churches and public buildings dating from the early 20th century. One of these buildings is devoted to healthcare in the form of Yarram's original hospital, a relatively modest brick building with a fretwork-lined verandah.
"We wanted to use the hospital's 'DNA' to create a new wing that would provide support services," says Deb Ryan, principal of McBride Charles Ryan, who worked closely with architect and director Rob McBride, together with their team.
Offering a variety of services, from physical to psychological needs for the township and the broader region (the nearest hospital is almost an hour's drive away), the brief to McBride Charles Ryan was to create a new adjoining facility that was welcoming, accessible and made people feel comfortable to visit.
Framed by sprawling grounds with an eclectic combination of plants, including an established palm tree, McBride Charles Ryan was also keen to focus on the landscape and the distant views to the township's period buildings.
As well as creating a red brick link/passage to connect the past to the present, not dissimilar to a church cloister, McBride Charles Ryan designed a strong contemporary wing that both acknowledges the original hospital with its distinctive verandah, and provides the amenities now required for the community.
"The verandah is an important element in the Australian landscape, both in rural and urban contexts. We felt it needed to be explored," says Ryan.
Unlike the Federation verandah that is perfectly lineal, this verandah is more fluid and organic, with deep scalloped edges that respond to the location of the palm tree while also diffusing the northern light.
And rather than regularly spaced timber fretwork as found in the hospital's original design, here the external aluminium battens are fluid and playful, almost caressing the scalloped-edged zinc roof.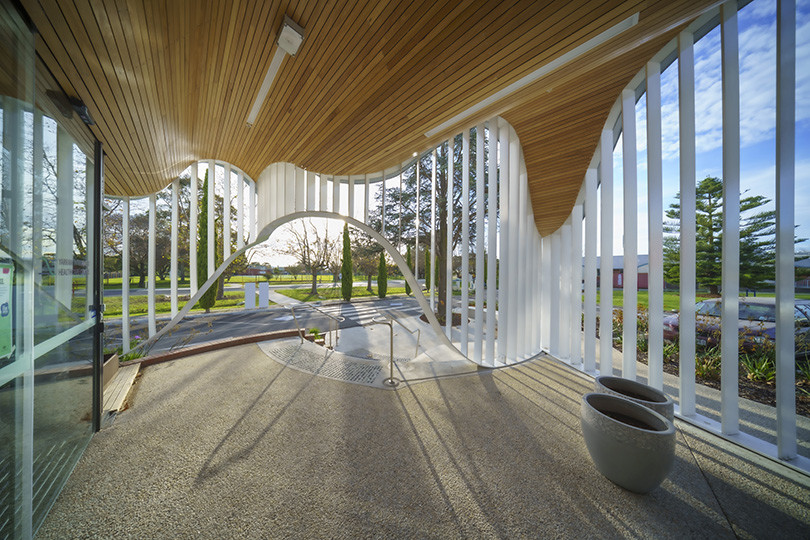 This complements the retained soft grey galvanised pitched roof, as well as its red brick base with many of the recycled bricks used from former extensions to the hospital.
Inside, the timber ceiling, evocative of the work of Alvar Aalto, is as fluid. Conceived to cocoon and envelop, it reaches an apex at the centre of the building and lowers towards the perimeter.
McBride Charles Ryan worked with local timber company, Radial Timber, which cut each log on the angle to avoid any wastage.
"The ceiling is also a way of defining spaces," says Ryan, pointing out the 'knuckle' of the building, the open plan office for the staff that benefits from unimpeded views across the property.
While there are numerous private consulting rooms, there's also generous open plan work areas for staff.
"There is a sense of transparency through some of the spaces, particularly in the reception and lounge area at the front. We certainly wanted people to feel comfortable and at ease, prompting them to visit early rather than waiting until conditions become serious," says McBride who, with his team, was looking to create a civic quality to the new centre that felt far from being institutional.
"It's also important to create the type of facility that encourages medical staff to work in regional areas, something that's of continual concern," adds Ryan.
Working with landscape architects GLAS, there were also several subtle moves made to the grounds, introducing both native plants to sit with the exotics, along with curvaceous outdoor benches that allow those visiting to enjoy the gardens before being attended to.
Yarram now has both an important new medical facility, but as importantly, a new architectural gem, for its township.
And while the past has been preserved, the present, with this striking new building, will certainly draw people to seek healthcare support.
McBride Charles Ryan
mcbridecharlesryan.com.au
Photography
John Gollings
We think you might like this article on Nest Art Centre by M Moser Associates.