Pioneering eco-warrior, Joost Bakker was back in the heart of Melbourne's CBD in April, to give the fashion industry his green thumbs up alongside outdoor lifestyle brand, Kathmandu.
In Federation Square, passersby were greeted with the unusual sight of clothes piled high and framed within a square-shaped steel tunnel.
A closer look revealed Bakker's pioneering installation: a three-metre by nine-metre tunnel which contained more than 3,000 kilograms of recycled fashion, sourced from Upparel, a leader in textile upcycling.
The idea was to give visual representation to the staggering amount of fashion discarded by Australian's every five minutes.
Bakker says one of the first comments someone made was that "it's beautiful", which affirmed his vision for people to walk away informed and inspired.
"My work is always about making people see beauty in waste. We need to transition to a society that's zero waste, one that mimics nature. I really hope this has brought awareness to the sheer volume of textile waste we generate, but for me more importantly that there are solutions," he says.
Related: An interview with Woods Bagot's global head of sustainability Russell Fortmeyer
The tunnel was created using a modified steel skeleton recycled from Bakker's previous installations – which can be dismantled and reused for future projects as a circular material. Covering the steel skeleton was a skin made from off-cuts of agricultural plastics, which will be used at the end of the installation as a greenhouse cover.
The project was kept as local as possible, with all work and materials used in the making of the installation completed and sourced within metropolitan Melbourne.
"Best of all, the installation skin can now be completely recycled at the end of its life by polymer processors in Melbourne, then made back into the same material for another life," Bakker says.
Bakker's innovations in building materials and pioneering ideas have seen him embark on many ambitious projects underscored with the same fundamental notion – zero-waste systems inspired by nature.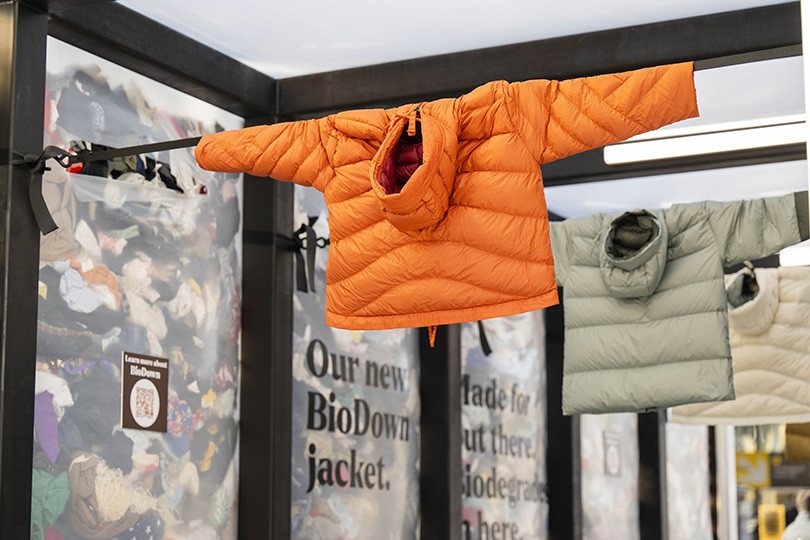 You may already be familiar with his installation nearby in Birrarung Marr – Future Food Systems – the sustaining zero-waste house that reimagines the home as an ecosystem.
In this fresh collaboration with a global clothing brand, he recognises the strong opportunity to make radical change by changing how we live, with fashion consumption a huge part of that.
"I'm passionate about bringing awareness to fashion waste. It was Kathmandu that approached me and it's exciting to see a brand like Kathmandu take this so seriously."
As for future change, he says it's possible with Australia's decision at a federal level to ban the export of waste radically transforming the way we handle things like textile waste here.
"We can design waste out completely but that's only through design. It's the only way this can be solved and it will be."
Finally, he says that it's an exciting time to see all aspects of waste being tackled. "You don't need a grand idea to change the world."
Joost Bakker
@joostbakker
Kathmandu
kathmandu.com.au
We think you might like this article about Landini Associates' designs for hospitality and retail.