The Hotel Industry
Architecture and design for the hospitality sector presents a host of unique issues – largely stemming from the fact that its numerous stakeholders present architects and designers with a distinct set of challenges. All about delivering 'experiences' – whether that be a sense of relaxation and refuge, or a sense of adventure and escape – hotels need to remain aware that the needs of staff must remain in balance with the needs of guests (and of all ages too!). In the last decade alone, the hotel industry has experienced significant changes that focus on improving guests' experience.
In the face of the sharing economy and the enormous growth of services like AirBnB, traditional hoteliers are tasked with an enormous challenge: relevance. Accordingly, the most innovative hoteliers have demonstrated forward-thinking in integrating their services more into the local culture, removing the boundaries with the hotel's proverbial four walls and the community by which it is surrounded. So, where is the industry today? Looking beyond hotel design as a mere 'destination' or 'place', today's leading hotels promise seamlessness in every sense of the word – a truly integrated, holistic approach to servicing all guest needs from check-in to sleeping, to bathing, dining, exploring, relaxing, and check-out. The general thinking: the more interconnected such experiences, the more a guest will sigh and say … "wow!"
Pier One Sydney Harbour
Evidently, the underlying mission for all hotels and accommodation providers is to exceed all guests' expectations. Questions such as 'What do guests want? What do they need? What are they after?' are answered in thoughtful ways in an attempt to make the stay memorable. And by this, I mean every aspect of a guest's stay: from the provision of in-room amenities, all the way through to thoughtfully curated menus, interior design schemes and integration with the surrounding locale. It's quite a tall order, and as we watch on while the boutique hotel industry continues to grow, there is clear indication to suggest that cutting-edge design thinking can hold the power to elevate otherwise everyday hotel amenities into truly breath-taking experiences, styled in the most beautiful – and appropriate – way.
One such recent exemplar of this recent turn in hospitality-driven design thinking is Pier One Sydney Harbour. Throwing open its doors to mass acclaim, Pier One – one of the glittering achievements in Marriott's Autograph Collection hotels – is built on and above the famous Sydney Harbour foreshore and celebrates the rich culture of Australia's first city wherever the eye alights. Unifying the city's heritage aspects with a contemporary and chic twist, the hotel symbolises both the city's past and its future, its showmanship and its discretion. Embracing its guests in a series of 'worlds', various interior and exterior spaces weave across the public and private domains – offering guests the opportunity to engage with Sydney's greater surrounds, as well as providing weary travellers those all-important moments of rest and relaxation from the hustle and bustle of Sydney CBD.
"We took the elements and forms we saw on the pier and embedded those details into the design,' said Brenton Smith, Studio Director of Interior Design, Bates Smart when asked about his team's approach to revitalising the public areas of the Pier One Hotel in Sydney's Walsh Bay.
With its remarkable new interior, Pier One exudes a feeling of casual elegance against the backdrop of an iconic vista. The hotel's unique and bespoke-feel derives from its custom-designed elements. Creating an immersive hotel experience that blankets luxury and balances the nature of the architectural framework suggests that Pier One is aiming to extend the profile of what we consider to be an 'ideal' hotel experience – one that is reflective of Sydney's waterfront locality. From a planning perspective, Bates Smart's selection of rich materials form part of the firm's strategy to activate the previously disconnected public spaces and draw guests into the bar and restaurant. In addition, the bar – definitely the 'hot spot' of the hotel, welcoming guests and many a Sydney-sider every day – now occupies a central location, becoming the central hub of the ground floor lobby. The aesthetic is one of "club-like casual elegance", that creates a cosy feel whilst expansive glazing opens up the spaces to the harbour, borrowing visual cues from P&O Ocean Liners of yore and evoking the golden age of international jet-setting.
What's more, while whispers of years gone by reverberate throughout the hotel, guests are welcome to enjoy only the most cutting-edge in terms of amenities. Take Pier One's suites as an example. Generously kitted-out in luxurious textiles, thick-pile carpets and windows with some of the city's most covetable views, each room is powered by an array of Dyson's latest product ranges – whether hair dryers, lighting or fans. Boasting supreme pleasure in convenience and a sense of luxury when in use, the specification of Dyson's ranges here is a stroke of genius: pleasure/convenience/luxury – three words which best encapsulate the entirety of Pier One itself.
Creating the 'Wow' Factor: The Case of Dyson
For over 30 years Dyson has been a global advocate of this kind of forward-thinking, transformative design. As a design brand that collaborates with the likes of international household names, Dyson has been at the forefront of the appliance industry and remains in this exalted position to this very day. Synonymous with innovative home and commercial technologies that do not compromise on style or function, since the first cordless vacuum cleaner, Dyson's products give great consideration to the user experience. It is clear that such an approach to design thinking positions Dyson's product portfolio perfectly for projects in the hospitality sector – and especially so given the industry changes afoot for hoteliers across the globe. Starting every design concept with the quality of the end-user experience in mind, Dyson harnesses the power of design to delight and create truly memorable user experiences.
With a simple design approach and the inclusion of Dyson products, Pier One Sydney Harbour is a hotel every bit deserving of its coincidental – but definitely appropriate – acronym 'POSH'. Pier One partnered up with Dyson because of its likeminded approach to business. The hotel industry, in general, has evolved tremendously. And in the past four years, Pier One has transformed into a lifestyle brand that sets an exciting benchmark for new hotel experiences across the nation.
Dyson's Pier One Approach
From light levels to air quality, appliances to washroom hygiene, every detail of Dyson's products affects the guest experience – with technology and convenience at the forefront.
Supersonic Hair Dryers
Dyson's Supersonic Hair Dryers which grace Pier One's various suites are all equipped with intelligent heat control to help prevent extreme heat damage – with three magnetic attachments available for controlled styling. Featured in selected suites and sitting proudly in a leather-box in the bathroom, guests are encouraged to enjoy a new kind of hair care experience in the privacy of their own room.
Pure Hot+Cool Purifier Fans
The average indoor environment has up to five times more pollution than the outdoors. Dyson Hot+Cool Purifier Fans automatically detect and capture microscopic airborne pollutants, helping to create a comfortable environment for guests.
CSYS Lighting
CSYS task lights are engineered with 3 Axis Glide motion so guests can precisely position lights where they desire. Located in various rooms, suites and selected communal areas, these lights come with glare control and feature touch-sensitive functions. This way, guests can enjoy optimal lighting to suit their needs and mood.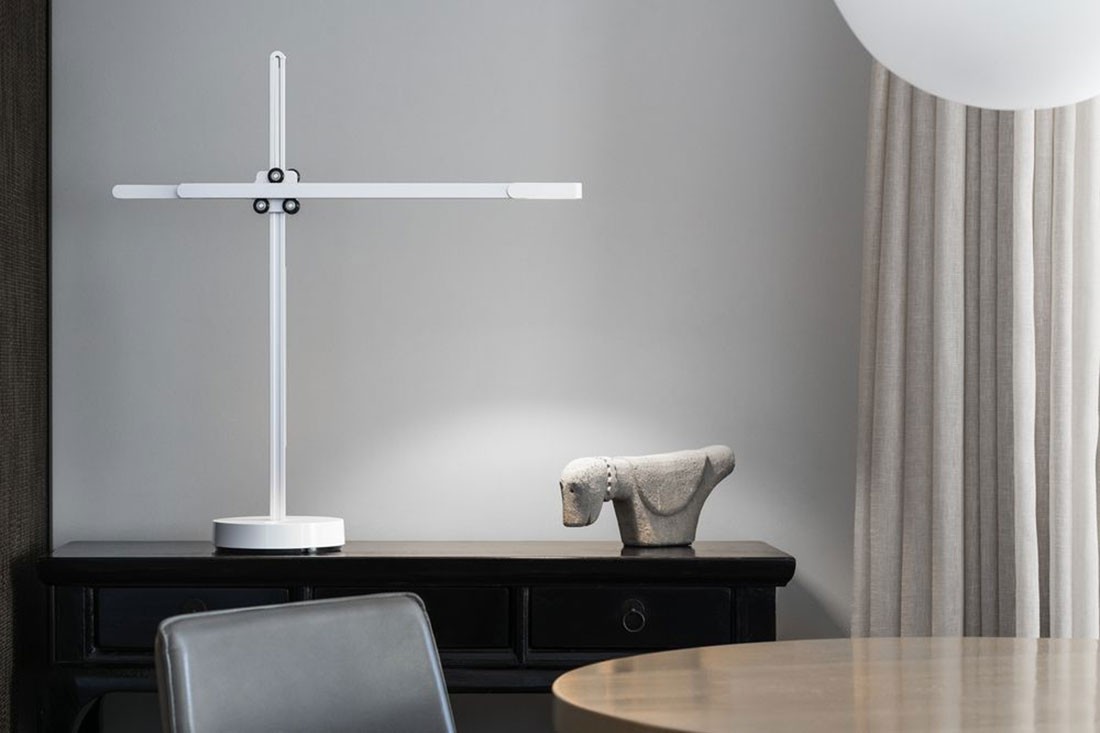 V8 Absolute Cord-Free Vacuum
Pioneering technologies generate cordless and hassle-free cleaning solutions for multiple uses. The V8 Absolute Vacuum is versatile and deep cleans all surfaces between the floor and ceiling. Not only do these products save up to 40% more storage space – which is a blessing for hospitality settings – but they have also been re-engineered to steer easily into difficult places.
Dyson @ Pier One
Here, Dyson's products meet the expectations of a refined premium hotel, adding that extra layer of luxury. "Both businesses are like-minded in the way that they approach business and the Dyson ethos that drives us to innovate and execute incredible ideas and technology share similarities with the ethos that drives Pier One Sydney Harbour to deliver a premium, luxury experience to their guests", says a Dyson spokesperson.
The design of Pier One Sydney Harbour uses architectural and artistic skills to create an exceptional hospitality experience, establishing a unique environment guests can truly appreciate and remember for years and years to come. This then becomes the foundation of creating a trusted brand image – one that hoteliers look out for, and one that guests crave.
Discover the brand's unique approach to designing for sociability and today's evolving taxonomy of design in the hospitality and hotel sector in Asia Pacific.