These days hospitality spaces come in many forms, and are incorporated into a multitude of projects. For example, a workspace is now required to be as comfortable as home and there also needs to be the opportunity to cater for an individual or a crowd and entertain with style.
The QRC Suites for HSBC in Hong Kong by Hassell is the embodiment of all these ideas, presenting a multi-faceted workplace and events space through creative and authentic thinking. The offices, situated in the iconic Norman Foster skyscraper designed in 1979, were ripe for updating and Tom Herron, principal, Hassell and his team, have achieved a sensational outcome.
The project involved a total refit of the 15th floor of the building. There are 16 meeting rooms that have been designed as four pavilions, along with private booths, a dedicated event space at one end, outdoor areas for socialising and the ubiquitous facilities of utility rooms, kitchen and bathrooms.
There is also a small apartment set to the side for launches and special events. Perhaps the most notable feature of the planning and layout is the ability for the interior to transform into a very large event space through eight configurations – from workplace, to meeting room, to social space.
This project is a finely-crafted environment that reflects the HSBC brand but also speaks of artisanal design and the handmade. One of the most notable features throughout the floor is a custom blade ceiling made of fabric (Barrisol) and folded extruded and perforated metal, a one-off designed by Herron.
All the suites and pavilions were designed by Hassell and custom-made by Unifor in Italy, as well as the marble credenzas and conference table. Wallpapers and inlaid, hand-tufted, New Zealand wool rugs and carpets help set the scene of a refined aesthetic.
The QRC Suites are exquisitely detailed, and reflect their place with exceptional views at either end of the floor – the Harbour and the sea on one side, and the Peak and mountains at the other. Certainly, the vistas that most capture the idea of Hong Kong.
As a place for hospitality, the QRC Suites for HSBC set the bar high and acknowledge that people come together to work, of course, but also that sharing a glass of champagne, a meal or a coffee creates the atmosphere and helps establish a more personal relationship.
Hassell
hassellstudio.com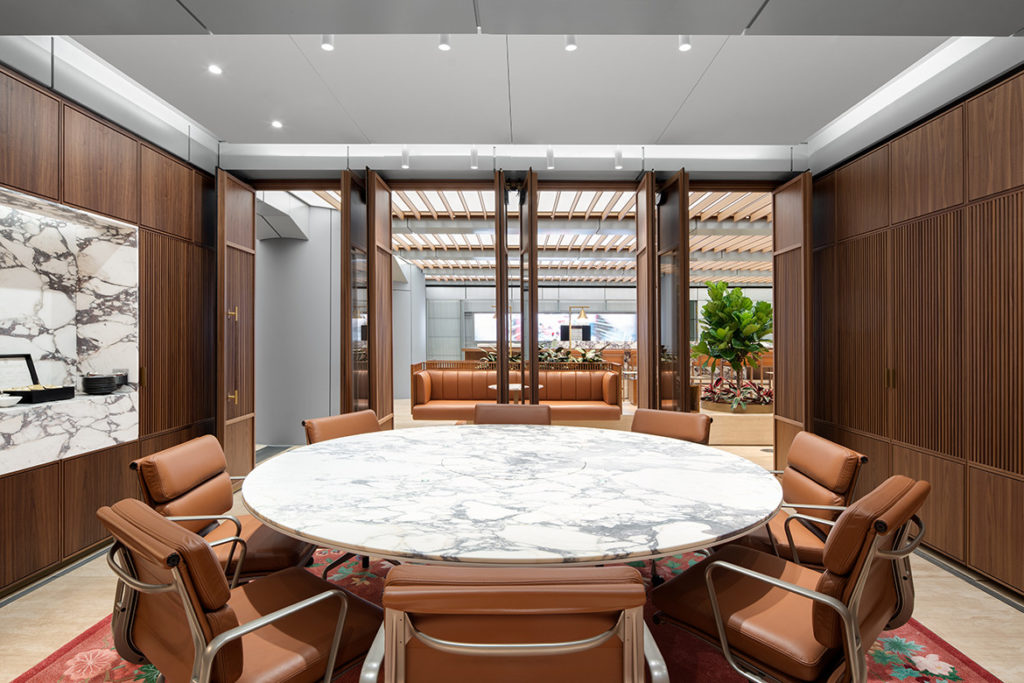 This article was published in Indesign magazine #84, purchase your issue here, or download the digital version to your Indesign app.