Located in the World Heritage Listed Parramatta Park, the distinct landscape concept seeks to acknowledge the site's history as a gathering place throughout Indigenous and colonial history. The entire design seeks to place outdoor landscape and recreation at the centre of the experience.
Swimming areas are arranged around the ring, carved into the elevation of the site. The centre comprises a 50-metre, 10-lane outdoor pool with seating; a 25-metre, indoor recreational pool; an indoor Learn-to-Swim pool; an indoor water playground; multipurpose community rooms; steam, spa and sauna facilities; a health and wellness centre, including a modern gym and program rooms; a cafe; and car parking. The precinct's habitat and biodiversity values are extended with the addition of 562 new native trees planted across 30,000 square metres of landscape to enhance the existing urban forest.
"Parramatta Aquatic Centre has been thoughtfully designed with the community in mind. The architects have done a wonderful job creating a space that the people of Parramatta, and greater Sydney, can enjoy for generations to come," says Parramatta Lord Mayor, Sameer Pandey.
"This is more than just a pool – it's a place where the community can swim laps in the pool, work out in the gym, relax in the spa, steam and sauna or simply enjoy a coffee in the café. A lot of memories will be made here – of local kids swimming their first lap, of families splashing around together on a long, hot summer day. I can't wait to open the doors, I think the community will be really impressed when they see and experience Parramatta Aquatic Centre."
In keeping with the precinct's masterplan, the rooftop covers the sunken pools in a bid to retain community access and views to Old Government House. Close proximity to public transport and an integrated carpark ensures accessibility is improved.
Related: Parramatta Park Pavilion by Sam Crawford Architects
Grimshaw has led the design team since the inception of the project, victorious in a Design Excellence Competition in 2018. The practice's project director, Josh Henderson, says the new facility provides the city with a first-rate sports and recreation centre that will serve current and future residents.
"The new Parramatta Aquatic Centre will provide a much-needed destination for swimming, fitness, and leisure in Western Sydney," he says.
"The design team, City of Parramatta and builders have all collaborated to create a valuable community asset that is enjoyable to experience, well-made, highly functional and accessible. As a new home to many community groups, the opening of the facility will provide vibrant landscaped public spaces for fitness, sport, learn to swim classes and for time with friends and family."
ABA's Andrew Burges says the aspirations of the practice have come to life following the completion of the facility: "Our goal was to provide a completely new vision of what an Aquatic Centre could be – we wanted to create a destination for the community, one that provides opportunity for many forms of recreation in a safe and inspiring facility that feels more like a landscape setting than a building."
Grimshaw
grimshaw.global
Andrew Burges Architects
aba-architects.com.au
McGregor Coxall
mcgregorcoxall.com
Photography
Peter Bennetts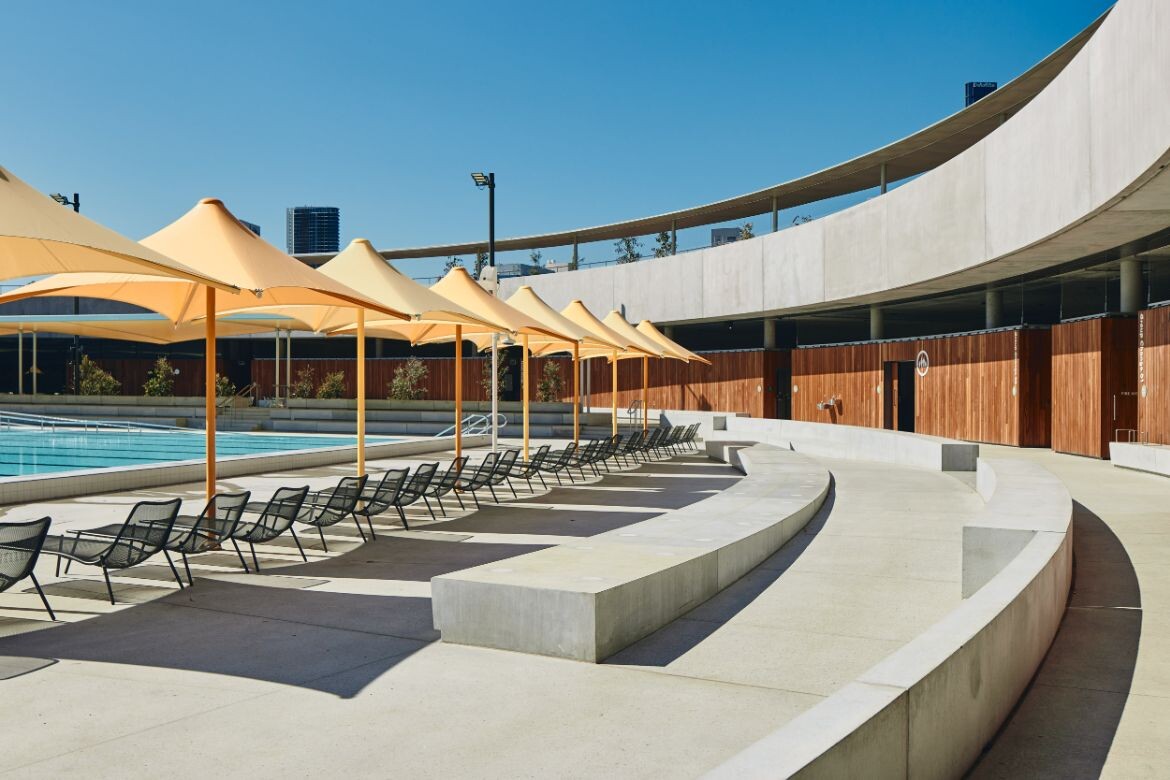 We think you might also like this article on Ivanhoe Grammar by McIldowie Partners.