Though recently accelerated, hybrid working isn't a new phenomenon. Designing solutions for how and where we work has long been best achieved through a user-first approach anchored in a deep understanding of the client's needs. But what are the nuances that come from diving into the client and user's perspective?
To get our heads around what workspaces mean to users today and how that impacts workplace strategy and design thinking, we catch up with Lauren Henry, national operations and major accounts manager at Dexus Place, who worked with Tamara White, principal, and David Hoad, associate, at Warren and Mahoney. Together they have developed a new approach to Dexus Place at 80 Collins Street in Melbourne. We also explore the new design of the Burnet Institute with its chief operating officer, Mark Tennent, and Alex Hopkins, design director of Studio Tate.
Each project provides a unique lens for dissecting how workplace strategies and design responses can nail the basics while delivering experiences that truly fit people's needs.
Dexus Place by Warren And Mahoney
Spearheading Dexus' innovative approach to the workplace, Lauren Henry intimately understands the need to deliver an office experience that fits today's needs. "This isn't just about flexibility or the basics of a co-working space: this is about providing exceptional service," she says.
Dexus Place is a unique blend of meeting and event spaces, virtual offices, dynamic desks and video conferencing that combine to provide the physical, digital and service-driven foundation for doing business better. As Henry explains it: "Purpose-built, customisable spaces that foster innovation and collaboration."
It's a model that requires a truly nuanced understanding of people and product to develop a design response that meets needs while creating a real sense of place.
Enter Warren and Mahoney. Tamara White and David Hoad were tasked with delivering workspaces for Dexus' customers that were intuitive, flexible, memorable and universal.
White notes that "essentially Dexus Place is about providing an absolute 'best in class' workplace with optimal efficiency, ease of connect, acoustics and flexibility in one of Melbourne's most desirable locations.
"Whether it's a single user in for a day, or a team on-site for months, Dexus Place has answered the bigger, motivational questions for end users, and created a reason to come to work here. The customer amenity and experience either exceed or complement their usual place of work. It's a place that surprises and delights."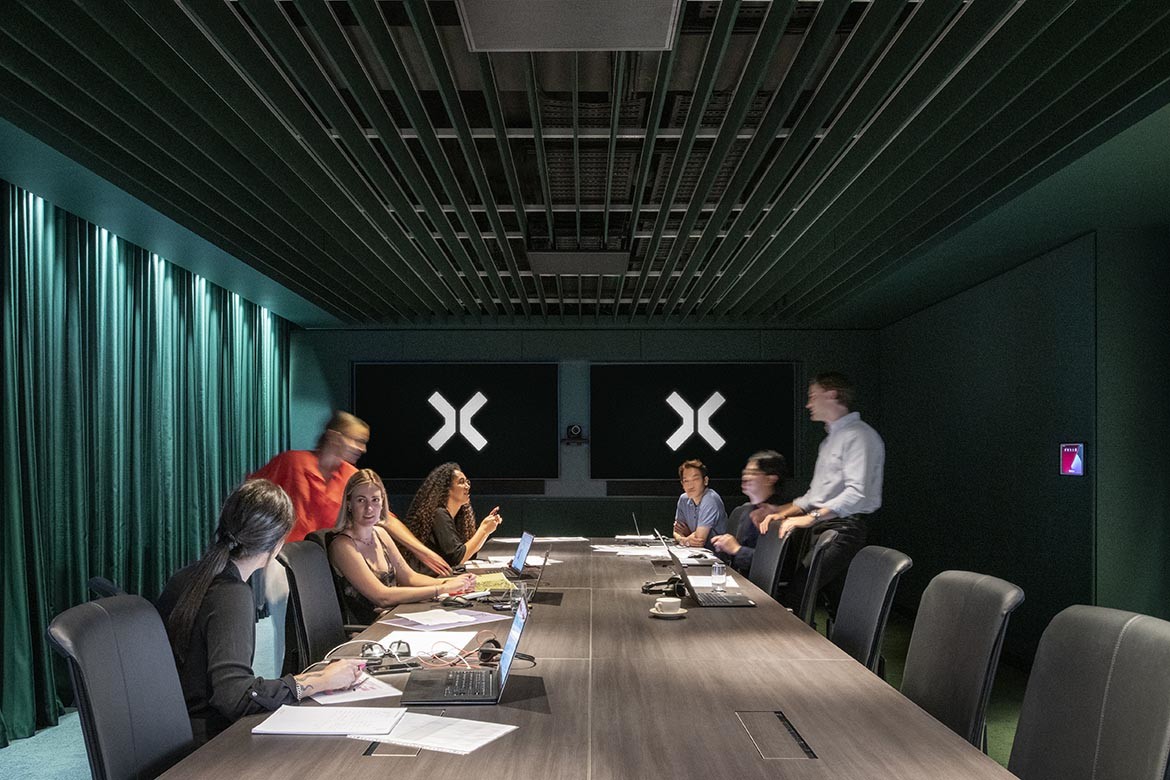 Hoad calls the result an organic and agile space that can rapidly respond to the myriad needs and moods of its users. "Dexus Place delivers a dramatic array of environments. We've played with light and dark across its vast menu of spaces, which allows users to circulate and discover the ideal location to meet both their working needs and state of mind."
From the user's perspective, this honest invitation culminates in a workspace that balances essential elements: the clean professionalism befitting Dexus' values, access to an industry-leading suite of services, the modern need to have agency over our work environment, an experience supported by seamless state-of-the-art tech, and a richer experience of hybrid work overall.
Related: BVN makes AFR BOSS 'Best Places to Work' list
Burnet Institute by Studio Tate
For Mark Tennent, working with Studio Tate to redevelop office space for the Burnet Institute was an exercise in defining how values come to life in a workspace. Tennent notes, "We're looking to provide ways for people to reconnect. Through consultation with the staff, we knew we didn't want hot desking, yet we knew we needed a more shared office experience. Our fundamental approach to developing the office is based on trust, collegiality and genuine enthusiasm. We want people to want to be here." For Alex Hopkins that meant delivering for "an inclusive workforce that needs welcoming spaces for all walks of life – spaces that ensure accessibility, deliver an egalitarian experience and promote wellbeing through things like access to natural light, but also through experiences that might feel more like a hospitality environment than an office."
All of that comes together in a design response that embodies how the Burnet Institute views and trusts its workforce. Offices that once held prime location at the perimeter blocking both light and views were relocated to the core while open plan areas were balanced with spaces that workers can still call their own.
Hopkins elaborates, "We want to feel at home in our workplace. So, we have to define what a workplace that feels like home is. It isn't home, yet it needs to have the comfort, warmth and authentic identity that we associate with homes. For the Burnet Institute, that comes through in bringing their values to life while dialing up little details to soften the environment."
The end-user has a workplace experience that's fluid. People find themselves moving from areas that might feel like a traditional office, to a café kitchen, to something more akin to a public park.
And each of these spaces has enough personality, detail and authentic expression of the Burnet Institute to invite people to enjoy them, make them their own and ideally want to come in and reconnect.
Reason for Being
Both of these projects exemplify offices that have restated their reason for being: the former as an inspired workspace defined by exceptional service; the latter, a redefined office that is just as inviting as home.
For users, hybrid working and flexibility sit on a continuum between the home and the office – a spectrum of working conditions across transit, third spaces and destinations. With people's tolerance of non-places at an all-time low, the hybrid working experience needs to deliver meaning and purpose. After all, isn't that what we're all working for?
Warren and Mahoney
warrenandmahoney.com
Studio Tate
studiotate.com.au
Photography
Nicole England (Dexus Place) and Peter Clarke (Burnett Institute)
This article featured in Indesign magazine #86, purchase your copy here.
We think you might like this article about INDESIGN Luminary, Nathan Yong.