When designing a psychologist's office in north Hobart, Tasmania, local architecture and interiors practice Cumulus wanted to create a space that was as comfortable and relaxing for practitioners as it was for clients. So, the design team crafted a space that takes inspiration from the outside – think natural light, organic materials, a muted palette, and plenty of plants – to create an oasis in the city for wellbeing and healing.
"We wanted to create a living space within the urban environment to help visitors to feel comfortable," explains interior designer Lucy Watts. "It was also important that practitioners look forward to going to work and don't feel too exhausted after a long day in the office."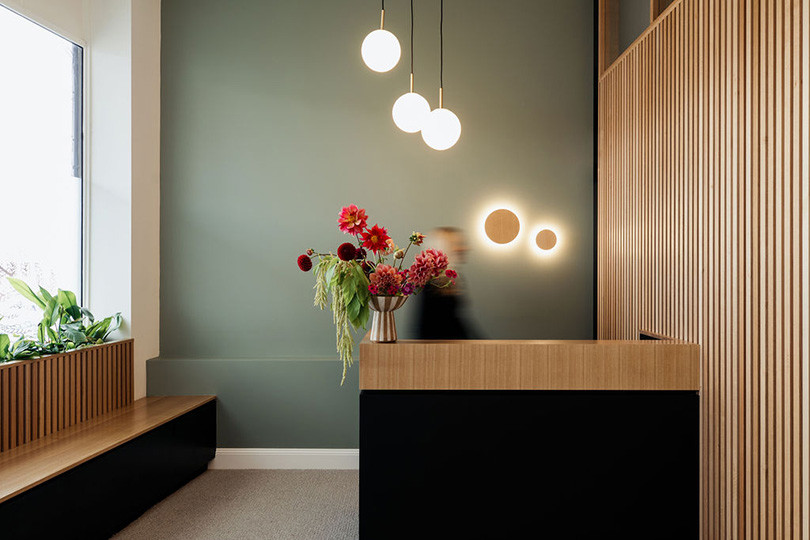 The inviting, contemporary space is discreetly concealed in a heritage-listed building in the busy Hobart suburb of New Town, and is more akin to a high-end residential space than a typical medical environment. The entrance opens to a reception set against a backdrop of Tasmanian oak battens and plants, which act as a "buffer" between the reception seating and the street to create an immediate impression of stepping away from the stresses of everyday life.
There is an accessible treatment room that is level with the street, with the other treatment rooms located up a small flight of stairs framed by a timber threshold that acts as a transitional zone between the more public and private spaces. This treatment area is divided by a small light atrium and a bathroom, with a cosy staff break-out room at the rear. "I'm a very pragmatic designer when it comes to spatial arrangement," explains Watts. "I always try to set the plan out logically."
Throughout the fit-out, Cumulus employed a calming, natural material palette that brings tactile elements of the outside in. Tasmanian oak battens diffuse the light, and timber cladding wraps the walls to create warmth and a sense of informality that is often missing from medical settings. The local, renewable, and recyclable timber was also chosen for its sustainable properties. "There is an honesty in the expression of the materials, and I think this reflects the values of the client," explains Watts.
This palette is complemented by soft textiles that work to create a quiet, but not silent, space, and plants that add to the sense of wellbeing. Full-length linen-blend curtains and plush carpets muffle conversations to maintain privacy, yet don't erase the comfort of background noise; and plants have been cleverly integrated into the accessible features – such as the planter box that acts as a handrail – to integrate them into the concept.
One of the challenges was introducing natural light to a heritage-listed building – and this was a priority given the effect light can have on mental health and wellbeing. The design team made the most of skylights and highlight windows, and introduced additional lighting where needed to bring light into every corner of the plan.
The resulting space perfectly fulfils the brief, not only offering New Town Medical Suite practitioners a comfortable work environment, but also elevating the experience for clients. "I've actually had a couple of friends visit the space, and one of them said 'it felt like a day spa'," says Watts. "For me, that was a very satisfying response!"
Cumulus Studio
cumulus.studio
Photography
Jesse Hunniford
We think you might like this article about Dexus Place by Warren and Mahoney.