In a notable breakthrough, Screenwood has announced a new product, SOUNDLINA™. The perforated architectural wallpaper is set to be a game-changer, designed to elevate architectural possibilities while promoting environmental consciousness. SOUNDLINA™ marks a pivotal moment in the industry, boasting high acoustic performance for noise reduction and reverberation control.
The new acoustic woodgrain wallpaper range is a result of the dedicated work of Screenwood's engineering team. It promises architects and designers an opportunity to transform spaces in less time, with reduced installation costs – and all with a lower environmental impact. The innovative wallpaper's patent-pending echo-reduction design achieves a Noise Reduction Coefficient (NRC) of up to 0.85 on a scale from 0 to 1, particularly when used in conjunction with the recommended perforated grid plasterboard and acoustic insulation.
What further distinguishes SOUNDLINA™ is its easy installation process, eliminating the need for joiners and empowering interior architects, designers and builders to enhance spaces economically while prioritising comfort and wellbeing.
"As a leader in architectural and acoustic wall and ceiling innovations, we're excited to bring this revolutionary product to the market," says Cameron Nelson, founder and director of Screenwood.
Related: Innerspace puts down roots in Sydney
"We work closely with our customers and have an acute understanding of the design, installation, cost, and regulatory challenges they face. Thanks to SOUNDLINA™ wallpaper's technical design, our customers have greater freedom to explore imaginative interior architectural concepts while reducing construction costs and time without compromise. The wallpaper's woodgrain aesthetic and acoustic performance make it a superb choice for biophilic, environmental, biomimetic and sensorial interior design."
SOUNDLINA™ wallpaper is pre-finished with NAVURBAN Diamond™, a surface that employs Smart NANO™ technology, offering top-tier durability. This decorative surface boasts a reinforced top layer that ensures a premium quality finish even in the most demanding interior environments. It's a non-PVC olefin film embossed with a 3D woodgrain structure, delivering a beautiful natural aesthetic, while the product is available for interior use in rolls measuring 600mm in width and 9850mm in length.
Moreover, the SOUNDLINA™ wallpaper range has achieved a Group 1 Fire Safety Rating and is Global GreenTag certified, making it a strong choice for interior applications across a wide range of sectors. And when we say wide, we really mean it – hospitality, education, aged care, commercial spaces, foyers, hotels, shopping centres, airports, medical facilities, libraries, residential properties, conference venues and more.
What sets SOUNDLINA™ is also manufactured in Australia by Screenwood, part of the brand's expanding portfolio of trusted decorative and acoustic architectural product innovations. These include the likes of MODULO®, STIX® and PANELS, products which are already trusted by leading interior architects and designers.
With some seriously notable projects featuring Screenwood's innovations – including Sydney's Allianz Stadium, the ACT Law Courts, HSBC Barangaroo, the Western Sydney Conference Centre and Pullman Hotel, the City of Perth Library and Hydro Tasmania – it's easy to see why there is more excitement ahead.
Screenwood
screenwood.com.au/range/soundlina
Photography
Courtesy of Screenwood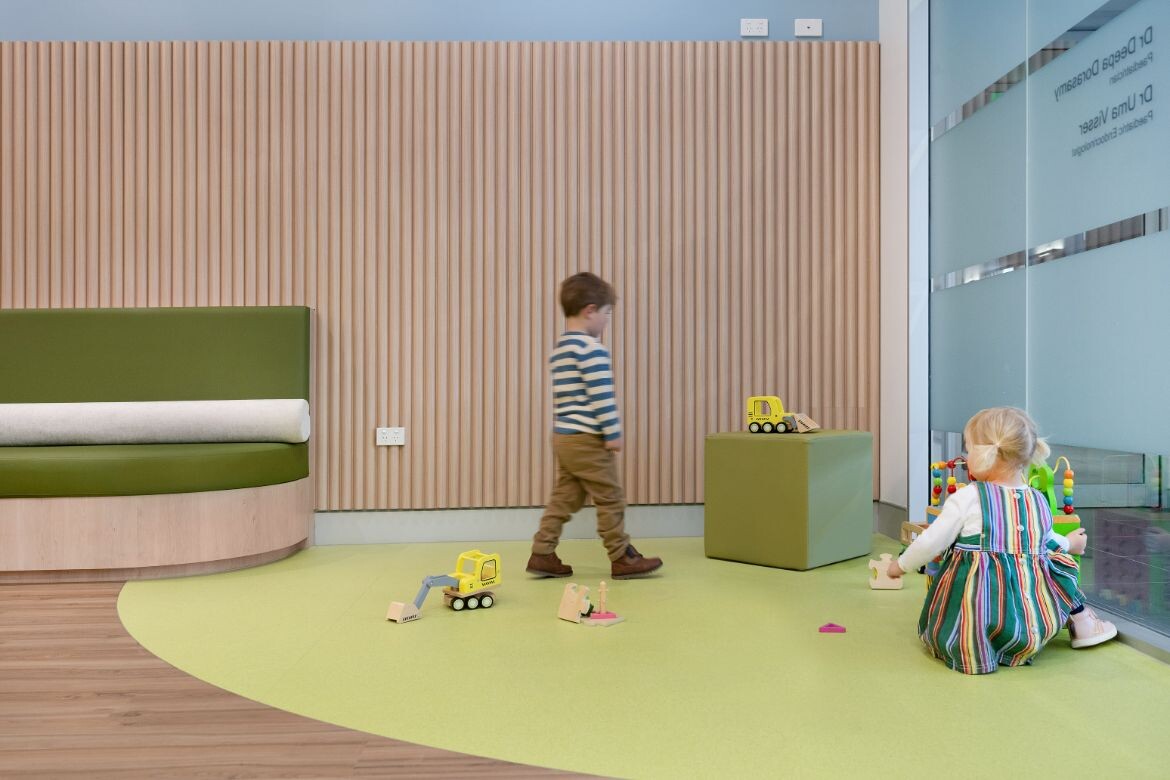 We think you might also like this story on the furniture at Allianz Stadium by Space.