Our natural world is full of wonderfully concealed textures, shades and materials that can be arranged to create beautiful modern interiors. Palettone by Polyflor is a range of hardwearing, homogenous flooring that brings this level of design flexibility to any commercial environment.
More colour, more choice
Ranging from pale neutrals through to more intense shades, Palettone is available in a palette of 50 contemporary colors with each shade assigned its own unique NCS reference to help designers navigate bespoke design schemes.
In interior design, we often become absorbed in focal points within the space, which can distract us from the smaller components that work seamlessly together to create a cohesive style. By looking closely at these individual elements, you can see the dizzying array of shades and colors that make up our surroundings.
Polyflor has taken this philosophy and used it to generate the Palettone flooring collection. Each Palettone design is made up of a solid colour base and complementary toned highlights. A selection of classic neutrals, soothing pastels and daring brights are included to inspire commercial projects and complement any interior arrangement.
All shades are available in 2x20m sheets while selected shades are available in 608x608mm tiles or SD sheet specification.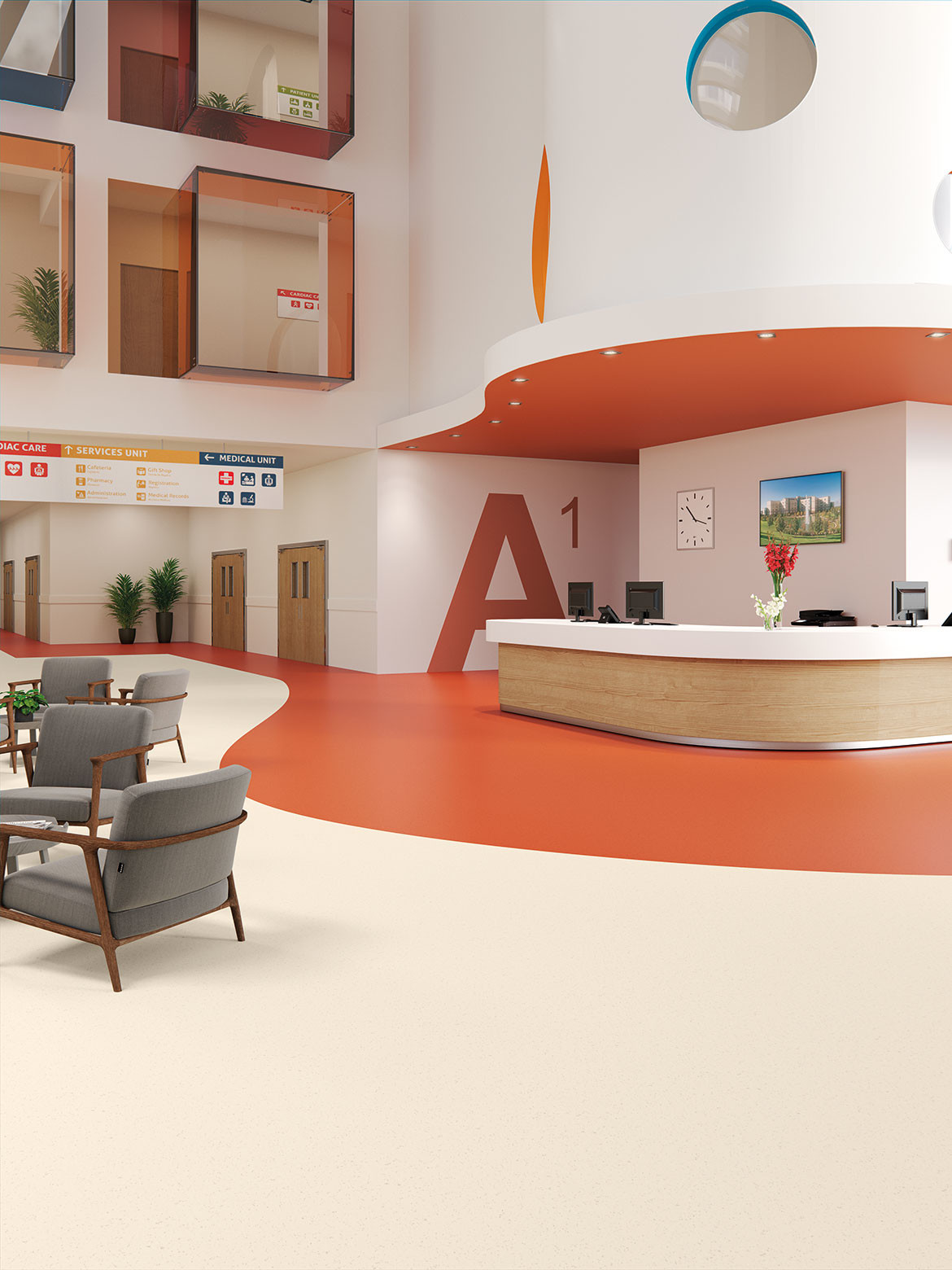 Suitable for commercial applications
As with all Polyflor's PUR ranges, Palettone features a high quality, cross-linked polyurethane reinforcement that is UV-cured to provide a low-cost polish free maintenance regime for the lifetime of the flooring. All the established characteristics of a Polyflor PUR product are inherent within this premium collection, which is ideally suited for the most demanding of commercial interiors, education facilities, and retail areas.
Demonstrating outstanding durability and abrasion resistance, Palettone is a go-to commercial flooring solution. Recommended for heavy traffic areas, this product achieves the highest abrasion wear rating Group T (EN 660 Part 2), EN ISO 10581 Type I and a Generic A+ rating in major industry sectors.
Palettone PUR can be installed over underfloor heating up to a maximum of 27°C. It is recommended that underfloor heating systems are commissioned prior to the flooring being installed to ensure the heating system is operating correctly.
Environmentally-preferred vinyl flooring
Since launching in Australia and New Zealand in 1963, Polyflor has offered vinyl flooring products that make a big impact on the functionality and aesthetics of a space, but a small impact on the earth.
Palettone PUR is 100% recyclable and contains 25% recycled material. The product has also been tested to international standards for low VOC emissions.
For more information on Polyflor's Palettone range, visit their website here.
Polyflor