Architecture and interior fit-outs are costly endeavours – not only financially, but also environmentally. According to non-profit organisation Architecture 2030, buildings generate nearly 40% of annual CO2 emissions globally, with building materials and construction responsible for 11% of the total footprint. As the world becomes increasingly aware of climate change as one of the greatest threats facing humanity, it's essential that suppliers do what they can to reduce their impact.
It's a challenge that global flooring company Milliken has embraced – and the recent launch of the brand's M/PACT™ carbon neutral program is testament to its dedication to help slow climate change. This new initiative is part of the global brand's ongoing commitment to sustainability, and it offers the design and construction industry greater choice when specifying products that will meet ambitious sustainability goals and continue to support the fight against climate change.
At the heart of the M/PACT™ program is the promise that all Milliken carpet, luxury vinyl tile and entrance flooring tile products around the globe are now carbon neutral. To achieve this, carbon emissions in raw materials and manufacturing are offset using Verified Carbon Standard credits. Not only is the brand investing in renewable energy credits and verified carbon offsets, but solar power is being installed at its manufacturing facility in Sydney.
This kind of sustainable commitment is the logical next step for the global company, which is a founding member of the Well Living Lab and a WELL Portfolio member. As part of these commitments, the brand's carpet tile products are Red List Free, made from 'healthy' materials, with 100% transparency in materials to 100pm, that don't contain harmful chemicals, which is critical for end-of-life recycling.
This forward-thinking approach has allowed the brand to advance its commitment to developing a circular economy within its manufacturing process. It already has a portfolio of carpet tiles that use less raw material than conventional products
Milliken's commitment to sustainability is matched by its design acuity, and there are a wide range of highly functional products that elevate one of the hardest working surfaces in any fit-out. Take the visually spectacular Circular Relationships collection collaborated with designer Ashley Rose Oswin, which is inspired by the natural beauty of New Zealand's South Island; or the sophisticated City Nights collection, which draws on the kaleidoscopic colour and layered geometric patterns that can be found in the city as it comes to life at night.
The City Nights collection is also an example of the multi-faceted way that Milliken is helping to design a better world. Not only does it boast serious design and sustainability credentials, but it is part of an initiative to raise funds to tackle homelessness. A percentage of revenue for every specification of the collection goes to the Property Industry Foundation to support volunteer programs to build homes for homeless youth in Australia.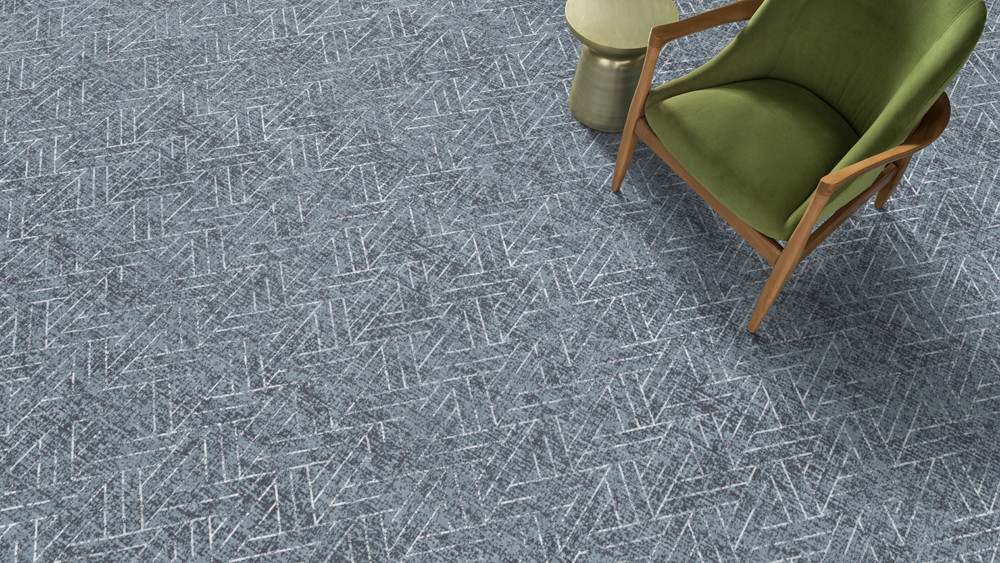 These kinds of initiatives all work to support Milliken's mission to increase wellbeing – but there is no doubt that the biggest challenge to our global wellbeing is climate change. And, the fight to slow climate change is, of course, ongoing. While impressive in its scope and ambition, the M/PACT™ initiative is just another step in Milliken's sustainability journey. There is an overarching commitment to sustainability built into every element of the business, and it will continue to take action to lower its carbon footprint. The company has also set 2025 goals that align with the United Nations Sustainable Development Goals, including an impressive 25% reduction in indexed greenhouse emissions.
"It takes humans to protect humanity and we are all responsible to work together for a sustainable future," says Shaneel Deo, Managing Director at Milliken Australia. "Carbon neutral products are one important way designers can create healthy interiors that benefit both the people in buildings and human health as a whole. Our products support the advancements of a circular economy – one that uses less raw materials and creates less waste."
Milliken
floors.milliken.com