Despite its relevance and undisputable importance, the notion of accessible bathroom design still comes with a – mostly unconscious – negative bias. Often, accessible features are introduced into a space following an unfortunate event or out of a need to improve quality of life. However, as Dr Peter Sweatman and Luke Di Michiel point out, the tide is turning.
Universal design: The new normal
"There used to be a division between 'normal design' for 'normal people', and 'accessible design' for people with disabilities," explains Dr Sweatman, Caroma's Senior Manager Product Visualisation.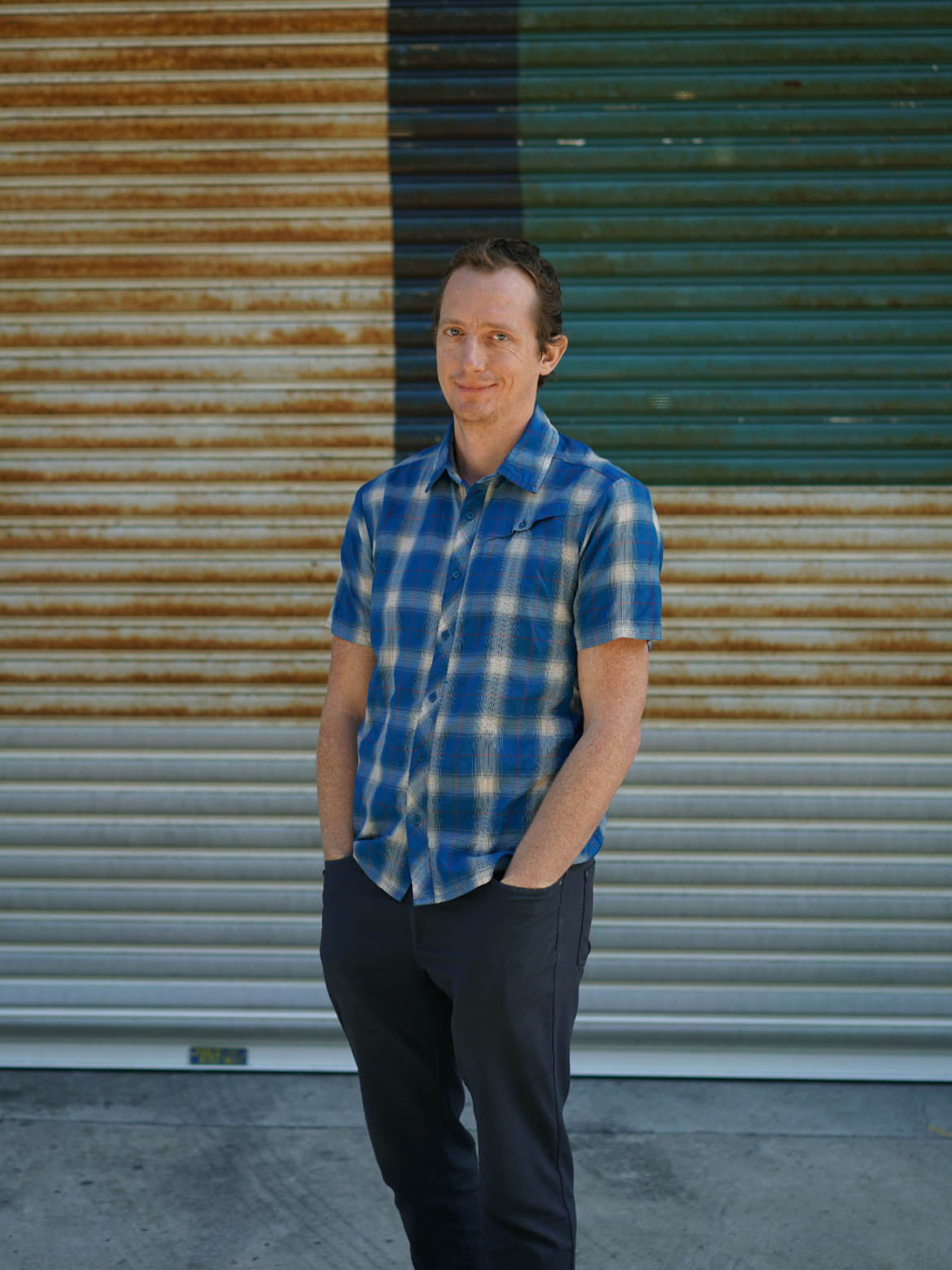 .
"Universal design recognises that people exist on a spectrum, and that everyone has different abilities that change over time. It aims to be enabling for as many people as possible."
.
He points to a simple example of a ceramic disc cartridge. "Traditional jumper valve taps with a rubber washer can require a lot of effort from the user to turn the tap on or off, making it difficult for kids or older people with dexterity challenges. With ceramic disc taps and mixers, the amount of force required is reduced," he explains.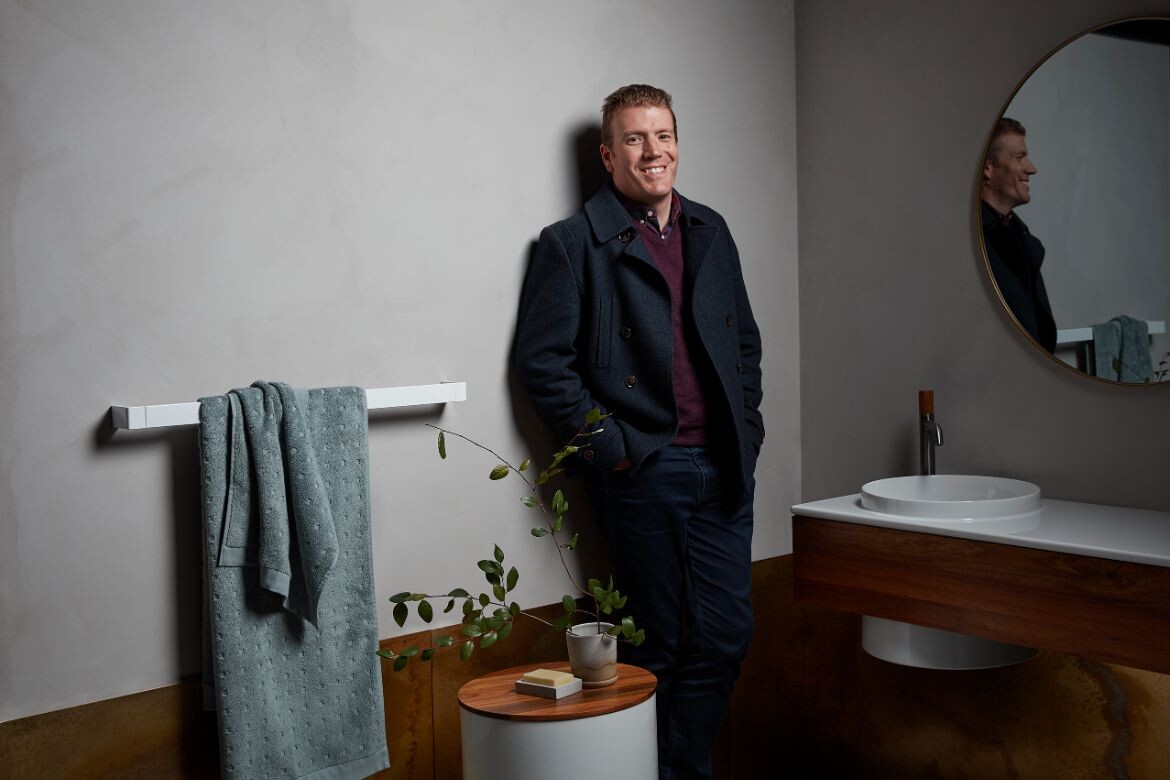 "If you're reducing the number of people who can use a product because of a design feature, you've made a compromise," adds Luke Di Michiel, Senior Industrial Designer at Caroma. "That's not what good design is about."
Removing barriers
Building on the idea of universal design – which has limits in terms of what it can accommodate – accessible design provides additional features specifically for people with limited mobility and those with different routines and needs. "It's about lowering barriers for people who would otherwise find that the built environment made it harder to perform everyday tasks," Dr Sweatman says.
Public bathrooms are particularly relevant in this context – in Australia, the Disability Discrimination Act (DDA) means it is against the law for public places to be inaccessible to people with a disability.
"Accessible standards are a really good way of ensuring that anyone who comes in should be able to perform all the necessary tasks," Dr Sweatman highlights. "It may not be the best fit for everyone, but it will accommodate everyone pretty well."
The design thinking behind it all
Caroma's robust bathroom product offering is carefully researched, tested and curated to offer complete flexibility. For instance, the LiveWell range has been designed in close collaboration with health and aged-care specialists to ensure it can enhance the wellbeing of all Australians – regardless of their abilities.
"There are multiple tools that you can use, depending on your design process. Using empathy is an important resource," Dr Sweatman starts. "We've got a suit that is designed to age you by 40 years, allowing us to experience some of the effects of ageing. It can really make these issues personal, help you put yourself into someone else's shoes and get you thinking in different, innovative ways."
"Another great tool is co-design, which is something we have worked with UNSW as part of a broader research project," he explains. The partnership with the university involved a workshops and laboratory based design parameter explorations aimed at gaining a better understanding of how Australians utilise their bathrooms.
It's essential to ensure that the user can access the space in the first place – for instance, that the bathroom is on the ground floor, the doorway is wide enough for a user in a wheelchair, and that there is enough circulation space within the room. "You have to think broader," Di Michiel points out.
"For example, when designing an accessible tap, you have to consider the key features of the product, but also think of its relationship with the basin, how it's installed, what's nearby – and whether the user can actually access it."
Understanding the standards
Di Michiel points out that accessibility standards can offer a good baseline for architects and designers. AS 1428.1 provides architecture and design practitioners with the minimum requirements for new building work to ensure access for people with disabilities.
The standards set out conditions for a broad range of elements, from the minimum circulation space and door width to the height and placement of support rails.
However, while the accessibility standards can be useful, especially when looking at an individual's bathroom space, gaining true understanding of the user's limitations, needs and preferences is perhaps even more important. "You might design a grab rail and ensure it's compliant with the standard," Di Michiel says. "But in doing so, you might lose sight of the person who will be using the bathroom."
"Understanding the standards, and why things are the way they are, gives you the flexibility to do things better, and design with the end user in mind," Sweatman explains.
The convergence of contemporary and accessible
Offering flexibility to architects, designers and the end users is an important part of the Caroma's philosophy – and so is the ambition to further normalise discreet accessibility features in Australian bathrooms.
.
"We are uniquely positioned to drive change in that we're developing products that are marketed as contemporary design, but in the same breath, we're designing accessible products."

Luke Di Michiel
.
This important fusion is reflected in Caroma's Opal collection. "Opal is anchored by many of the universal design principles – particularly around supportive elements like grab rails – but it takes away that institutional look, really prioritising aesthetics on par with functionality to normalise the discreet features and modifications that enhance safety, independence and comfort," Di Michiel says.
The range boasts intuitive products like the extended lever handle for those with restricted movement, shower rails with a 90-degree support rail constructed to withstand around 110-kilos or basins with integrated, easy-access shelving. All these accessible bathroom essentials have been designed with residential and commercial settings in mind and can be installed to comply with AS 1428.1.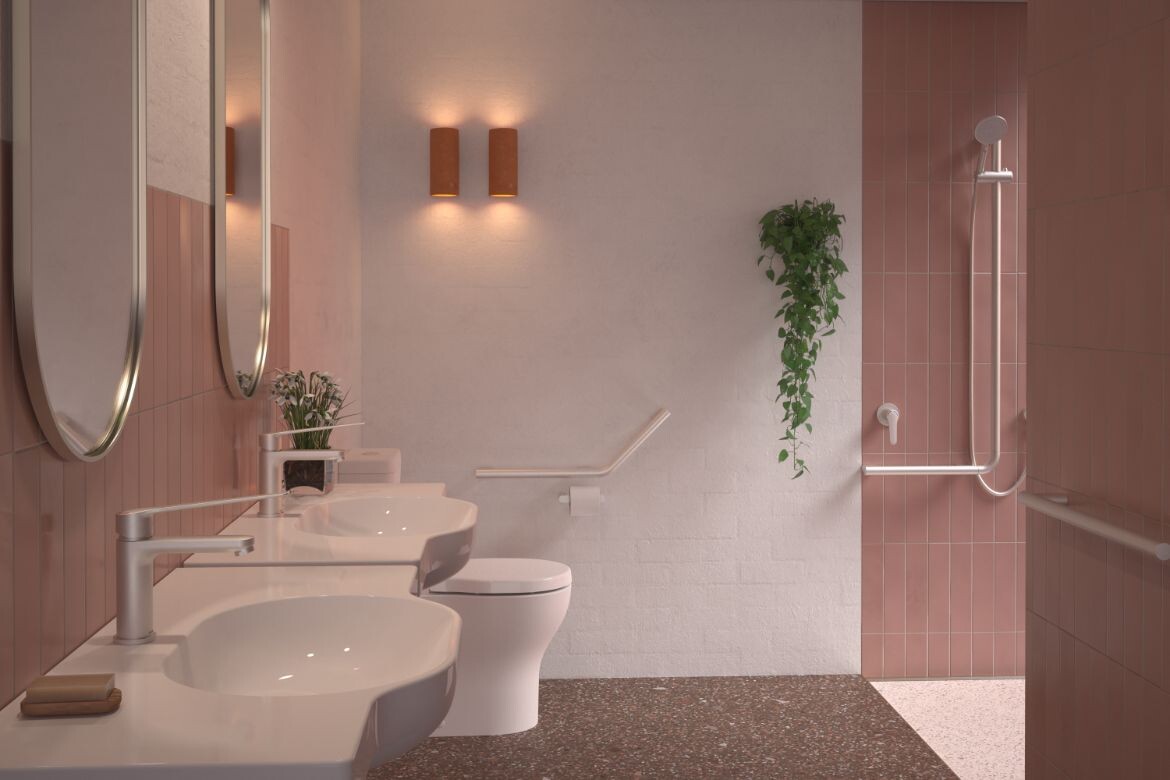 What's more, Caroma's designs enable the users to adapt the interface over time – like replacing a traditional shower mixer tap with a product that has a longer handle with larger indicators – without the need to pull the walls off. "That means there is this adaptability over time, and you can smoothly transition as your needs and preferences alter," Sweatman adds. "That's the sort of principle that is really driving our product approach."
The importance of choice
This drive to normalise greater awareness of accessible bathroom design is aimed at de-stigmatisation of accessible design. "Accessible design features often come through as a result of a medicalised system that's being prescribed, rather than offered as a choice," Sweatman explains.
"That affirming element on the end user's part is often missing – it's a forced reaction to something traumatic. And support rails don't have to be associated with a fall," Sweatman shares.
He adds that when the principles of universal and accessible design are considered properly, there is less need for home modifications – and that things like the introduction of the Liveable Housing Guidelines Silver Level to the National Construction Code are encouraging because they mandate better design from the start.
"The more houses are built with those accessibility considerations in mind, the more they cater to the end user, and our ageing population," Di Michael sums up. "And it means people can live in the environment that they choose for as long as possible."
This notion of simple, seamless and considered bathroom design – anchored by empathy and Australian standards – promises a more inclusive built environment that celebrates the whole spectrum of human experiences.
Caroma
Caroma