At 28 Nicole Monks, already an established interior designer, discovered that her grandmother was one of The Stolen Generation and – in addition to Dutch and English – she was part Aboriginal. While for many of us that kind of revelation could shake our entire world, for Nicole, it felt like the penny had finally dropped. "My mind exploded. It just made so much sense to me it was almost like a relief," she says. "The way I look at the world is quite different to Western ontology: the society structure, the laws that we live under, value [in] things like commodities and owning land."
Her first foray into furniture brings her philosophy on design and life into tangible objects.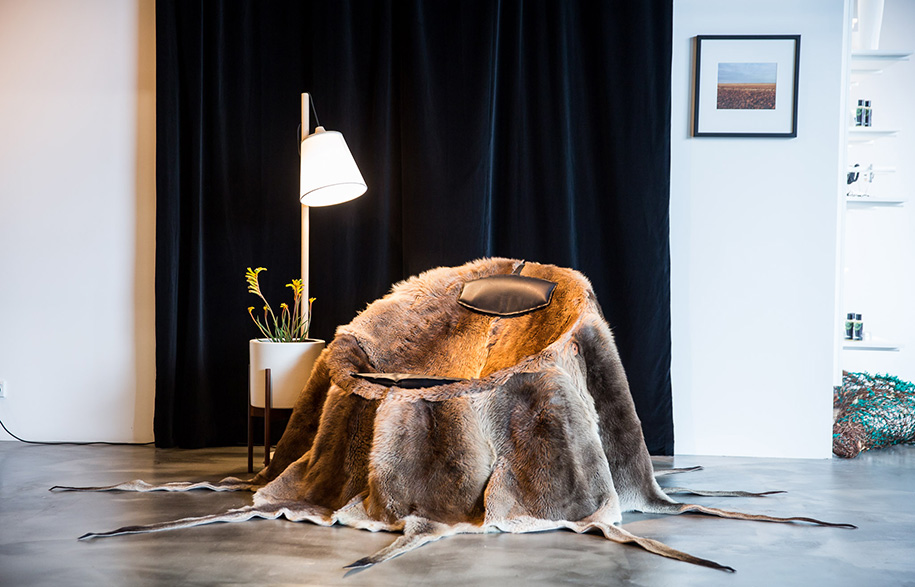 She named the collection Marlu which, as well as coming with a touch of sentimentality – her grandmother was renowned for her kangaroo tail stew, is the word for kangaroo in her people's native tongue. Comprised of three core designs, in succession they tell a story. Waburn-Waburn (bounce) is made from hemp canvas, kangaroo leather, gold-plated steel and FSC certified Blackwood timber. Undardu is a kangaroo pelt blanket that can be draped over the chair and around yourself to evoke a sense of warmth, security and seclusion like that of a joey in their mother's pouch.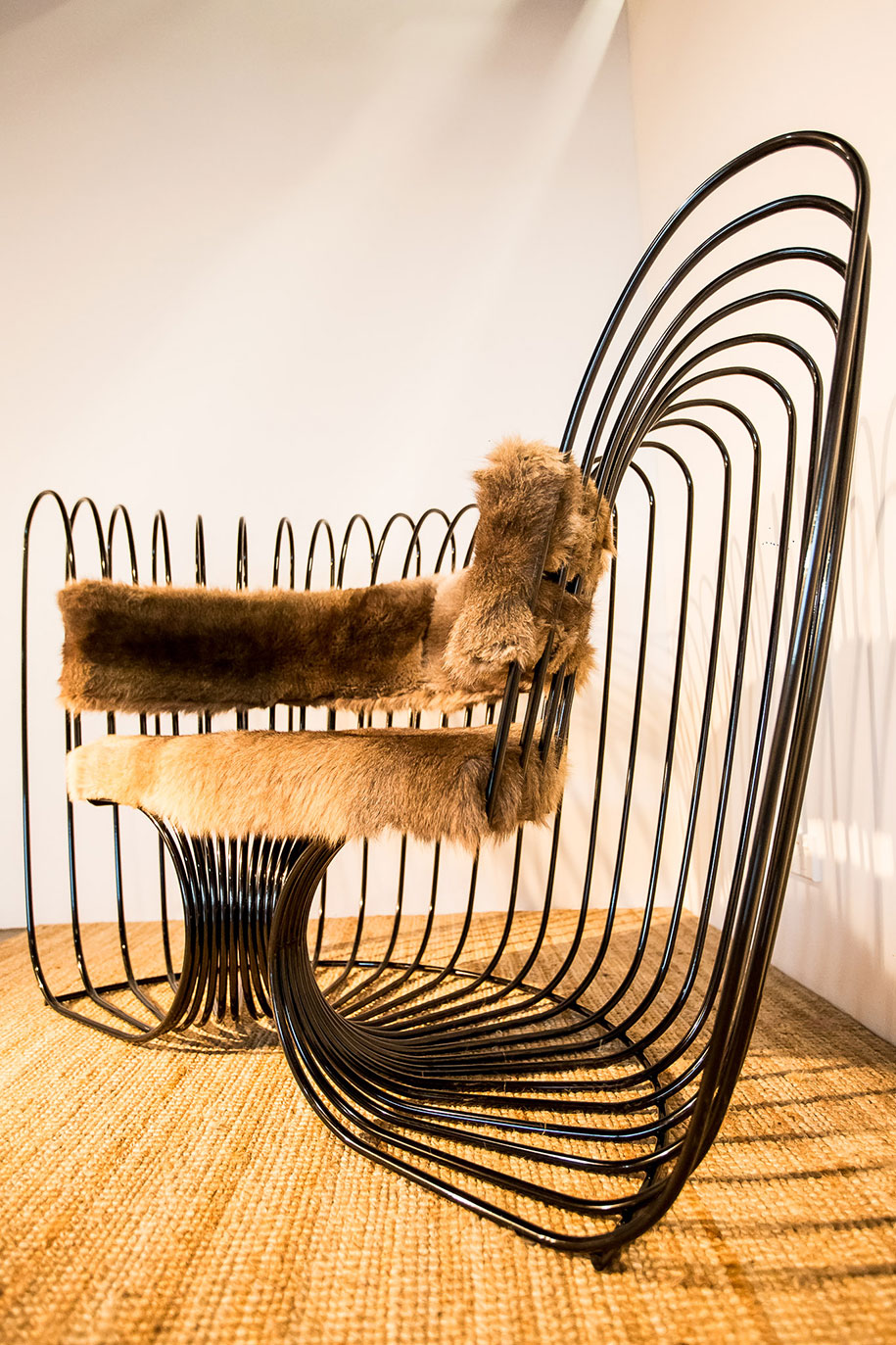 Walarnu (boomerang) is a chair with a heavier visual presence made from black powder coated steel and Kangaroo fur. It represents the hunt, the deadly boomerang used to kill the kangaroo.
If Waburn-Waburn is the kangaroo and Walarnu is the hunt then Nyinajimanha (sitting together) is exactly that; coming together at the end of the day, sitting around the campfire and enjoying the famous kangaroo tail stew. "It's the whole story, the process of it all. From kangaroo to mealtime," says Nicole.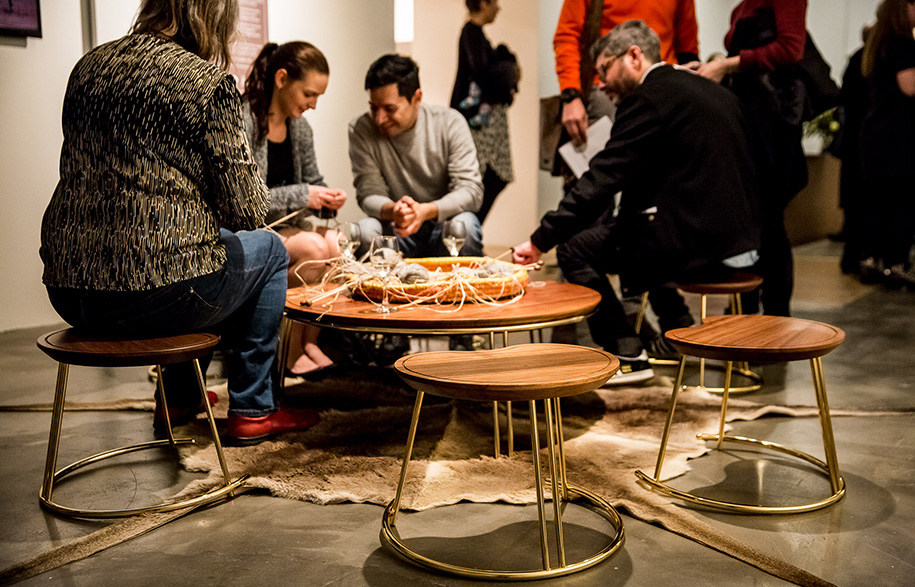 The chairs, which seem low to ground, are purposely so. It's a design decision Nicole has actively made to remove people from their surrounding environment and in doing so allowing them to completely immerse themselves in their immediate company. "I wanted people to get closer to the earth…you're not on that higher level where you can make eye contact. You're in what you're doing at that moment," she says. "It does exactly what I wanted it to do which was to get people having a conversation."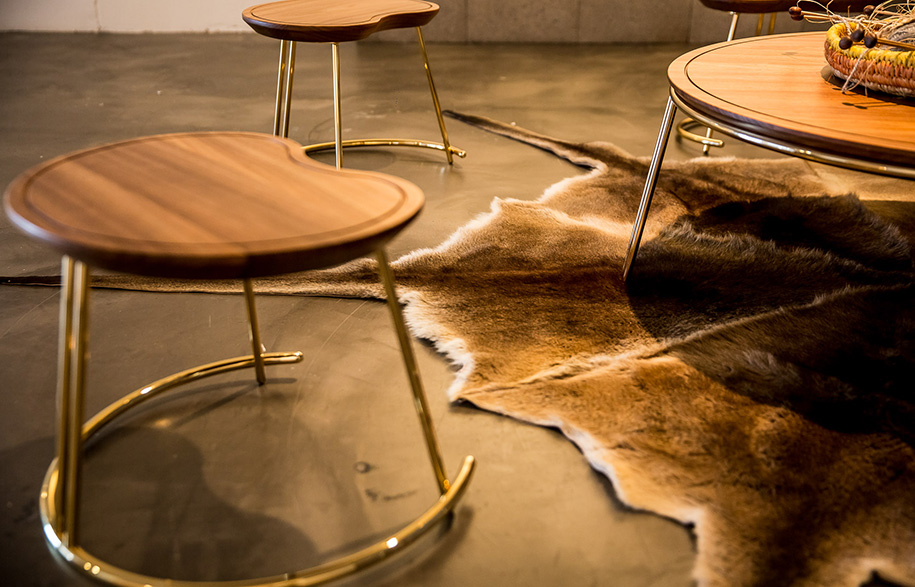 Marlu is notable not only for the designs but material choices, too. Aboriginal culture has such a vehement respect for life – animal as much as human – that it'd be unforgivable to waste life by not using every aspect of, for example, the kangaroo. "You can't farm an animal in a way that it doesn't have its own life," notes Nicole. The meat provides sustenance, the skin provides leather and the fur provides warmth. That's an approach we could all stand to gain from.
Photography by Boaz Nothman, unless otherwise stated.
This article originally appeared on Habitusliving.com.