Jon Johannsen is a tall, wiry and obviously very fit man who completely embodies his Danish ancestry. He has been in practice as an architect for more than 40 years, a timespan that includes working for a host of outstanding architectural firms (as well as his own long-established practice) and a wide span of very different projects. We could say the same of many other architects, but two things make Johannsen special.
Firstly, apart from the diversity of his portfolio – which in recent years has included a specialisation in innovative aged care and seniors facilities – there has been a steady evolution in the way his practice works. Partly this has been to do with the usual fortuitousness as new kinds of projects pop up, taking the practice down new paths. But it also has to do with responding to a changing (many would say deteriorating) architectural environment involving fee cutting, increasing use of building designers and ongoing issues with developers wanting to 'max out' projects.
Secondly, Johannsen is one of those still relatively rare architects who is committed to social engagement – as distinct from social commentary. Speaking of his early interest in architecture, he says: "The attraction for me was that I had always been interested in the way spaces were put together, things that were used day-to-day, whether it was houses or city spaces. I always enjoyed going into the city and wandering the streets and seeing what was happening."
In other words, for him the architecture and its context were always inseparable. In time, this starting point evolved into a fascination with how design can help shape liveable communities based on the principle of engagement between all the demographics typical of Australia's diversity – ethnicity, age and occupation, not to mention the over-arching issue of affordability. This has led Johannsen's practice in new directions and it has meant taking on a clutch of design review panels (Liverpool, Parramatta, Hornsby, North Sydney and Waverley), and involvement at local level in planning issues. He is, as those of us of a certain age would once have said, engagé.
He grew up initially in Alice Springs before the family moved to Adelaide. They lived in the then-emerging suburb of Woodville and it was here, with so much building activity going on, that Johannsen developed a love for architecture. "I was interested," he says, "in the way things came together in buildings." He went to an education evening, then to Institute talks which led to visits to HASSELL and Woods Bagot before gaining a state government scholarship to study architecture. He would later work in the Public Buildings Department until 1975, when he left and set up his own practice. But it was recession time, so he decided in 1978 to do the grand tour of Europe for six months, which included a stint in London with the opportunity to attend talks at the AA by the likes of Richard Rogers, Norman Foster and Cedric Price.
.
"I was interested in the way things came together in buildings." – Jon Johanssen
.
Back in Adelaide, he worked for HASSELL which asked him to go to Sydney as part of its newly established office. He went on to work with Edwards Madigan (where working with Col Madigan and Chris Kringas was "amazing"), Stephenson & Turner and Philip Cox, before establishing his own practice with Trevor Armitage which lasted 12 years before he founded Architects Johannsen & Associates (AJA).
The introduction of the 2002 State Environmental Planning Policy No 65 – Design Quality of Residential Flat Development, lent support to Johannsen's strong interest in medium-density projects.
"SEPP65 brought some significant improvement, especially at the bottom end around Sydney; except out west – there have been some questionable processes where developers are using designers on projects with the SEPP65 stamp by external registered architects. But this is less so now as the Government Architect is pushing back against that, with the design architect now required to attend council meetings."
SEPP65, says Johannsen, was "a turning point – with infill apartment buildings showing the way – because it is still the best example of a set of guidelines for high-density living. It provided a good set of benchmarks".
.
"SEPP65 brought some significant improvement, especially at the bottom end around Sydney." – Jon Johanssen
.
But Johannsen was conscious of the limitations of high-rise – its lack of inclusivity and affordability. Hence, while AJA has done plenty of medium-density projects, it has made a name with its smaller scale townhouse projects such as Redfern Terraces, Camperdown Terraces and an innovative Lendlease project at Manly where AJA designed the Springcove Terraces.
Seeking to explore issues of livability and engagement, AJA has recently completed a series of outstanding seniors, aged care and multi-use community buildings – the latter including Blackman Park Scout and Amenities Hall in Lane Cove, and Tom Wills Oval Community Field Amenity Block, Sydney Olympic Park.
His recent Watermark project, set on the edge of Murrumbidgee River in Wagga Wagga, involved the adaptive reuse of a Catholic seminary and aimed to encourage the broader community to use the open spaces. This was assisted by including a café adjacent to a caravan park which has now become a kind of community hub. In Parkes, AJA re-thought an existing seniors village. "We looked at it being more than just a village for those who needed it, but as a gateway for the community to come in as well. We have ended up with a community hall, café, children's play area, and a chapel. So, the whole thing is about engaging with the rest of the town."
.
"[SEPP65 was] a turning point – with infill apartment buildings showing the way – because it is still the best example of a set of guidelines for high-density living." – Jon Johanssen
.
In the meantime, the practice has evolved a new model based on consultancy and design resolution services. "I see it as a way of practising which involves stepping back from the traditional architectural role and, at the pre-development application stage, giving advice on the key areas for the particular area you want to work in, the type of building you want to do, and how it can be best approached to achieve the best outcome for both developers and the community." It is also about keeping the practice sustainable in an increasingly difficult architectural environment.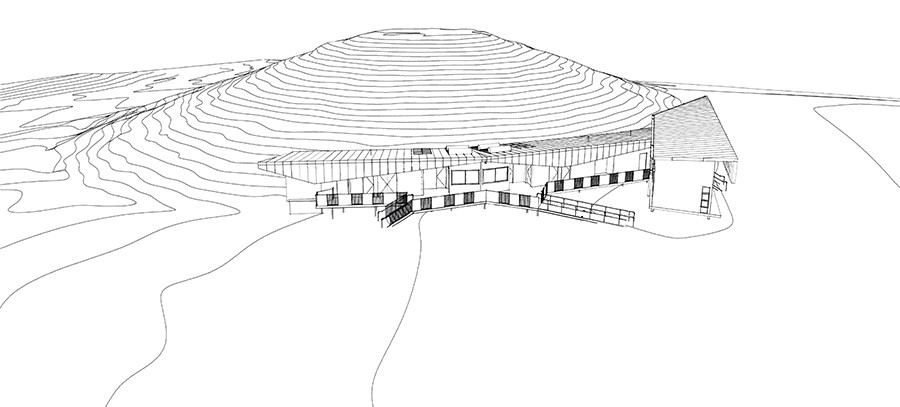 Johannsen remains driven by the ideal of a built environment which is liveable because it acknowledges that our society is diverse and constantly changing. This brings with it a need for inclusivity and a recognition that we have to provide opportunities not just for future generations, but for people in key service industries (police, nurses, teachers, et cetera) to have access to affordable and accessible accommodation.
We need, he says, to challenge the idea of 'entitlement' – the NIMBY attitude – and realise that we all benefit from sharing and engagement whether it be densification, mixing demographics in buildings and precincts, or activating the ground plane in high-rise apartment buildings.
Portrait photography by Charles Dennington.
Jon Johanssen is an Indesign Luminary, which is a People's Choice award featured at the INDE.Awards 2019, proudly supported by Wilkhahn.