Leanne Amodeo: How did you arrive at the 'building block' concept for GolfWeave, your new work featured in Materials Matter: A Bauhaus Legacy?
Jake Rollins: I arrived at the concept after lengthy contemplation and a fear of being yet another contributor to the world of fast-fashion and fast-furniture, so I researched construction methods that aren't linear, but rather cyclical. We just have to look at nature to find ways to solve most of our problems and I asked myself how does Mother Nature do it. The answer is that Mother Nature repurposes everything and so GolfWeave's methodology is a direct rip-off of this 13 billion-year-old process. The work is based on the idea of scaled-up atoms and takes the form of a chair made from used and recovered plastic golf balls that are only held in place by cord and tension. When the chair's no longer required, the cord can be cut and this returns the object to its 'building blocks', which are ready to be re-woven without loss or waste.
What made you decide to explore issues of sustainability in this way?
I think new technology will do the most to lengthen our time on the planet and so I'm interested in what developments will take place in 50 or even 200 years' time. An extension of the 'building block' style of construction might be something we see a lot of in the future. NASA is already experimenting with groups of robots that come together to achieve a set task and while it's a little far-fetched, I think maybe furniture and objects could be made and unmade in the same way.
.
"Using the right material for the job is important and very much in the spirit of the Bauhaus." – Jake Rollins
.
In what way does your work address the principles of the Bauhaus?
My chairs are archetypal shapes and I only really input different parameters to achieve new forms, so in that regard, they're exacting in their rationality and functionality. I've also been told that in its temporality my work lacks ego and I tend to think that the golf ball lends itself perfectly to the method I've developed. Using the right material for the job is important and very much in the spirit of the Bauhaus.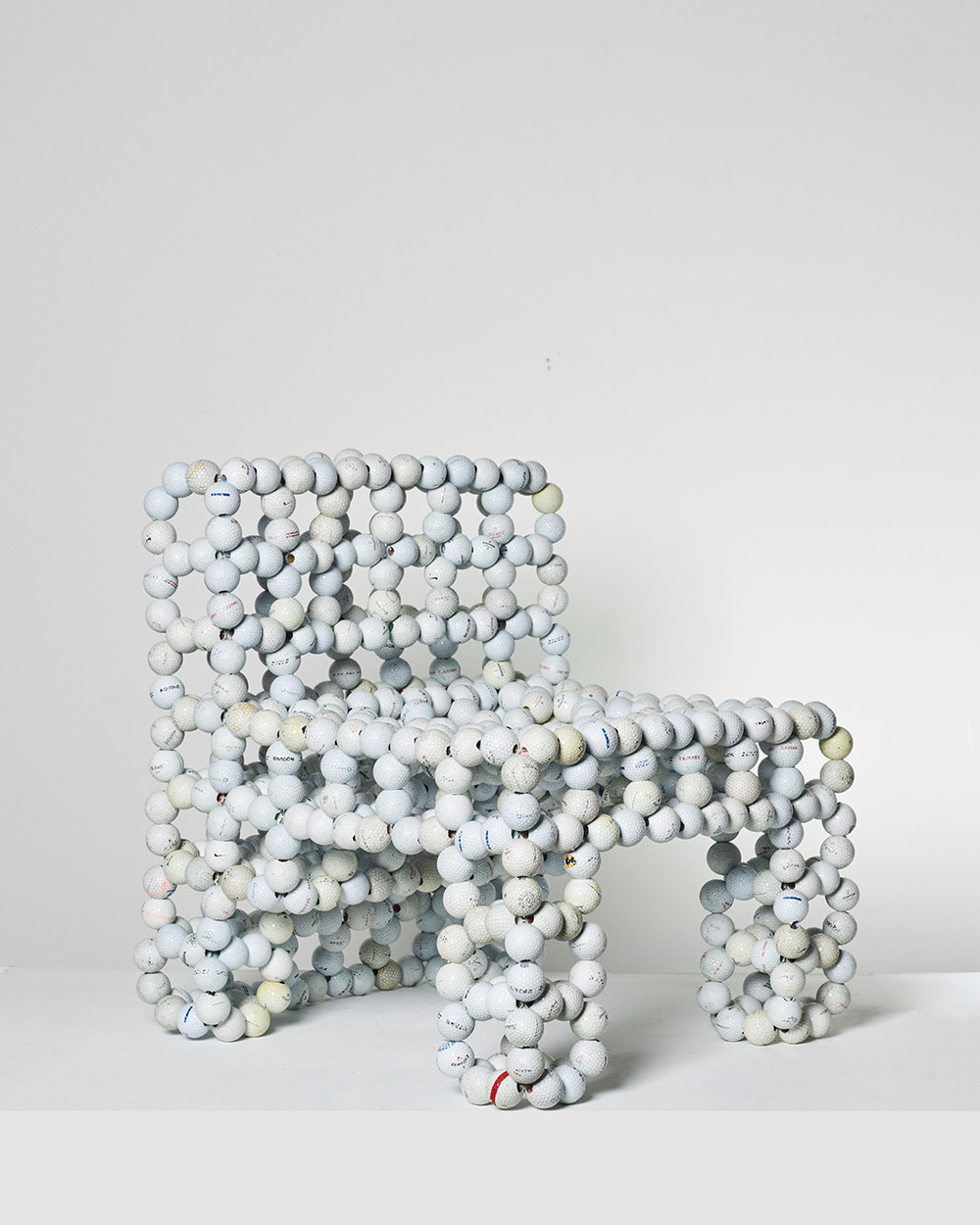 From where else do you draw your design inspiration?
From everywhere – nothing gets me excited like finding a new form or material in something totally mundane; I love bins, op shops and garage sales. I work in construction as well and I'm always being laughed at for piling junk into my ute. I'm also inspired by Neri Oxman's brilliant essay titled 'Age of Entanglement'. She's an architect and designer at the forefront of materiality and technology and in this paper, she talks about the need to step outside of your own creative domain if you're to create something original or meaningful. It's really worth a read and re-read.
How do you think the Bauhaus will continue to influence contemporary South Australian designers?
I think the principles of the Bauhaus have permeated contemporary design to a point where it's impossible to extricate them. Certainly, JamFactory's emphasis on materiality embodies so much of the Bauhaus' ethos. I only hope designers keep on applying more of this ethos to help continue to solve the world's problems through good design.
What are you currently working on?
I'll be continuing to develop my current method of making into the foreseeable future, so please send me all your golf balls! I'm also working on different bodies of work that explore similar themes of re-use and sustainability, due for release next year.
–
Materials Matter: A Bauhaus Legacy
Frank Bauer, Lilly Buttrose, Gabriella Bisetto, Liam Fleming, Susan Frost, Christian Hall, Ebony Heidenreich, Kay Lawrence, Jake Rollins and Lex Stobie
JamFactory, Morphett Street, Adelaide
Until 13 July 2019
–
Get more design inspiration, join our mailing list.