Co-working spaces already imply a certain respect for collaboration. In our post-pandemic world of increasingly flexible work, their popularity is in part due to the need that people continue to have for human connections and social settings in their work. In the case of The Commons' new Sydney sites in the CBD and Surry Hills, a collaborative approach has been crucial to success since the firm started working with the architects at DesignOffice.
"Having worked on both projects in Sydney, we know The Commons so well now as a brand and as a series of personalities," says Mulvihill. "The Commons was amazing in providing a really firm, solid brief around function, but a very open brief around creating community. How it was expressed spatially was up to us."
Many an architect might be forgiven for feeling envious over the latter point. It is perhaps exactly what a designer wants in a client – clarity and specificity in the brief alongside a hands-off approach in terms of the actual design work. "It gave us the space to find the joy and the delight in responding to the place," adds Mulvihill.
This mutual understanding has created the conditions for achieving one of the most important qualities for a co-working space. Namely, meeting a high level of functional requirement and adaptability without creating bland spaces that are unduly generic or anonymous.
Related: The cutting edge workplace at Darling Quarter
"Something that were proud of is that we don't use a cookie cutter approach with any of The Commons – they're all unique and our members love that," says Ho. "At the same time, however, there is a sense of belonging and it does feel familiar."
Architecturally, this is expressed in the nature of the site for any given project. In Surry Hills, for example, the building features generous ceiling heights, exposed surfaces and views across the tree line. The key to design interventions is taking into account the specificities of each location and responding to them.
"The different spaces still have a similar feel and a common vein runs through them, but with enough variation. We want members to walk in and understand that there's a legibility in how the spaces are used," explains Mulvihill.
Just as co-working facilities need to navigate a line between community and quiet spaces, there is a delicate balance to be struck between public and private. At Surry Hills, DesignOffice has emphasised the connection to the street before gradually tapering the open spaces to allow for privacy inside.
"We placed a very public Commons cafe in the main window with a very private, bookable boardroom space directly behind, so there's an instant balance between the most public and private spaces," adds Mulvihill. Similarly, the designers have played with vertical levels to deliver a project that is defined by variety and visibility.
In terms of what the future might hold for co-working spaces, flexibility seems to be the most important point. Ho emphasises a consultative approach that allows The Commons to stay ahead of fast-moving workplace trends: "Our members really set the brief and we constantly survey them to ask how they're using the spaces. When we design a building, we always look for new ideas and new ways of working to put in the most amount of flexibility."
The Commons
thecommons.com.au
DesignOffice
designoffice.com.au
Photography
Katherine Lu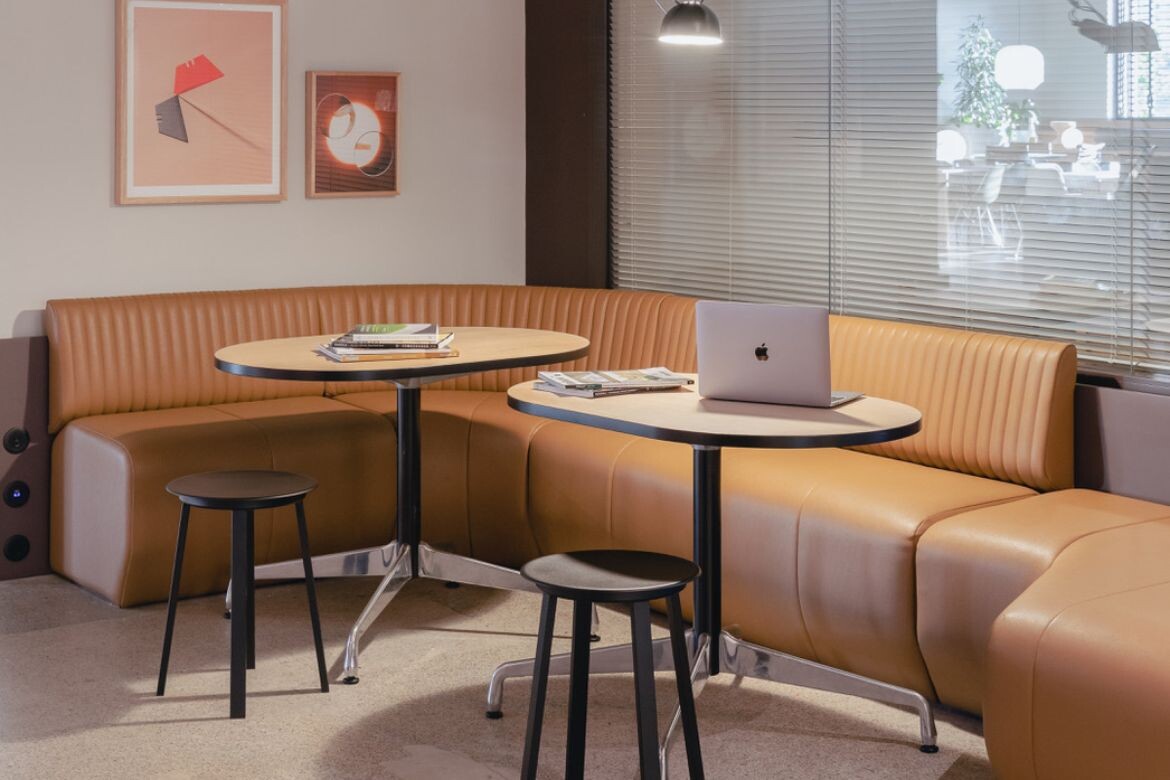 We think you might also like this story on employee ownership from Indesign #89.