In a time when health and wellbeing is more important than ever, Sydney-based architects Kaunitz Yeung Architecture has been recognised for its outstanding work in the area of healthcare at the 2021 European Healthcare Design Awards (EHD Awards). The practice won the Design for Health and Wellness category and also received a Highly Commended in Healthcare Design (under 25,000 square metre).
The winning project, the Newman Health Clinic in Western Australia, was commissioned by the Puntukurnu Aboriginal Medical Services (PAMS) and despite the challenges of the pandemic last year was completed on time and on budget in July 2020.
The EHD Awards celebrate professional excellence in the design of healthcare environments in Europe and around the world and this year the awards attracted interest from architects, healthcare leaders, academic researchers, and innovative solutions providers from all over the globe. The jury comprised international researchers, practitioners and policy advisors, and the shortlist and winner of each award were determined by a category chair, supported by panel judges with proven expertise in their field.
Kaunitz Yeung Architecture has achieved these honours for an exemplar project that incorporates the knowledge and expertise gained through more than a decade of work in remote Aboriginal communities.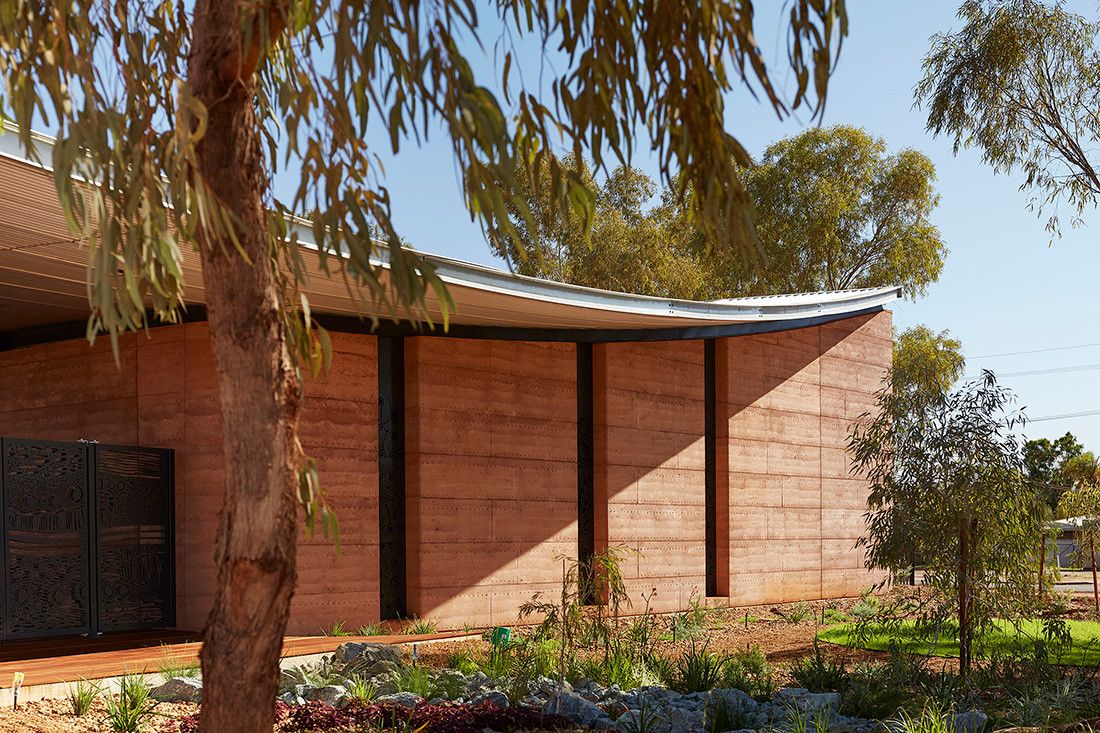 Within the Newman Health Clinic there is an integration of design, sustainability, clinical and prefabrication techniques from several earlier projects. A major feature of the project is a 150-kilowatt rooftop photovoltaic system that provides approximately 85 per cent solar energy to save in operating costs and also offers a 13 percent increase in power to the local community.
Sustainable materials have been employed, namely rammed earth, and there is state of the art insulation to help moderate temperature in the often sweltering 40- to 50-degree heat in Newman. The building was prefabricated on-site and incorporates window screens that feature art works chosen by the PAMS board; there is a sheltered courtyard made from sustainable Australian hardwoods and more than 2000 local endemic plants were used in landscaping.
Director David Kaunitz says, "We believe best practice buildings should be available to all Australians and are thrilled that the Newman Health Clinic has been recognised in two award categories in such a prestigious, international environment." Kaunitz further commented, "This recognition highlights that high quality, international award-winning architecture is not a matter of cost, but commitment and true collaboration with the people for whom the buildings are being designed and built for."
The project is located 12,000 kilometres north of Perth in Newman a remote area of Western Australia, and since opening the doors of the clinic, more than 12,000 patients have visited in the past 11 months.
Robby Chibawe, CEO of PAMS, said, "The respectful and collaborative approach by Kaunitz Yeung Architecture with the Martu Elders and communities has created a deep sense of ownership and pride in this health centre amongst the local community." He elaborated, "Designing, creating and delivering a new building on time and within a tight budget is hard enough, let alone in the midst of global pandemic, but David and his team did just that with an abundance of professionalism and care."
Kaunitz Yeung Architecture was founded by husband-and-wife team, David Kaunitz and Ka Wai Yeung and has built a fine reputation through collaborating with communities, stakeholders and end users in more than 30 Aboriginal and Torres Strait Island communities, 200 Pacific Island communities and in Asia. The practice is renowned for its work in providing exceptional architectural outcomes that are sensitive to people and place and achieved many accolades both in Australia and overseas. Now, once more, Kaunitz Yeung Architecture has received recognition through the EHD Awards that cements its place as a global leader in architecture and design.
David Kaunitz and Ka Wai Yeung will be participating as panellists in the inaugural INDE.Summit on August 5th in Sydney and online.
Photography by Robert Frith Acorn Photography unless stated otherwise