Boffi | DePadova has had a showroom in nearby Darlinghurst since 2013 and its success has led to the recent opening of a more expansive version in the Chalmers Street design precinct. Located next to Central Station, the area has become something of a hub for leading designers.
Edwina Withers, director of Boffi Studio Sydney and Melbourne, says that "the growing buzz around there caught our attention; where the calibre of creativity and design innovation has grown and evolved immensely in recent years. We saw a great opportunity to curate a refreshed and elevated showroom for the world of Boffi | DePadova."
In fact, the very premises have an atmosphere of their own with a history of notable occupants in the design world. The site, a corner plot with streetfront combination of large arched, square and slim windows, seems ready-made for showcasing quality products.
Stepping inside, generous ceilings extend to almost five metres in height while the building's historic fabric has been honoured by keeping exposed concrete elements such as sculpted columns. In this way, the store also fits well with its surroundings in a neighbourhood filled with trendy, industrial retro buildings.
Separated across two levels and divided into a range of living displays, the showroom presents Boffi kitchens, bathrooms and systems, DePadova furniture, MA/U Studio systems, ADL doors and partitions, the newly launched Time & Style ēdition for Boffi | DePadova, as well as the brand's surface partnerships with Salvatori and Domenico Mori.
The idea is to present the brands in all their versatility and complementarity. For example, Boffi's K14 Kitchen by Norbert Wangen in grey stone and matte stainless steel is presented centrally, a monolithic vision of Italian sophistication and expert craftsmanship. With a varied array of material compositions on show, the emphasis is on adaptability and design possibilities.
Related: Surry Hills restaurant Jane by Luchetti Krelle
Withers explains further: "It is a great privilege for us to display the Boffi and DePadova ranges side by side in a space that celebrates their everlasting prominence. The new Sydney showroom is a compelling space, which offers an engaging experience and insight into the continuous evolution of this historic brand and its product range."
The design pieces take centre stage, foregrounded by a muted, monochromatic colour palette of grey and black tones on the walls. It's a sleek and contemporary canvas that sits alongside warm timbers, enticing marble surfaces and soft furnishings.
The eyes of passers-by will surely be drawn into the internal space and the objects displayed there. With this new occupancy, a strong heritage of Italian craftsmanship takes up another residence in Sydney and further enriches one of the city's trendiest design pockets.
Boffi | DePadova
boffidepadova.com
Photography
Tom Ferguson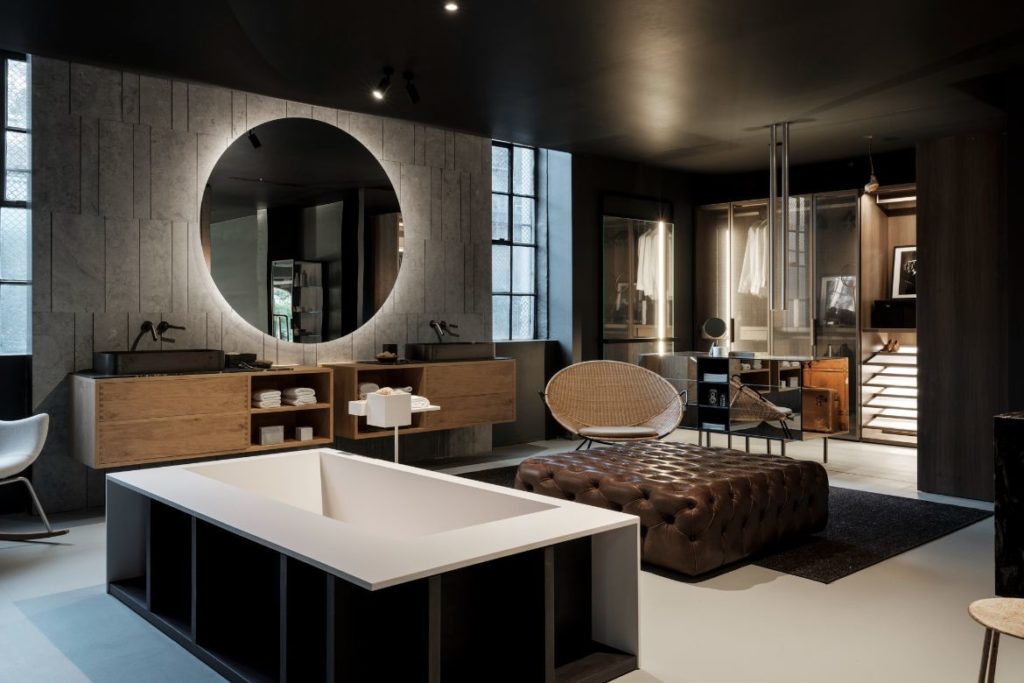 We think you might also like this article on hug store by ATMOSPHERE Architects.