When it comes to creating a harmonious space – whether at home or work, it's helpful to consider the needs and comfort of your most valued companion. Nowadays, with hybrid working taking over day-to-day work life, we're putting the comfort and wellbeing of our beloved pets up there alongside our own.
In this listicle, we share 5 interior design ideas that put your pet's needs first – from incorporating thoughtful design elements to shaping your entire space to prioritise your pet's wellbeing.
1. Get inspired by dogs living in iconic architecture
Nicole England is a Melbourne-based architecture and interiors photographer who has devoted a whole, beautifully photographed book, entitled Resident Dog (and Resident Dog Book 2), to incredible homes and the dogs that live there.
In each story, we see dogs in their element – living in architectural space: from mid-century raw brick to a penthouse apartment, gracious Edwardian to Scandinavian modern, beach house to country retreat.
2. Seamless integration: Sam Crawford Architects' BARC Project
The recently completed BARC project by Sam Crawford Architects is a great example of how architecture can prioritise both human and pet needs. Arranged as six elongated near-parallel buildings, the aesthetic sits somewhere between rural shed and high-tech school, with colour consultancy by artist Lymesmith adding wayfinding and visual engagement to the whole.
Each of the six buildings houses a different function including kennels, a cattery, vet facilities, back-of-house and adoption centre. The design is, however, far from arbitrary, with the animals' physical and mental health a key driver.
"The long finger-like design allows the animals to have a direct connection to the surrounding landscape, increasing their interaction with nature and people. This layout maximises thermal, visual and aural comfort, minimising distress, assisting with rehabilitation, and providing amenity for staff," says Crawford.
3. Hotel luxury for you and your pup
Designed with the modern millennial traveller in mind, AC by Marriott has opened its first Australian outpost, in Melbourne's South Bank. DKO completed both the architecture and the interiors, with the rooms appointed in muted grey tones with darker accents – utterly timeless in their appeal.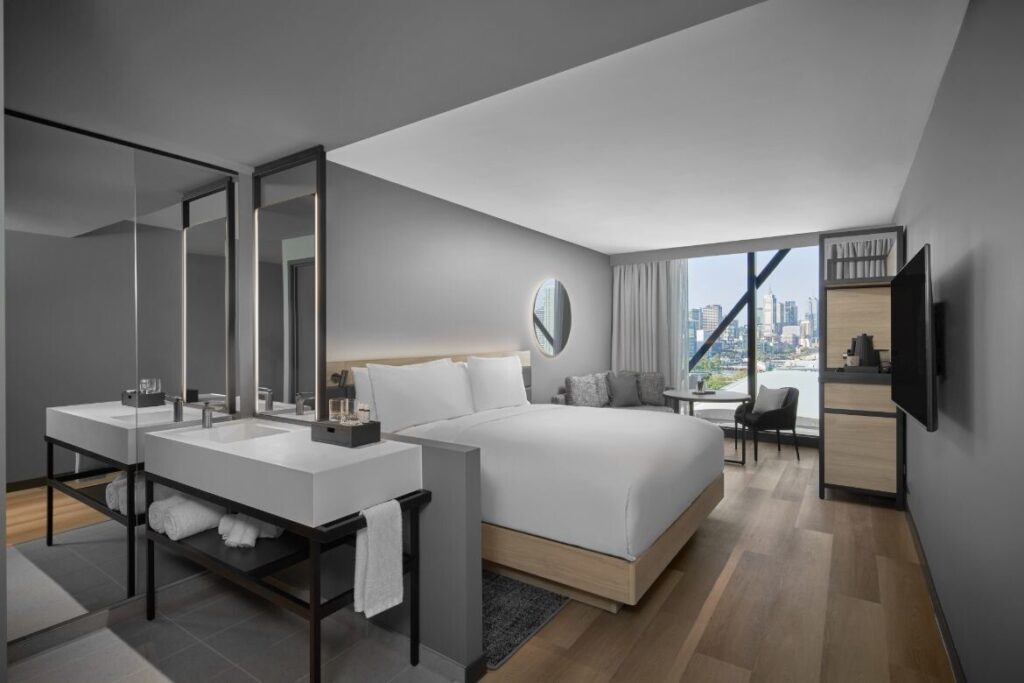 Responding to the needs of a modern business traveller, the lobby (located on level seven), looks back to the city skyline and is full of areas to perch with a laptop and work, alongside small meeting rooms for those last-minute business calls. Plus, perhaps the most novel thing of all, is that it's a pet-friendly hotel!
4. Cosy sanctuary: Ambient Lounge dog bed
Could this be the most comfortable resting place? The Ambient Lounge dog bed delivers soft luxury and cushy comfort. It's made to be weatherproof so you can shift it from indoors to out and its zip-off machine-washable faux-fur finish ensures it is a soft, cosy place to rest.
The base is chew-resistant so it won't become an unsightly chew toy within days of your doggy falling in love with it, and its colourways make it a subtle, attractive addition to your interior scheme.
5. A whole home designed for man and dog
Using a unique roof form, this home by EKAR Architects is for an avid dog lover and his canine companions.
Humans and dogs perceive scale differently, and to effectively communicate with dogs, coming down to a lower level helps to reduce the distance between them. In line with this principle, the architecture was designed using the character of the local agricultural buildings, which have a low roof design to match the scale of chickens and pigs. The roof element serves as a reminder of the presence of other lives and indicates where people and dogs can walk, sit, and play.
Functional elements, such as columns that double as a sleeping spot for dogs and easy-to-clean steps in the swimming pool, were also designed to suit both human and dogs. Additionally, the roof was designed without gutters to allow water to touch the ground directly. All of these design choices aim to foster closer relationships and mutual respect between humans and other living beings.
We think you might like this article about India Mahdavi and Daniel Emma at NGV.