Every year, the Sustainability Awards celebrate the most outstanding projects across Australia that show an excellent commitment to sustainable design outcomes. From passive houses to innovative multi-floor commercial spaces, the projects on show span multiple verticals, budgets, uses and – importantly – approaches to sustainability. Selected from an ever-growing pool of submitted entries, the 2022 projects highlight just how far our industry has come, and the ways Australia's built environment can lead the charge on a decarbonised country.
Commercial
Within the commercial sector, Breathe once again took center stage, taking out two awards for both Commercial Architecture Large and Small.
Four Pillars Gin Distillery 2.0, by Breathe. Image by Anson Smart
In the Commercial Architecture (Large) category, partnered by Network Architectural, Breathe's Four Pillars Gin Distillery 2.0 was announced as the winner. The Distillery is set in the brand's birthplace of Healesville, on a site surrounded by mountains, temperate rainforest, oaks, and elms. The project was a homage to the Four Pillars' origin story, as well as an important growth point for the brand, with the distillery nearly tripling the capacity for visitors. The project also provides new production space, an outdoor gin garden, tuckshop, dedicated gin shop, a custom-built bar and events space, cementing Four Pillars as the largest gin-focused distillery in Australia.
ANZ Breathe, by Breathe. Image by Tom Ross
Occupying a smaller footprint, ANZ Breathe is a physical manifestation of the financial sector's move to a more sustainable future. Winning the Commercial Architecture (Small) category, presented by Big Ass Fans, the project represents a new vision for the company that is encapsulated by three pillars: environmental sustainability, secure housing and financial wellbeing for all Australians. The design of the project was done not only to facilitate carbon neutral operations, but was also about building a branch that reduces its carbon footprint and was part of the circular economy, where items could be reused rather than sent to landfill when the branch changes over time.
Built/SubStation No. 164, by fjmtinteriors with fjmtstudio. Image by Toby Peet
Rounding out the accolations in the commercial sector was the recipient of the inaugural Interior Design award, which was partnered by GH Commercial. The winning project, Built/Substation No. 164 was produced in collaboration with fjmtinteriors and fjmitstudio as a new Head Office for Built Sydney within the adaptive reuse development SubStation No.164. A heritage warehouse and electrical substation are seamlessly integrated through modern insertions and interconnecting stairs, providing multiple view lines and circulation paths that provide a modern, sustainable and healthy workplace.
The design centres around respecting the heritage and celebrating the new, while incorporating an industrial aesthetic befitting a construction company. The introduction of biophilic elements and materiality for occupant comfort and well-coordinated technology inclusions compose the future-forward workplace.
Residential
Within the residential space, sustainability outcomes are often more innovative, with smaller sites and a more direct client to architect relationship meaning new ideas can be trialed as homeowners look to change the way they live their lives.
The Hütt 01 Passivhaus, by Melbourne Design Studios (MDS). Image by Immanuel Bosse
Passive house principles proved popular with our 2022 Jury, with homes employing these taking out two of the single residential awards. In Single Dwelling (New), category partner Stormtech presented the trophy to The Hütt 01 Passivhaus, an inspiring piece of contemporary architecture that sets a positive example for regenerative urban densification. Designed by Melbourne Design Studios (MDS), The house combines functional playfulness & attention to detail with highly sustainable construction techniques and materials. The resulting home showcases new technologies like CLT with low VOC finishes, natural wood-fibre insulation, thermal-bridge-free high-performance windows, heat-recovery ventilation, a super-airtight building envelope, green walls and planters, and aquaponics.
It obtains "Passivhaus Premium" certification (the highest possible category), utilising high-efficiency appliances with heat pump technology, solar photovoltaic and battery, integrated active shading, and recycled and/or natural materials throughout. A green roof and a rain garden assist with stormwater retention as part of the WSUD concept, that calculates to keep and use over 90% of stormwater on site.
Pepper Tree Passive House, by Alexander Symes Architect. Image by Barton Taylor
Looking at Single Dwelling (Alteration), past winner Alexander Symes was back, receiving the accolade for Pepper Tree Passive House. Presented by Bondor, Pepper Tree Passive House is a small secondary dwelling to a young family's home in the Australian Illawarra region. It is located on a steep site and elevated into the canopy of the site's 60 year old Pepper Tree. Built to the international Passive House standard, sustainability is at the core ethos of the project – embodied between the natural material palette, high performance design and strong biophilic connection. The ambition of this project was to do more with less – while light touches to the existing home were made to improve its thermal performance, building the new secondary dwelling to the Passive House standard has created a future proofed refuge to escape to in future peak temperature days.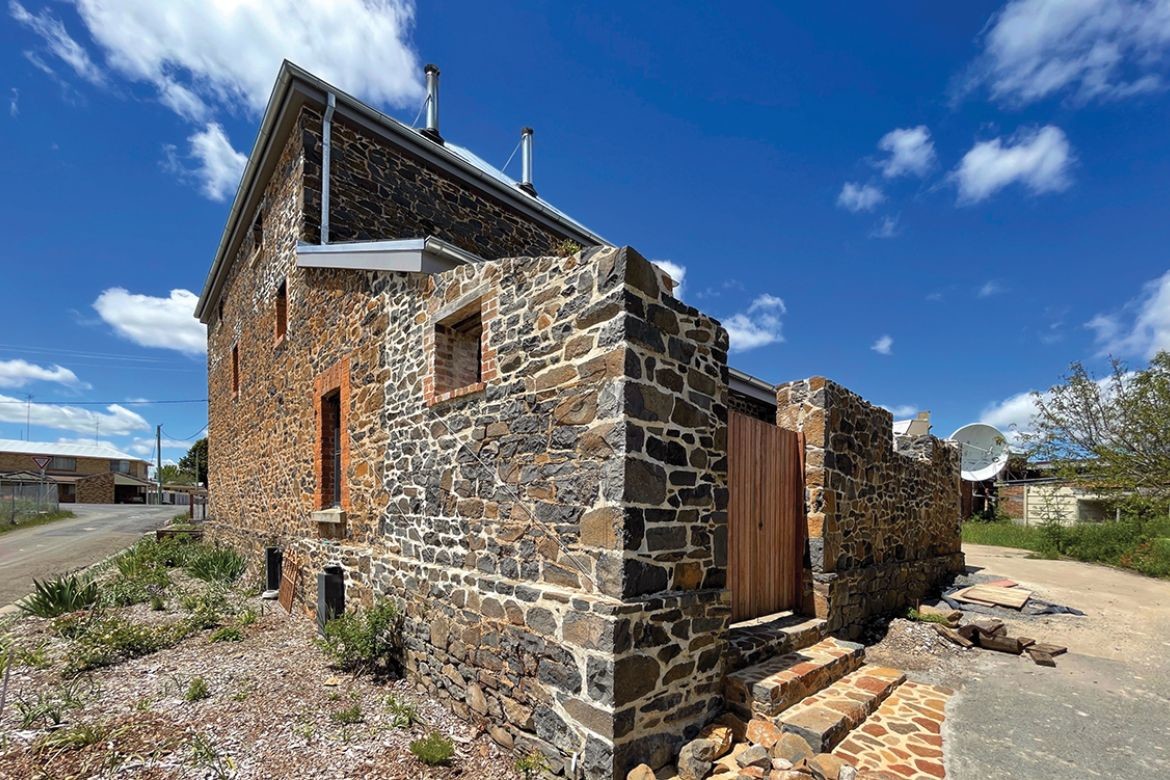 Sue Hutton's Stephenson's Mill, by Hector Abrahams Architects. Image by Neil Waldron
Representing a thoughtful intervention on a heritage site, Sue Hutton's Stephenson's Mill was announced as the winner for the category Adaptive Reuse (Alteration/Addition), partnered by Wood Solutions. Situated on the lands of the Gundungurra people, Stephenson's Mill in Crookwell is exceptionally significant as a purpose-designed mill building built-in 1871.While zoned as commercial, the mill was allowed to be used for residential use in return for conservation works to the historic fabric. Using an existing building enabled the retention of embodied energy, while Hector Abrahams Architects sealed the envelope through new sarkings, new eaves linings, and new double-glazed window sashes in existing frames. A complete suite of low-tech energy systems was provided to address the harsh climate and local habits.
Terrace House, by Austin Maynard Architects. Image by Derek Swalwell
While the Adaptive Reuse category highlights outstanding achievements to existing buildings, the winner of the Multi-Residential Dwelling category was an 100% fossil fuel free new building in Melbourne. Category partner Electrolux shared the stage with Austin Maynard Architects, whose winning project, Terrace House, takes a revolutionary approach to housing and delivers community-focused, environmentally, socially and financially sustainable homes that are robust and resilient in the face of the growing climate crisis.
Located on a busy high street, close to all amenities, the building comprises 20 (two and three) bedroom residences, with 55 bike parks and three commercial spaces. Intended as owner-occupier, Terrace House is the re-imagining of a former inner-city suburban life. These are not apartments but terrace houses, stacked six storeys high. Multi-residential buildings are required to achieve 6 stars, within the Australian building code certification method. Terrace House is 8.1. Internationally equivalent to a 6-star Green Star rating (considered world leading) and 'Platinum' LEED and BREEAM 'Outstanding' classification.
Public/Shared Space
Of course, much of sustainable design is about the democratisation of architecture, and the social and community outcomes that can be born from a considered approach to place making. Through the Sustainability Awards, recipients of public space and education awards are recognised for their contribution to creating a better future, and the important way in which they normalise and celebrate sustainability for the masses.
Riverside Green, by Hassell. Image by Scott Burrows
Creating a space filled with nature, Hassell's Riverside Green took out the Landscape & Urban category, which was presented by Holcim. Riverside Green establishes a new 'green heart' for Brisbane's South Bank Parklands on the site of a former restaurant damaged by the 2011 floods. In creating an accessible and open place of recreation, the project favours public, green space over enclosed, private space, as once existed in the form of restaurants.
The change of use, from privatised restaurants to natural landscape and shade pavilion was tested when a 2022 river flood impacted South Bank Parklands. Riverside Green emerged resilient. This was due to multiple factors, one being the open nature of the landscape and the resilience of the pavilion's componentry and materials. The use of durable, hardwearing materials was key to ensuring a robust and low maintenance landscape outcome.
Glenroy Community Hub, by DesignInc Melbourne. Image by Dianna Snape
Making space for community and connection was also at the heart of the Public Building category, where partner Siniat welcomed the return of the category. The winner was Glenroy Community Hub by DesignInc Melbourne, and was highly regarded by the jurors for creating a welcoming, nature-inspired environment for the community to learn, grow, celebrate and heal.
Framing the Hub as a 'social connector' is a key strategy to increase community awareness of the range of Council offerings. DesignInc envisaged the project as an opportunity to imagine what a new model community building might be and do. Connecting the community through a garden experience, biophilic design principles are utilised to create meaningful, restorative and uplifting connections with nature.
s.e.e.d. – a new demountable classroom, by betti & knut architecture. Image by Bettina Steffens
In the education space, an experimental demountable was announced as the winner by Education category partner NeXTimber by Timberlink. Designed by betti & knut architecture, the project – s.e.e.d. – a new demountable classroom – is a prototype for a new sustainable education space.
Each mass timber classroom was preassembled off site, craned into place in five modules and installed in less than 90 minutes per building. Designed and constructed to the International Passivehouse Standard, the classrooms allow for filtered, clean air and thermal comfort year-round, while reducing heating and cooling demands by 90 per cent. The use of timber counteracts humidity levels to reabsorb humidity during wet weather and release in dry weather, naturally helping to create a balanced indoor comfort. It also connects the buildings to the surrounding bushland setting.
Top Honours
The evening of the 2022 Gala was capped off by two awards that pay special mention to outstanding achievements. This year, we introduced a new commendation, Editor's Choice, which recognised an entrant that made a significant contribution to social and community outcomes. This year, the Editor's Choice category was proudly presented by Sika and was awarded to Bay Pavilions Arts + Aquatic, by NBRS with Donovan Payne Architects.
Bay Pavilions Arts + Aquatic, by NBRS with Donovan Payne Architects. Image by Alexander Mayes
Situated in a prominent location between the town centre and Mackay Park sports grounds, the design for Bay Pavilions has been inspired by the stunning natural landscape and features an organic design language that makes extensive use of sustainably sourced timber. The facility comprises an Aquatic Pavilion and an Arts Pavilion, connected via a shared foyer 'Link'. Bay Pavilions represents an innovative example of what inclusive and holistic community facilities can be. Through the many sustainability initiatives that have been used on the project this building also shares an important message about how we can better live in harmony with the environment and with a lighter footprint.
Pepper Tree Passive House, by Alexander Symes Architect. Image by Barton Taylor
Finally, the last award of the evening: the Best of the Best award. Presented by Autex Acoustics, the award is given out to a winner from a category already announced that evening. For 2022, the Best of the Best was Alexander Symes' Pepper Tree Passive House, which impressed the judges for its commitment to passive house principles, biophilia and regeneration. The jury also commended the project's achievements within a small site footprint, showing just how creative thinking and commitment to sustainability can make even the smallest of spaces great.
The 2022 Sustainability Awards, and the Sustainability Summit (held immediately before the Awards at the Shangri-La and online), were made possible thanks to the official event sponsors: Best of the Best and Carbon Neutral Partner Autex Acoustics, and category partners Big Ass Fans, BlueScope, Bondor, Electrolux, ForestOne, GH Commercial, Holcim, Kaolin, Network Architectural, Next Timber by Timberlink, Sika, Siniat, Stormtech, Verosol and Wood Solutions.
The awards will return for their 17th year in 2023, with entries opening in the coming months.