As Cremorne in Melbourne's inner east shakes off its industrial heritage, its working population has become an increasingly mixed bag. Expansive old warehouses make neighbours with creative studios and wholesale traders. An ambitious tech venture might set up next door to a panel beater.
In this urban setting, on the top floor of a historic Rosella Preserving factory, the affiliated offices of Light Warrior Investments and Made Establishment converge. The former, an ethical investment company led by the former CEO of Swisse, supports social and environmentally sustainable ventures. The latter, chef George Calombaris' hospitality group, is the engine behind its well-known Greek-inspired venues. "The clients wanted it to feel like a cohesive space, yet distinct at the same time," says Monique Woodward of WOWOWA.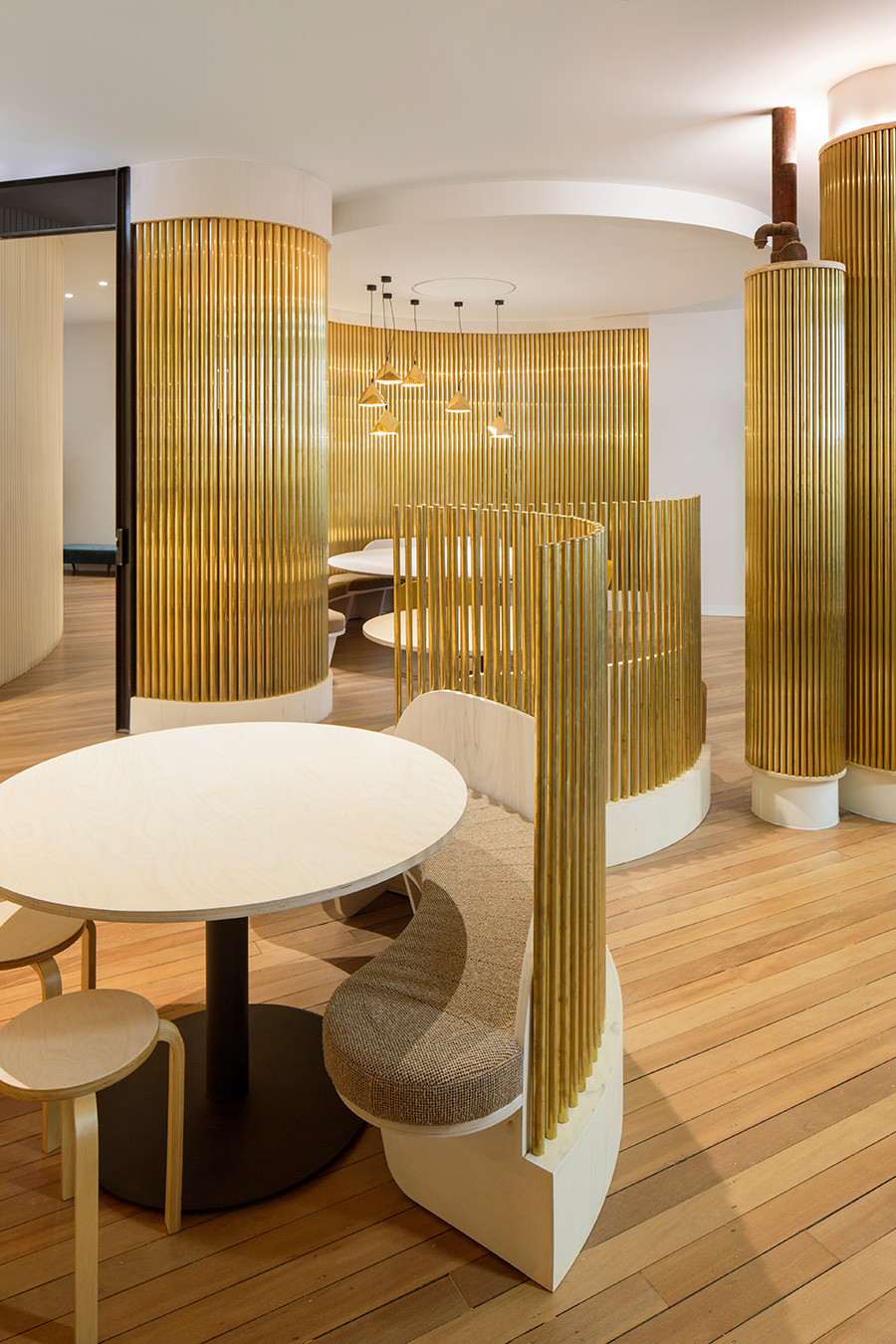 Made Establishment and Light Warrior already shared the original, smaller version of the office on site, which had been designed by Six Degrees Architects. With growing staff numbers in the Light Warrior business creating full-to-bursting conditions, WOWOWA was brought in to reconfigure the old plan and use the remaining floor space to double the size of the office. "Because the company was growing so rapidly, even as we were designing, the layout needed to accommodate for that growth," says Woodward.
Catering to two separate brand identities, with respect to the original design intent, made for something of a conceptual smorgasbord, too. Between Made Establishment's rich Greek influence and Light Warrior's entrepreneurial dynamism, WOWOWA sought a common visual ground. A material palette began to form around the golden, geometric branding of both businesses. "Light Warrior is a high energy brand. So for us it was about reflecting that concept of big picture dreaming," says Woodward.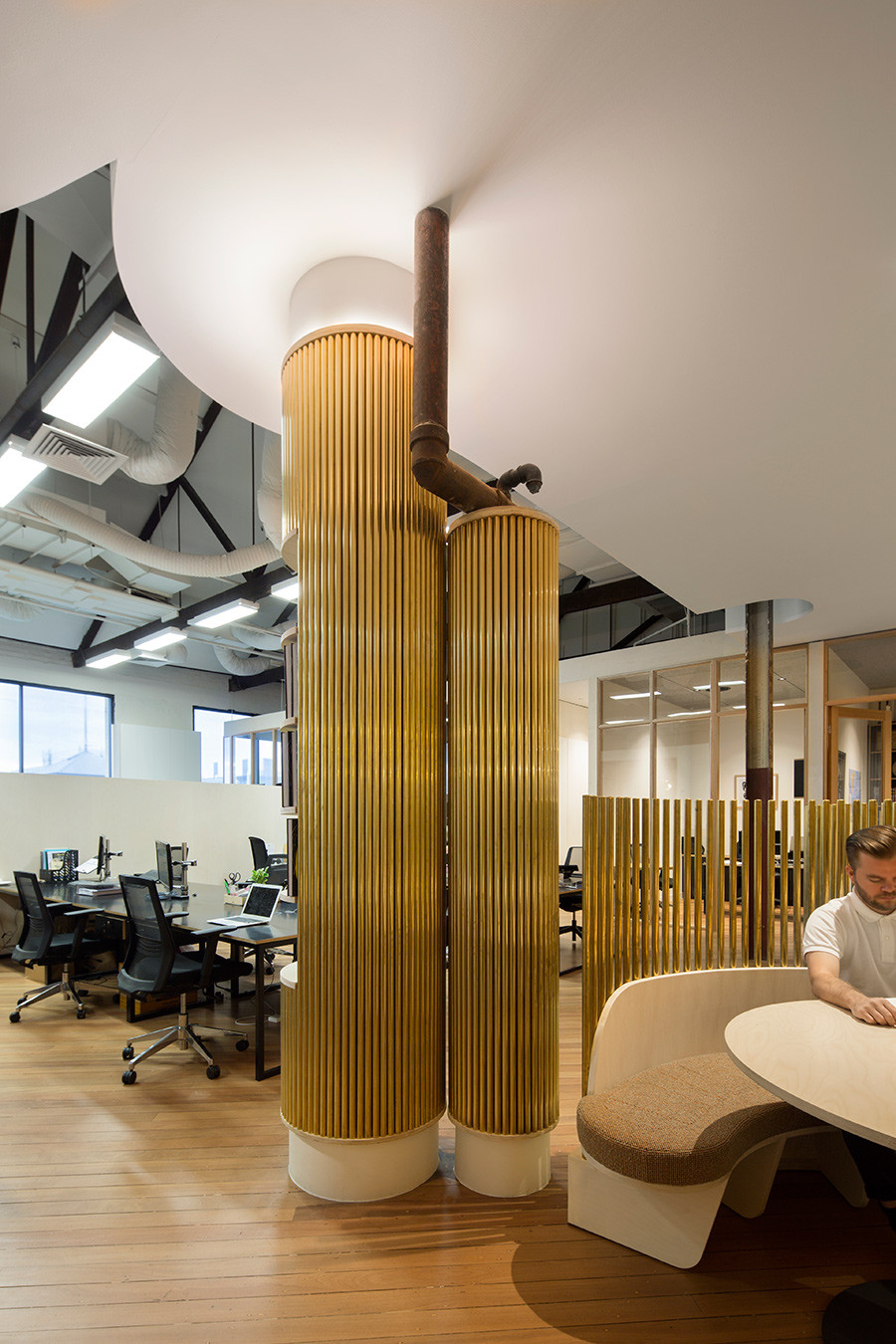 The curvilinear sweep of the entrance, articulated in brass batons in a style reminiscent of Calombaris' opulent Press Club restaurant, takes a cue from the warehouse's internal structure and serves as a high-impact introduction to the shared workplace. This curve is echoed by a new tiered ceiling mass that elegantly obscures level changes and utilities overhead. Similarly, brass-lined columns became a neat way to absorb existing structural elements into the new design, an embellished reference to classic columns in Greek architecture.
Solid brass pendant lights, designed by WOWOWA in collaboration with Rakumba Lighting, cluster together over the main entrance meeting space and complete the warm, gleaming effect. "We wanted to create this sparkling entry moment," says Woodward.
Enforcing Made Establishment's own identity within the existing framework, WOWOWA reinterpreted the steel windows from the original Six Degrees design. "We did the same detail but in timber, to give it new character with a continuous feel." To maintain a similar architectural language and preserve Six Degrees' industrial look, WOWOWA continued the exposed ceiling into the extended section. Expressed steel structures, including inbuilt brass planters, define different zones and combine the materiality of new and old spaces.
Adjacent to the bling-filled entry is the "respite" of long workstations in black. Lights from the existing office look fresh in their new context, minus the old suspended ceiling. "Overall it was a very technical, spatial problem-solving exercise. There was a lot to consider, and so it turned out quite design-dense. There is a lot going on," says Woodward.
Photography by Alice Hutchinson.
Want to know what was specified? Read the Dissections here. And get weekly design inspiration, sign up for our newsletter.