Comprising 2,800sqm in the heart of Sydney, Westpac's Infrastructure Crisis Command Centre by The Studio* Collaborative allows Westpac to reorient its current technology operation centres. Here, technology can be monitored and actioned from a single location.
"Westpac wanted to consolidate different business units and bring them under one single identity," says Melinda Huuk, The Studio* Collaborative, Founder and Director, and project lead.
It is, however, not a simple lock in/lock out design. Rather, the Westpac technology experts, key stakeholders, and auxiliary staff can be separated out, or given actual or visual connectedness or not, as the situation dictates.
At its heart, both figuratively and literally, the design facilitates the interconnectedness of a set of technology monitoring systems by linking communication and technological channels.
"The brief was to create an integrated crisis command centre where different business units can all come together under the one roof when an incident happens" says Huuk. Previously, different teams would be overseeing a range of technology from diverse areas. As such, creating a command centre while primary, was also about making the different teams comfortable and serviced in a single location.
To facilitate this need, Studio* has designed a floor that works inwards to a core room, becoming more secure as the periphery is departed. Normal workday operations connected with technology operations are conducted from the outer edge where light and views are abundant to the inner sanctum as needs dictate.
Moreover, the floor operates at several different levels with a series of lock down features. On a day-to-day basis, the floor performs as other Westpac floors with staff working to task in groups or alone around security. In this scenario the operations deck and wall of monitors is actively used to observe glitches and are an effective tool, but not the only avenue for working.
Additionally, the Operations Deck and monitors can also be viewed from a boardroom viewing portal outside of the secure core. This ability allows Westpac to showcase to key stakeholders how their technology systems are being monitored and what support infrastructures are in place.
Conversely, when an incident occurs and high security is required the glass walls between the board rooms and the core are switched to black with no view inwards. "We've controlled the levels of permeability, so that it's relative to whatever's happening at the moment, rather than it just being a bunker" says Huuk.
Emphasising the drama of the portals and the theatricality of the monitor wall is a highly defined boardroom design centred by a large ring light (Studio* with Light Projects) above the custom boardroom-table (Cult Design: Solid Victorian Ash with book-matched joints, Thinking Works Trapeze Leg). It is a wee bit 'Cone of Silence' (Get Smart, CBS Television, 1965-70) in its dramatic licence and nicely done for being so.
Defining the core, a curved wall creates a robust and interesting delineation. Rather than comprising a simple expanse, the wall is cut into with seating nooks in butter soft tanned leather, white board work zones and break out areas.
"The Westpac design narrative is always high on contrast, which gives confidence and strengths, but then we bring in this human element through timber and in this iteration, because we want it to be a bit slicker, and a bit faster paced, we brought in bronze accents and tan leathers" says Huuk. The result is a palette of soft tonal harmonies of oak and leather with accents of glamour such as the handmade glass tiles in a misty sea tone (Earpbros, Mosele).
Furniture is elegantly simple with Herman Miller's height adjustable Setu multi-purpose chairs defining the technically efficient nature of the boardroom (Living Edge). More lyrically, the Muuto fibre Chair and Muuto Cover armchair in oak (both Living Edge) give mid-century opulence to the feel, while Collab lounge chairs and Puku Ottomans (both Cult Design) give contemporary panache.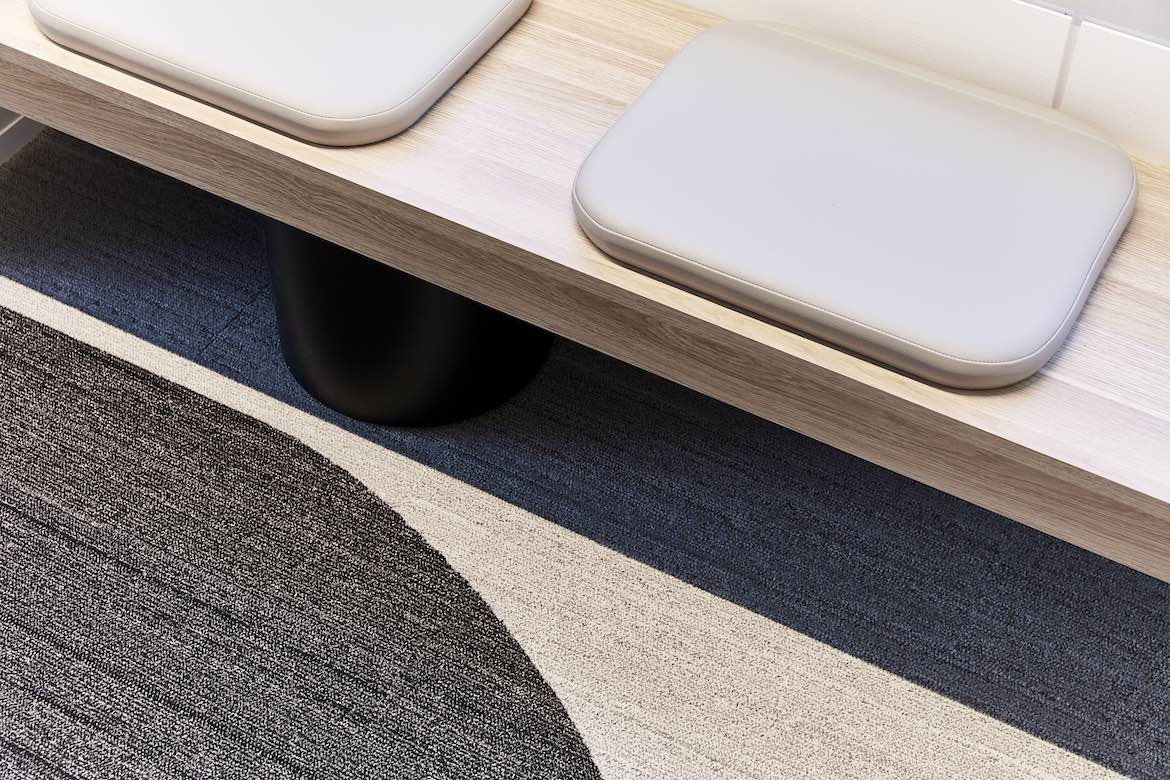 What makes this project exceptional is the flow and human centric elements that make up what is essentially a bunker inside a bunker. Rather than compound the command centre with prison like aesthetics, The Studio* has endorsed the fact that the security measures speak for themselves. This has allowed the aesthetics and facilitation of work to be about the human condition with vast swathes of light, muted natural tones and an abundance of plantings.
The Studio* Collaborative
thestudiocollaborative.com

Photography
Steve Brown