Mental health is a dynamic and enigmatic element of what it means to be human. It effects us all on a level so deeply personal that for decades, it was a topic avoided as if it were taboo. But in more recent, enlightened years there's been a shift. Mental health has become widely accepted for the fundamental and inevitably fluid trait that it is; we talk about it more freely, less inhibited by fear of judgement and more attuned to the correlation between our inner state and outer world.
Architects and designers have a particularly special relationship with the topic of mental health. On one level, the industry has a notorious history of pushing those in it to the point of burnout and even depression – sometimes before completing their studies and entering the workforce.
On another level, architects and designers have an instinct for the physical and atmospheric qualities of space and an understanding of how environment can influence peoples moods, behaviours and needs that goes unmatched. Because of this, they have a unique ability to curate places and spaces that not only look good, but feel good – having instant and lasting influence on occupants mental health as a result.
From chic, modern commercial wellness spaces to an architect's sunny home/studio in Melbourne; state-of-the-art healthcare facilities to a neo-bauhaus inspired student accommodation block in Berlin, here are 7 artfully resolved therapeutic environments that have been designed with mental health front of mind.
Bendigo Hospital
Design by Bates Smart | Photography by Peter Clarke
Bendigo Hospital is a significant civic building that integrates a holistic framework considering the needs of patients, staff and the community and offering a tranquil and caring environment through the integration of architecture, landscaping, health planning and evidence-based design.
The power of nature in a healing environment has been well studied and is an integral part of the design approach. Landscaped courtyards, green roofs, indigenous gardens, and views towards the landscape characterise the design.
People are often under incredible stress when visiting hospitals and it is therefore important to create spaces that make people feel more at ease. A bespoke and intricately detailed timber ceiling is the focal point of the main public space.
The woven timber pattern filters daylight from the skylights above and provides an ever-changing dappled light effect. This lighting helps to promote a sense of safety under stress and increases the wellbeing of patients.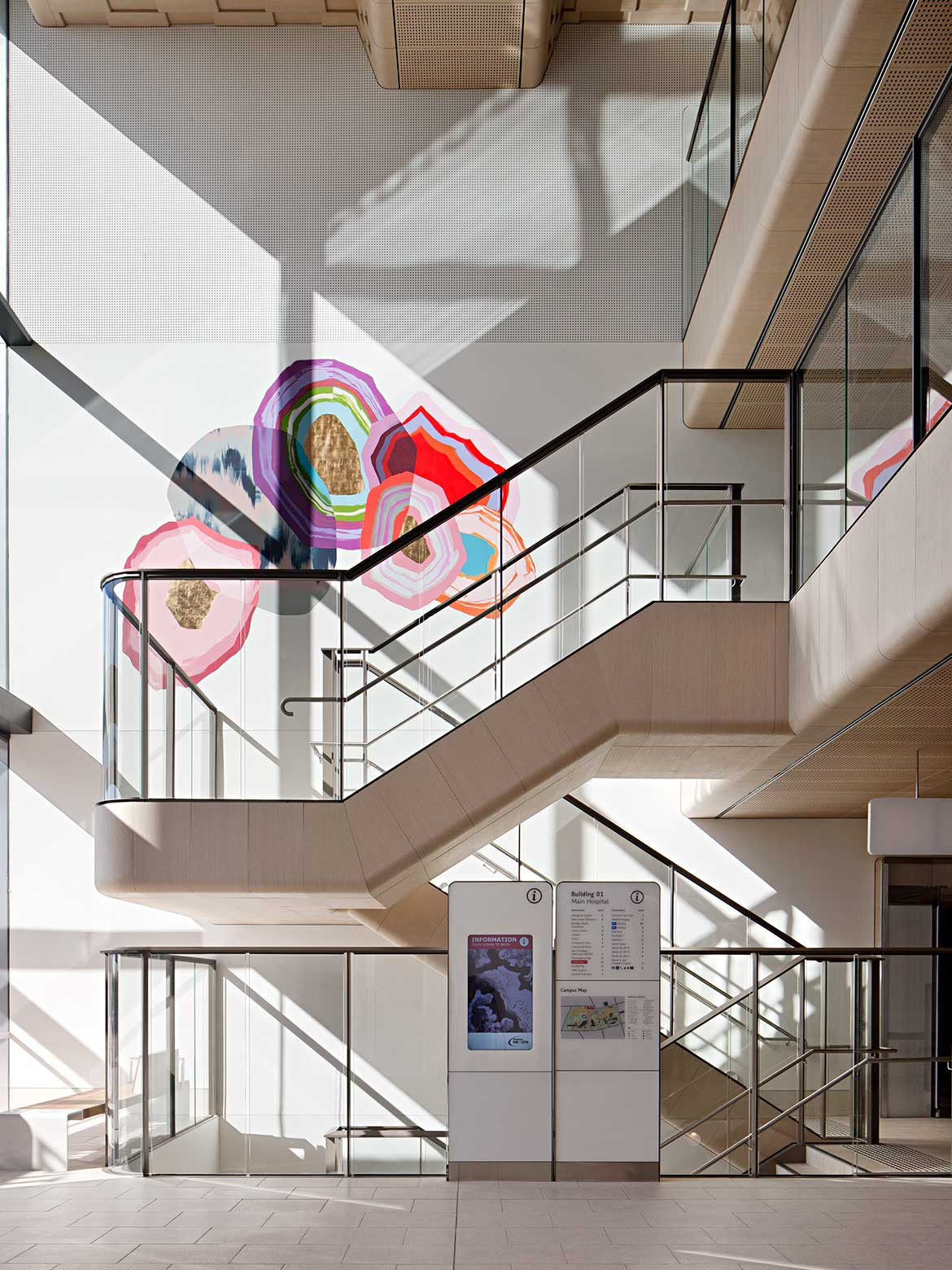 Madlove: A Designer Asylum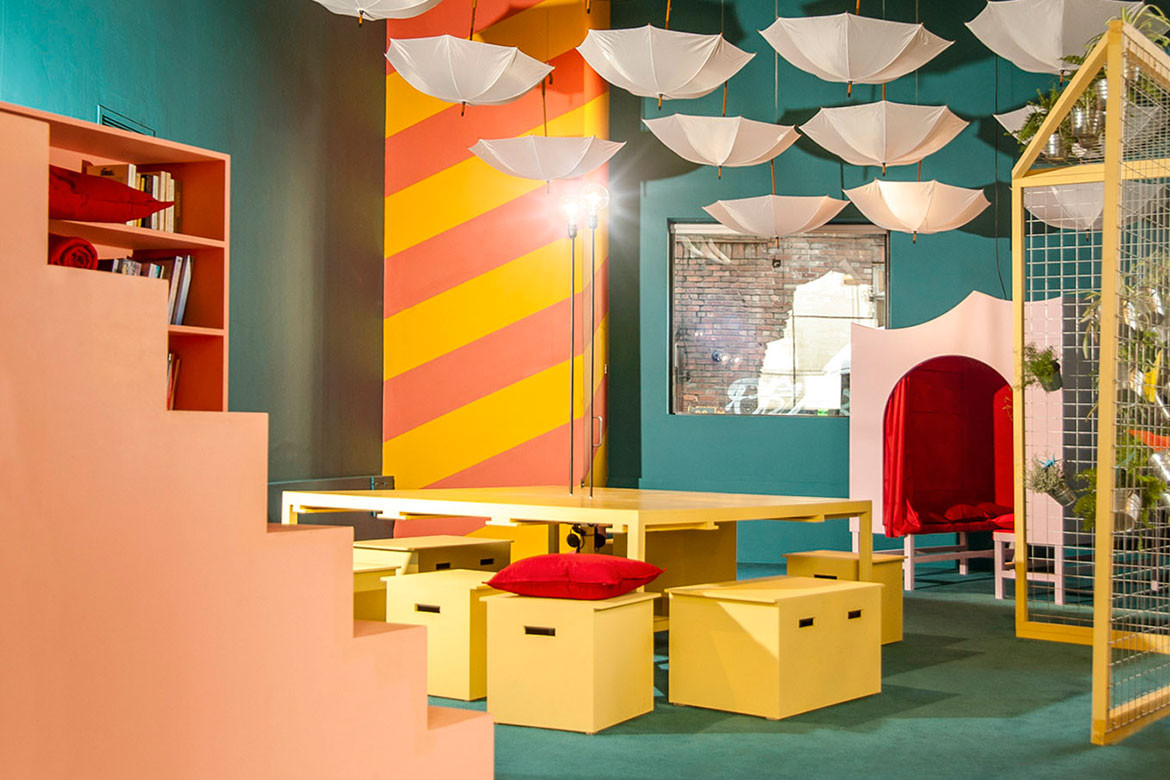 A bold exploration of design for mental health care environments, Madlove: A Designer Asylum is an ongoing research project by U.K. based artist, the vacuum cleaner, in collaboration with Hannah Hull. Projects Office designed this beta version of the project in collaboration with designer and researcher Benjamin Koslowski.
Documentation from a range of workshops and gatherings around the country was used as the starting point for a new installation of bold beautiful structures at FACT in Liverpool as part of the 'Group Therapy' exhibition.
The playful structures are abstracted embodiments of the spatial qualities discussed in workshops; together, they offer a range of settings to choose from: from privacy in the 'Cooling Tower,' a reinterpretation of the padded cell, to conversation in the 'Turkish Delight' and workshops and social activity in the central 'Oasis.'
The installation allowed for the initial testing and development of the project through live engagement with the project's diverse range of contributors as well as the wider public.
Mental Health House
There is an ever-growing body of research informing us that poor working conditions are leading to significant mental health issues within the architectural profession — an issue with which Andrew Maynard, co-founder and director of Melbourne-based Austin Maynard Architects, is intimately familiar. It was this, coupled with his family life in a sun-deprived Victorian terrace, that drove Maynard to use his skill set for the betterment of his, his family's and his employees' mental health.
Seeking to maximise vitamin D exposure and improve work/life balance, Mental Health House is the architects' vibrant and provocative architectural intervention to his depleted sense of psychological wellbeing.
Not only Maynard's family home, Mental Health House is an evolution of the way that the Austin Maynard Architects works. It is a hybrid that tests many ideas that the practice is adopting into its projects as the need for home offices increases.
Bard College Berlin Residences
Design by Civilian Projects | Photography by Robert Rieger
Loneliness among university students is a problem that predates COVID-19 – especially for international students, as these residences are intended for. With this in mind, a comfortable, sociable home-away-from-home is critical for students' mental wellbeing and academic success.
The brightness and airiness of the Bard College Berlin Residences interiors—by New York based practice Civilian—and the vibrant, optimistic colour scheme are two winning aspects of the aesthetic here. The dynamic spatial programming is thought out to meet the needs of students on both an academic and personal level.
"Our goal was to create a range of convivial public lounges across both buildings for both individual study and collaboration while designing flexible private living spaces for maximum comfort and personalisation," explains Nicko Elliot, Civilian principal and co-founder.
Sense of Self
Design by SetSquare Studio, Chamberlain Architects and Hearth Studio | Photography by Gemmola
Expansive, inclusive and immersive, Sense of Self strips back the spa experience to its roots and challenges the existing spa offering, underpinned by an approach to wellness with no expectation to be better in some way, or be sold to, or to perform – to just 'be'.
Rejecting the typical luxe hotel day spa or high street shopfront, Sense of Self is a double-storey, converted warehouse in Collingwood, highlighted by a large mineral bath, Finnish sauna and cold plunge pool. From the moment you enter the building, the experience is a curation of unfolding ceremonies, including undressing, the performance of washing and then bathing, encouraging patrons to move through the space and stay present.
"We started with exploring and understanding water as both movement and a driver for growth, healing and nourishment, then extrapolating how these concepts translate into physical materials," says Caitlin Perry, principal at SetSquare Studio.
Although SOS pre-dated COVID-19, it's timely in its response to rising trends of social isolation and shrinking comfort zones.
"Ultimately, we want to encourage a broader audience to make self-care a ritual, which is needed now more than ever. We could all use a bit of healthy hedonism right now," says Minas' business partner and SOS co-founder, Freya Berwick.
Practice in City by KnowYourself
Design by Mur Mur Lab | Photography by WDi
Practice in the City, located in Shanghai, China, is the very first "Future Store" of the online psychological consultation platform KnowYourself designed by Mur Mur Lab.
The challenge of creating an offline experience space for an online platform was addressed through the use of organic and geometric forms, exploring the relationship between body, mind, and space. The design enhances one's physical and emotional awareness of the space while ensuring more functional requirements are taken into account.
The architects started with the concept of "city cave", creating a shelter that protects and compels visitors to explore. A blue staircase at the entrance invites one to climb into the "cave" without hazard and stress.
In order to simulate the natural environment and express emotions, Mur Mur Lab used curves and shapes abstracted from nature as well as a combination of natural and artificial light. The hallway is lit by linear artificial lights that spill from gaps on the wall. The light and shadow created by tree shades pass through the hole and fill the entire room.
Bodyscape Yoga
Design by State of Kin | Photography by Jack Lovell
Bodyscape Yoga is a longstanding part of Perth's yogi community and its new premises, designed by State of Kin, realise a space that is designed to enhance the learning and practice of yoga and also promote wellbeing.
Imbued with an abundance of natural light and, together with contemporary textures and modern facilities, the studio fuses old with new to present a place of peace and relaxation. The atonal colour palette of neutrals complements the soft, organic elements such as plantings, rugs, floor cushions, a hammock and draped textiles throughout. These in turn enhance and reflect the strength and softness, the movement and stillness that embody the practice of yoga. Natural textures predominate and limestone, timber and linen are juxtaposed with reflective elements, smooth lines and clean surfaces.
"All surfaces are appealing in a tactile sense, very touchable and engaging; clean lines are softened with curved edges; light and shadow dance fluidly through rooms and play off reflective mirrors to emphasise movement and flow," says State Of Kin co-director (interiors), Alessandra French.