Striking the balance between professional and playful, comfortable and energetic, Melbourne-based full-service design and architecture studio Made For has delivered an exciting office for Frank Body.
Drawing on Frank Body's signature pale pink and youthful aesthetic, Made For has transformed a freestanding warehouse in Cremorne, Melbourne, into a workspace for the brand and its associated copywriting agency Willow & Blake.
With a request for a space that strikes a balance between professional and playful, while being both comfortable and energetic, the designers had their work cut out for them.
Rather than focussing simply on the pale pink, Made For took a less obvious route, opting for a contrasting and unexpected palette of pale pink, eucalypt green and fern green, terracotta tones and shades of blue.
The extensive and varying use of colour brings a playful energy to the project, yet a mature sense of style underlies the design.
"[Frank Body] doesn't take itself seriously because it knows it has the goods to back it up, which really informed the brief. We wanted to capture that same bold, fun feel for their new HQ, while ensuring the space was extremely functional and joyful to use," says Made For's founder and design director Cara Stizza.
Different rooms embrace different materiality and palettes, each contributing something unique.
In a breakout area for team relaxation and connection, black and white checkerboard terracotta floor is paired with a large terrazzo topped table with cylindrical sage green legs.
Nearby, toylike stools shaped like oversized salt and pepper shakers add a sprinkling of fun. Modular graphic carpets and a bespoke mural by local artist Bobby Clark also feature in the breakout zone, where the kitchen has the custom addition of sparkling water and – cheekily – beer on tap.
A board room is defined by its large black statement table, yet tartan dark green and white carpeting matched with a recessed arched wall painted in a salmon shade add personality.
"We leaned into the Australian-born and bred success story of Frank and Willow & Blake by engaging with some of the best local creators, makers and artists to bring the space to life," she continues.
To achieve this, pieces of vintage furniture are paired with statement pieces from Ross Gardam and Dowel Jones.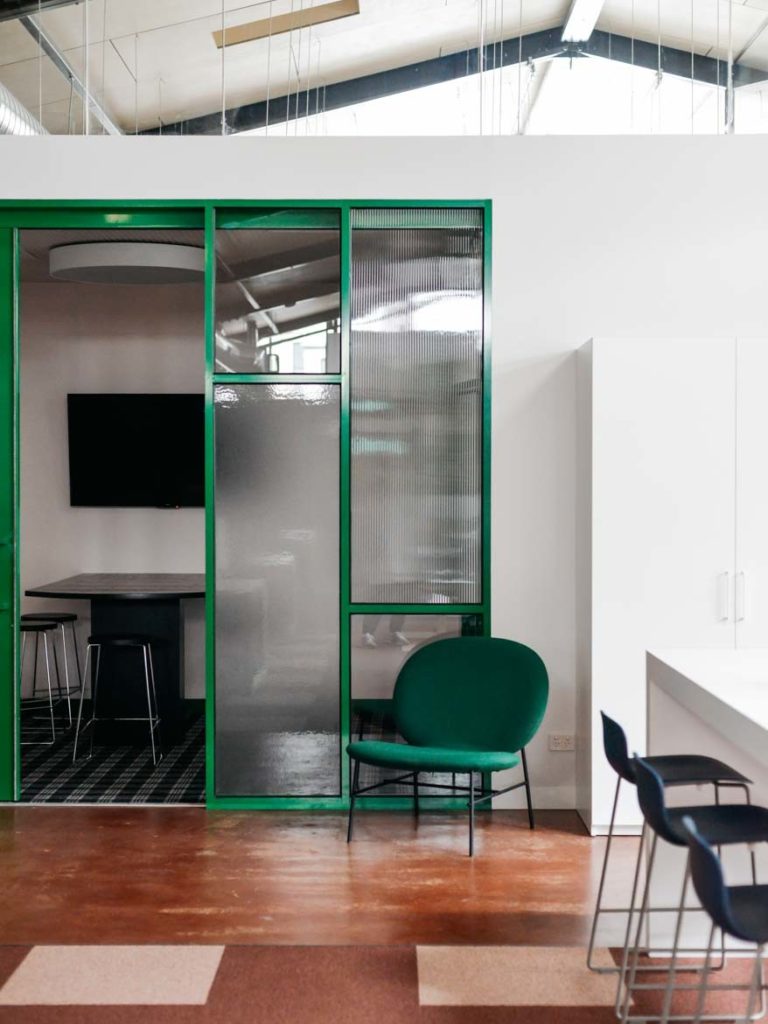 "Finding the balance between professional and playful was important to us. We needed a space that could reinvigorate our team after the last 2 years and instill a sense of creativity in every department, from finance to design" says Frank Body and Willow & Blake co-founder Jess Hatzis.
"Made For took the time to understand who we are as individuals and as business and managed to capture all of that in a setting that continues to evolve as you move through it," adds Hatzis.
Made For
made-for.com.au