CLT (Cross Laminated Timber) continues to gain momentum in the construction industry as an efficient building material. The Asia Pacific region lags behind Europe (and particularly Scandinavia) in terms of cross laminated timber take up and production (read more about engineered timber construction in Asia Pacific here).
The cost of labour, which could be significantly reduced by building with CLT, is already low in Asia. But the region can catch up by boosting its CLT production. Japan is poised to do that by encouraging architects to build projects using CLT to showcase the materials' benefit to their peers and the general public.
One of these recent pilot CLT projects is the Santo CLT Office in pottery town Shigaraki, designed by architect Junichi Kato and Associates. The office is home to local construction company Santo, who commissioned the architect with a brief that asked for the use of CLT in three ways: in the building's structural cross section, as a finishing material and as a curving structure.
.
[The project was] designed in five months and constructed in just two days.
.
Designed in five months and constructed in just two days, the 138.8-square-metre office has addressed the brief with structural CLT arched frames creating a vault-like working space that feels both gentle and warm. The arches are the architect's tribute to Shigaraki's ancient kilns – "So that the local residents will find the building appealing," says Junichi Kato.
.
The CLT used in the project is made from Biwako timber.
.
The CLT used in the project is made from Biwako timber, a certified Shiga Prefecture product, by Japan's largest CLT producer Meiken Lamwood. The Santo CLT project is part of an effort to invigorate the prefecture's forestry industry and bring prosperity to Shiga.
Explains Kato, "CLT panels in Japan are made using cedar wood pulp. Cedarwood is currently found in abundance in Japan but the infrastructure for cutting the wood in the mountains is not well developed and there is a shortage of forestry workers. The price of CLT panels is therefore still higher than that of other construction materials."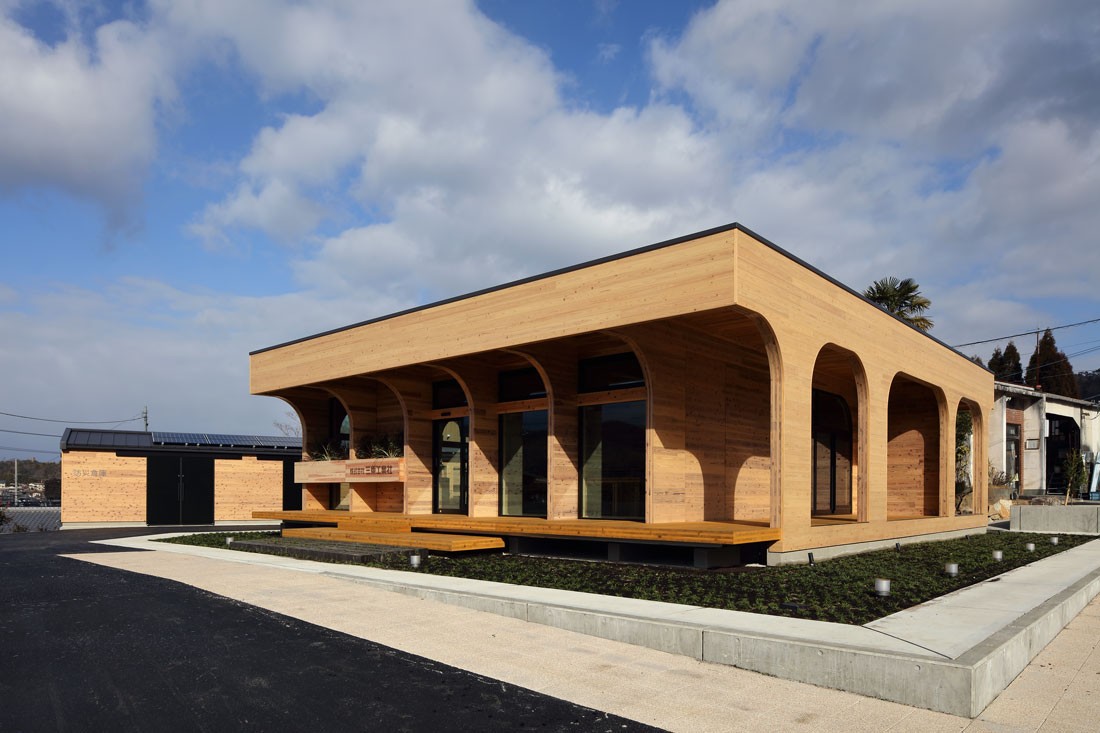 It is hoped that by showcasing the benefits and appeal of CLT, public interest in the material will increase and eventually create demand for a sustainable and more sophisticated ecosystem for CLT production.
Pictured throughout is a view of the exhibition space at the Santo CLT Office. Photography by Kei Sugino (courtesy of Junichi Kato and Associates).
We think you would also like to read about engineered timber flooring.