As humans, we delight in the details of the world around us. The play of a breeze across water, shimmering sunlight on sand and the mysterious fractals and rich tonal hues of a dappled forest floor are the accents that enrich our experience of a place and time.
ORA is visually distinctive, bringing the elements of the outside world into the home to enhance the ambience of the private domain. The tactile experience of luxury is offered in a range that has been specifically created to satisfy those looking for an immediate elevation of space.
As we cocooned within our homes over the past two years, a new design trend emerged that amplified the importance of colour and texture in the private sphere.
"We definitely are noticing a trend towards the decorative within the design community again with interior design layering colour, texture and pattern," Tappeti Founder Karinna Gobbo says.
"People look to rugs to provide interest, colour and depth to a space as well as comfort."
She says that minimalism will always have its place in the interior design world, and the ORA range caters for both those who relish the clarity and spareness of minimalism and the sumptuousness of a chorus of hues and forms. And even though we can embrace the social whirl again, our rediscovered appreciation of the domestic realm will remain.
"As we move outwards into the world again it is to be expected that people will enjoy their time at home more, after all our homes are our sanctuaries," Gobbo says.
"With this in mind, people should continue to search for beautiful design solutions for their homes, finding objects and soft furnishings that they truly love, to make our homes truly special to us."
ORA is hand-crafted from a New Zealand wool blend and art-silk with the unique handmade, batch-dyed and individually-crafted authenticity that is the essence of Tappeti's trademark flair. There are 20 different design schematics in four different dimensions and geometries, offering a rug perfect for any room and to suit any personal taste.
There are whimsical watercolour-like creations, striking Art Deco geometric motifs, subtle and contemporary interplays of texture and hue, and antique-inspired motifs reminiscent of Hamptons style or elegant French drawing rooms.
As with all Tappeti creations, materiality and the human process of making are an integral artistic element in the final, beautiful result.
"These rugs are made in India by our craftspeople with whom we have worked for several years," Gobbo says.
The ORA line has a focus on hand-made pieces using a hand tufting gun. The process sees the artisans transfer the desired pattern at real life scale onto the cotton backing cloth before the natural fibres are woven through the cloth using a manual tufting gun.
This allows for infinite variations of texture and form, a potential that is fully explored in ORA through variations in the cut and loop piles to reflect the settings the final rugs will feature in.
The various textures that can be achieved through tufting such as raised and lowered, or loop and cut piles lend various aesthetic qualities to the final pieces.
"For example, the texture of loop pile contributes a slightly more matte finish, so when placed alongside a raised pile containing art-silk – a fibre that contains a high level of sheen – the contrast between the textures is quite dramatic and striking. We have applied this pile contrast to many pieces throughout the collection."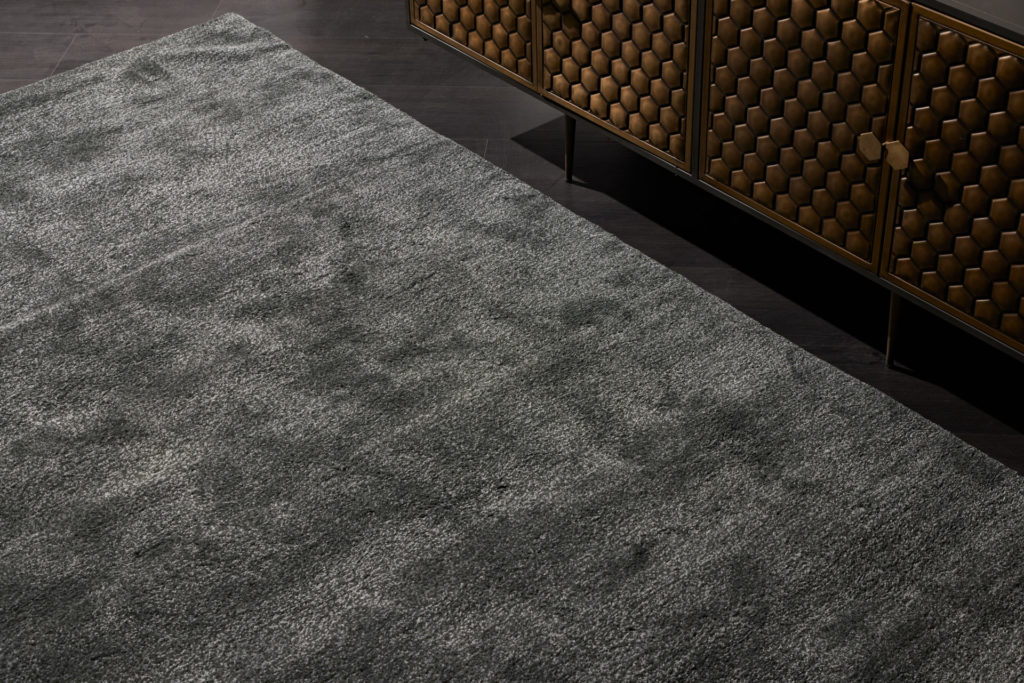 In addition to its thoughtful artistry, ORA addresses pragmatic considerations, including the requirements of the Building Code of Australia in relation to commercial settings.
"ORA was developed to cater to architects, designers and private individuals. Stylistically, the range is diverse enough to suit a range of applications and styles. These rugs are imagined for both residential and commercial settings, suitable for homes, workplaces and hospitality environments."
And while we have all had to wait for many things this year, ORA is available immediately, without the 12-week or so lead time required for Tappeti's bespoke creations. That said, Gobbo notes that clients may also choose to have a bespoke variation in the range created to suit their individual tastes or interior design plans.
ORA sits at a slightly more approachable price point for those who have long coveted the Tappeti quality but had believed it beyond their budget."The ORA collection still makes good on the Tappeti Promise. With a focus on quality, uniqueness, craftsmanship and sustainability, the ORA pieces are still made lovingly by hand, in small quantities, using sustainable sourcing and dying practices and delivered to you with Tappeti's signature service."
The new Tappeti studio in Sydney welcomes those who love design to come and discover the ORA range and other magnificent Tappeti creations.
"We are all back in the office and taking client meetings by appointment. We definitely recommend people come to visit us at our studio to fully appreciate the pieces and make the best selection for their space."
Tappeti
tappeti.com.au