Established three decades ago by Burkhard Schmitz and Carola Zwick, the iconic Studio 7.5 was born out of the pursuit of the ultimate design freedom. In true celebration of this notion, the six-member collective doesn't follow a standard hierarchy – nor does it consider titles to be necessary. "Everybody does everything," says Burkhard Schmitz. "That's how we cultivate ideas and maintain our openness and curiosity."
Studio 7.5's unique approach has brought to life some of Herman Miller's signature performance chairs. From the sophisticated ergonomics of Setu and Cosm to the award-winning, personalised profile of Mirra 2, these much-coveted pieces of furniture – or "equipment", as Studio 7.5 calls them – are an apt expression of the groups' affinity for performance chair design. "Our goal is to enable people to assume roles similar to that of a craftsperson in their shop, surrounded by what he or she needs to be most productive," Carola says.
Looking at Zeph Chair's organic, pared back silhouette it's easy to see how this notion is reflected in their latest design. The new seat adapts the classic lines of the mid-century aesthetic to generate a contemporary, comfortable and high-performing swivel chair that's defined by a stimulating sense of playfulness.
This refreshing yet relatable design language is certainly tied to the initial inspiration that informed the new piece. With quite a few of the Studio 7.5 designers also involved with academia, they noticed that students would spend hours in front of their computers, immersed in their academic work, but completely disregarding their bodies.
As a result, the idea of an affordable ergonomic chair that would find itself at home in any setting was born. Following a collaborative design process, which utilised 3D printing to create prototypes of the monoshell, the initial idea materialised in the form of this invigorating take on a classic swivel chair.
The entry-level seat bridges the gap between Herman Miller's signature mid-century designs and the gold standard in ergonomics. The advanced thinking underpinning the new chair is communicated through simplicity of its visual expression, with the flowing form of the monoshell generating a striking, geometric identity. And while the notion of a monoshell might be associated with the rigid, hard and inflexible, Zeph's kinetic shell is anything but.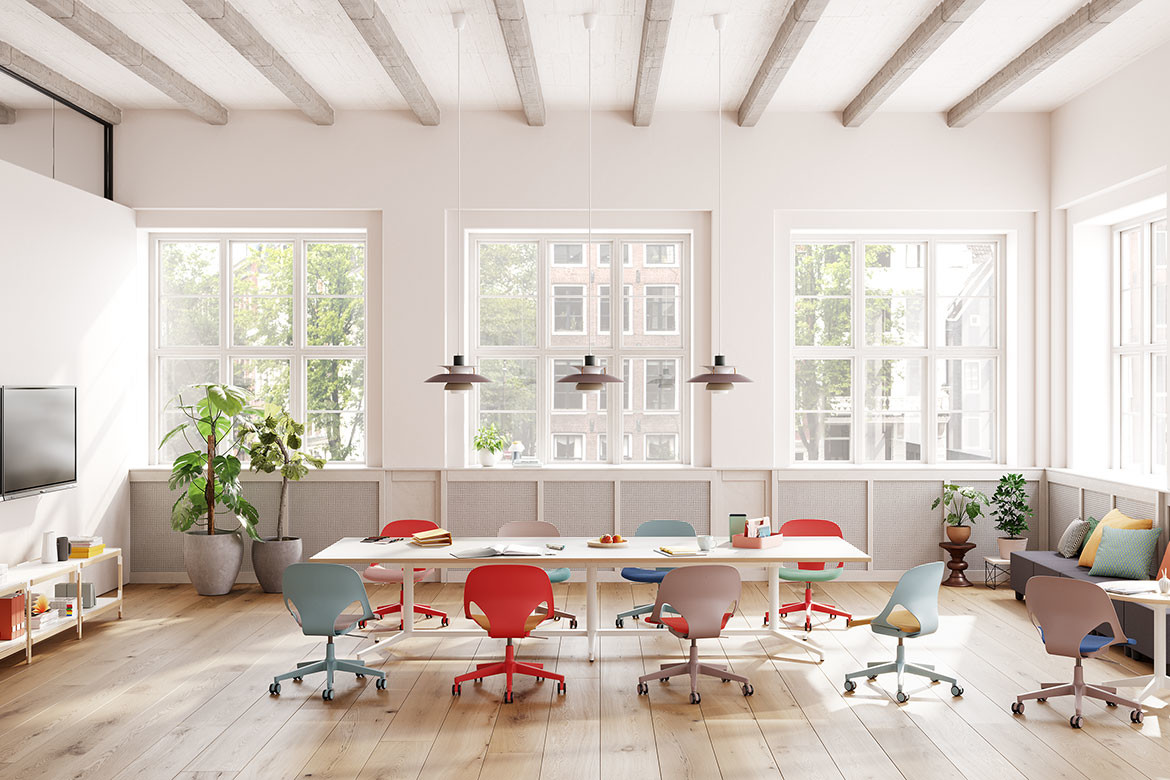 The chair's distinguishable shape embraces the body's natural pivot points and ensures a supported but dynamic ergonomic seat. Designed to provide a comfortable seating experience for all body types, the shell has a desired level of inbuilt flexibility that envelops the user, creating a bespoke back contour. Similarly, in spite of the solid, uniform look of the monoshell, Zeph's kinematics seamlessly respond to the movements of the user – be it a much-needed stretch or a position shift.
The chair's abilities are further enhanced by the incorporation of the "teeter-totter" mechanism, first introduced by Studio 7.5 as part of the Setu design. The clever solution promotes a self-balanced sit and encourages fluidity of movement, while providing excellent back support and minimising any shearing motion. With such powerful mechanics underscoring the chair's unembellished frame, Zeph is an exquisite example of "industrial craftsmanship" which underpins Studio 7.5. design practice. "We like a product that is readable so that you can understand, even if you're not a mechanic or an engineer, how you're being supported," explains Carola.
But this notion of ease certainly doesn't translate into unimaginative or bland design. Quite the opposite – Studio 7.5 ensured that the practical profile of the new seat would be expressed through a playful and ever-changing identity. Both the shell and the base are available in a beautifully curated palette of eight colours that range from saturated Blaze and refined Olive to statement Black and gentle neutrals, like Cocoa and Alpine. Designed to reinvigorate any space, the selection of stunning hues also welcomes the return of the dipped-in-colour, which previously debuted on Zeph predecessor, Cosm.
The playful streak underpinning Zeph's modern aesthetic is made even more prominent through the incorporation of the optional, removable and interchangeable 3D Knits. With a kaleidoscope of 20 striking colours, two patterns and five two-tone fabrics, Zeph becomes a true playground to creativity and personal expression. Building on the monoshell palette, the textile selection introduces lively shades of Yellow, Lobster and Bluebell, the pastel hues of Tea Rose and Kelly Green – and the rich depth of colours like Autumn and Copper.
Carefully designed to complement, contrast and transform the body of the chair, the range enables an unmatched number of bespoke colour and textile combinations that celebrate individuality and embrace change. And because the knits slide directly into the shell and require no installation whatsoever, the colour combination can be easily altered, and the space completely transformed.
The colourful and tactile accessories are also as sustainable as they are playful – the upholstery is made from 50% post-consumer recycled content, and ensures no fabric waste because it's knitted to the exact dimensions of the chair.
In a measured whirl of organic lines, research-backed ergonomics and a rich, layered palette, Zeph's distinguishable monoshell profile inaugurates a new generation of attainable performance chairs that will fit right into any professional, educational or residential setting.
Herman Miller