Like all modern workplaces, laboratories are evolving in their design to accommodate increasing demands for comfort and flexibility. Today's laboratory spaces must accommodate new advancements in digital capabilities, a shift to agile workspaces and flexible teams, and a greater focus on health and wellbeing. In response to these trends, designers must be able to adapt as requirements for scientific research change at a rapid rate.
Flexible lighting design solutions will be critical in the labs of the future. There is a greater understanding that adaptability in design can support greater variety in work styles, from private research offices to open collaborative spaces. Lighting designers can expand on this flexibility by exploring the possibility of modular systems, demountable or adjustable task lights, smart lighting controls and more, to allow users to adjust lab spaces to meet their personal work needs.
From KLIK Systems, the Australian-owned leader in architectural lighting solutions, the LABline 2 is a system designed specifically for laboratory conditions. Manufactured in continuous joinable seamless lengths with bends if required, the LABline 2 limits the requirement for multiple cable entry points into the laboratory, reducing the risk of air leaks, as the services are mounted on the system and associated cabling is housed in the internal segregated cable ducting.
Building functionality and flexibility into lab lighting systems is easy with LABline 2. All services, including emergency lighting, speakers, motion sensors, strobes, smoke detectors, exit signs, and cameras can be mounted on or recessed into the LABline 2 body. Available in a variety of colours and finishes, it provides a functional yet aesthetically pleasing solution, with features and options that build confidence in its fit-for-purpose design.
During lab fumigations, an easy-to-remove captive hinged drop down diffuser is invaluable. As the LABline 2 system is continuous, once the cabling for the services has entered the system, they can be easily run through the four segregated channels in the body of the profile. Suitable for lab environments, IP66 sealed lamp units and IP68 plug and play lighting cables provide a fully-prewired, protected and easy-to-install lighting system. These lamp units are captive hinged for easy release with no tools required making the fumigation process simple.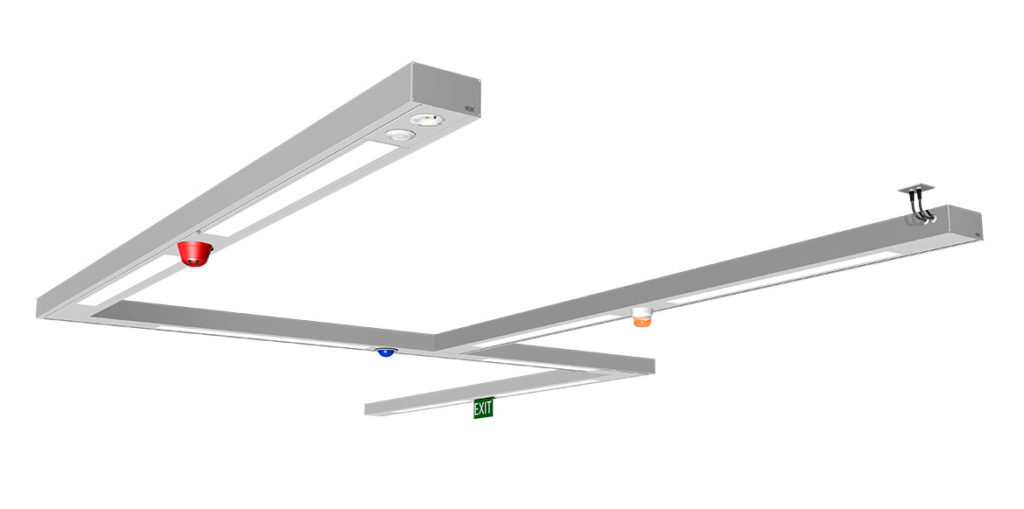 KLIK Systems has been supplying the Australasian region with high-quality architectural linear lighting for more than 42 years. The company's impressive range matches contemporary aesthetics and functionality, providing flexibility for both internal and external applications. Designers can choose from a range of colour finishes, digital controls, and methods of mounting, all in luminaires of any length. KLIK's project list covers most market segments throughout Australia, New Zealand, Canada, USA, Asia, Middle East and Europe. Already widely used throughout Australian laboratories, the LABline 2 has a proven record in the scientific research market.
KLIK Systems